UPDATE!! Thanks to YOUR help, Wesley Medical Center Promises To Keep Carhart, Abortions Out! No need for further action at this time. Thank you!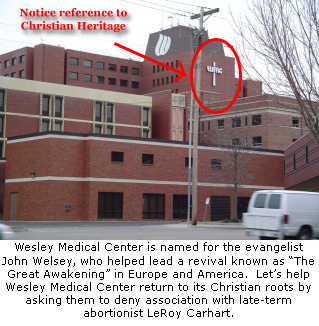 Wichita, KS – Just hours after Operation Rescue launched a petition on Monday, August 10, to demand that Wesley Medical Center deny late-term abortionist LeRoy Carhart hospital or transfer privileges, we were contacted by a member of the hospital's administrative staff.
While that initial conversation was very encouraging to us, we have been concerned in subsequent communications that Wesley may be backtracking from their original verbal statement to us that they indeed would not allow Carhart to affiliate with Wesley Medical Center in any way. Promises to give us a written statement on the Carhart/late-term abortion matter have not been fulfilled.
Therefore, we are asking you to do three important things:
1. If you haven't already done so, please sign the petition by clicking here.
2. Please forward this message along with the link to the petition to everyone you know and ask them to sign it. Please post it to your Facebook page, your Twitter feed, and any other social networking site to which you may belong.
3. Call Wesley Medical Center at 316-962-2018 and let them know you signed the petition and oppose their involvement with abortions in any way.
We plan to hand-deliver the signatures to Wesley soon, but need to keep the pressure on now more than ever in order to prevent Carhart from fulfilling his plans to open a new late-term abortion clinic to replace Tiller's closed clinic that caused so much human misery for women around the world.
Read Press Release Announcing Petition
Read and Sign the Petition