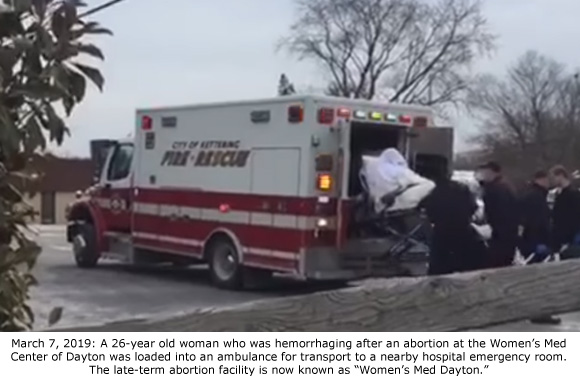 By Cheryl Sullenger
Dayton, OH — The Women's Med Center, now known as Women's Med Dayton, is an abortion business in Dayton, Ohio, that should have closed last year for failure to meet licensing requirements. Its abortionists held no hospital privileges, nor did it have a valid variance that would have allowed it to stay open.
At the last minute, the facility, which is owned by nationally-known late-term abortionist Martin Haskell, submitted a variance application showing it had agreements with four physicians from Wright State University to provide emergency hospital care to women who suffered complications from abortions done at his facility.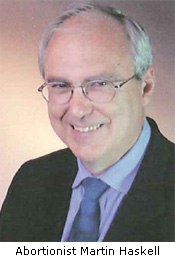 A slight business name change, coupled with the approval of the new variance by former Ohio Department of Health Executive Director Amy Acton, allowed the clinic to receive an abortion facility license in July 2019, despite a court order that allowed the ODH to revoke its license.
Now, it has been learned by Dayton Right to Life that one of Haskell's back-up physicians, Jerome L. Yaklic, informed the Women's Med Dayton and the Ohio Department of Health in April of his intent to relocate to Texas. His hospital privileges at Miami Valley Hospital expired on April 30, 2020.  
That appears to have left the Women's Med Dayton again without a valid variance, and out of compliance with ODH licensing regulations – something that has been a chronic situation with this abortion facility for years.
"Since 2014, Haskell's Dayton abortion facility has been in compliance with licensing regulations for a grand total of nine months," said Operation Rescue President Troy Newman. "This facility simply cannot meet licensing requirements on a consistent basis and should never been granted a license last year."
Right to Life of Dayton had submitted a request for communications between the ODH and the Women's Med Dayton that went ignored until a second request included a threat of a possible lawsuit for the ODH's noncompliance with Ohio's public records laws.
That shook loose two documents that filled in some of the blanks about what had been happening with the Women's Med Dayton.
Variance violation
The first document was a letter dated April 15, 2020, from attorneys for Jerome Yaklic informing the Board that he could no longer serve on Haskell's variance.
This leaves questions about why the Women's Med Dayton continues to operate while it appears to be out of compliance with licensing regulations. Any changes made to variances be submitted to the ODH for approval and must include four back-up physicians. Failure to comply with these regulations led to a four-year effort by the Ohio Department of Health to revoke its facility license.
The answer to those questions might lie in who happened to be the head of the ODH when the notice came that Yaklic had dropped from the variance. That person was Amy Acton, the same director who authorized the name change and the 11th hour variance that kept Women's Med Dayton from a court-ordered closing.
There is no record of any attempt by Acton to hold the abortion business in non-compliance once she received Yaklic's notice.
Acton's term in office was characterized by controversy and scandal related to her relationship with the Democrat party, her activism to help elect Barack Obama in 2008, and her connections to radical Marxist globalists who want to depopulate the world through the use of abortion – including Partner's for Health, which was hired to conduct COVID-19 contact tracing for Ohio.
Acton resigned as Executive Director of the ODH on June 11, 2020, just days after Operation Rescue published an interview with her estranged mother, who called into question Acton's veracity in many publicly-told stories about her life.
COVID-19
The second document was an inspection report dated March 27, 2020, that resulted from four complaints related to the Women's Med Dayton's continued operations during a time in March 2020, when Acton had ordered a halt to elective surgeries in order to conserve Personal Protective Equipment (PPE) for hospitals that were expected to be flooded with COVID-19 patients.
While the Women's Med Dayton was not cited for any violations, the report documents conversations with Women's Med Dayton's Medical Director, Martin Haskell, and others about 13 surgical abortions that were done between March 19-26, 2020, when elective surgical procedures were supposedly banned.
The abortions conducted during that time were between 11-20 weeks gestation. Abortions done after 14 weeks gestation are usually multi-day procedures that carry higher maternal risks.
Operation Rescue has documented that at least ten women who experienced serious complications from abortions at Haskell's Dayton facility have required emergency hospitalization. This justifies the need for up-to-date emergency care variances.
Haskell was vacationing in Florida during that time of the investigation and had to be contacted by phone.
The ODH notes on the inspection report indicated that the clinic developed protocols that determined all abortions done after 10 weeks gestation were deemed to be essential and could not be delayed. The facility rearranged the waiting room to seat women seeking abortions six feet apart, but did not require or supply them with masks or gloves, supposedly to conserve PPE resources for hospitals.
Instead, the clinic representatives said it sanitized surfaces to prevent the spread of COVID-19.
Dayton Right to Life stated in an email, "When asked if they would be canceling any appointments, Haskell said, 'There is a limited time to have the surgery before an adverse effect on life and health of the patient.' The 'adverse effect' on the other infant patient [was] irrelevant."
That seemed to be enough to satisfy Acton, who left the Women's Med Dayton abortion facility open for business, while she insisted other legitimate businesses and schools to shut down.
"The DeWine/Husted administration has, for all in intents and purposes, made the killing of unborn children THE preeminent right in our state. This 'right' is not to be questioned, challenged, or discussed," said Margie Christie, Executive Director of Dayton Right to Life.
"Haskell can only keep his abortion facility open with the consent of the Ohio Department of Health. Amy Acton either approved or looked the other way while the Women's Med Dayton to clinic engaged in a dubious paperwork shuffle to avoid a court-ordered closure, ignored COVID-19 shutdown orders, and now continues to operate on an invalid variance," said Newman. "We urge the current ODH Interim Director Lance Himes to do his duty and close this dangerous and deceptive abortion clinic once and for all."