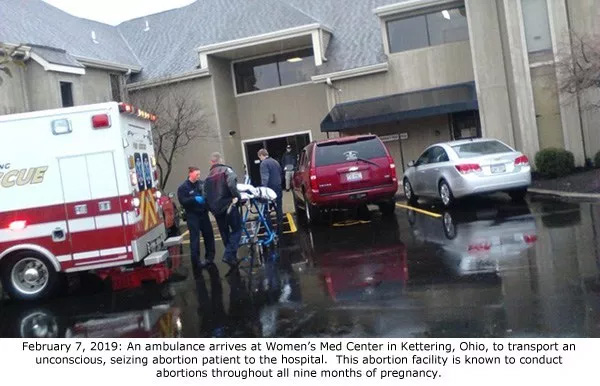 By Cheryl Sullenger
Dayton, OH – Today, the Ohio Supreme Court has refused to hear the appeal of a late-term abortion facility, the Women's Med Center of Dayton, which was challenging a decision by the Ohio Department of Health not to renew its facility license based on the fact that the clinic could not comply with licensing regulations.
The Women's Med Center is a late-term abortion facility owned by nationally known abortionist Martin Haskell. It is one of a handful of abortion facilities in the nation that openly conducts abortions through all nine months of pregnancy.
The Supreme Court's decision not to hear the Women's Med Center appeal lets stand the 2018 Ohio Court of Appeals decision, which ruled that the Department of Health had full legal authority to deny a facility license to clinics that do not meet licensing regulations and order them to halt abortions.
"We are extremely grateful that the Court saw what the trial judge and the appellate court both saw: that Haskell and his operation are a threat to maternal and child well-being" stated Margie Christie, Executive Director of Dayton Right to Life (DRTL) and President of the Right to Life Action Coalition of Ohio (RTLACO). "We thank the Department of Health and the Attorney General's Office for pursuing this matter and working to close this blight on our community."
The facility has been operating under an expired license at least since 2015 when the Ohio Department of Health first began the process of trying to enforce licensing requirements the abortion business had failed to meet. The Women's Med Center had been allowed to continue abortions while the legal drama played out, resulting in the hospitalization of several abortion patients.
The Women's Med Center could not comply with the state regulation that mandated that abortionists maintain privileges at a local hospital. Instead, it applied for a variance that would have allowed it to substitute a hospital transfer agreement in lieu of hospital privileges.
However, no hospital would enter into an agreement with the Women's Med Center, which has a long history of hospitalizing women who have suffered serious abortion complications at their facility. Unable to meet licensing requirements, the Ohio Department of Health declined to renew its facility license, which allows it to conduct abortions.
"Now that Martin Haskell has exhausted his appeals, it is finally time to shut down his dangerous late-term abortion facility and end Haskell's legacy of human tragedy that has plagued Ohio and the nation for far too long," said Troy Newman, President of Operation Rescue.
This is Haskell's second loss in a licensing dispute. His Sharonville abortion business in the suburbs of Cincinnati lost its facility license in 2014 for failing to maintain hospital privileges or valid hospital transfer agreement. That clinic later permanently closed.
View the Ohio Supreme Court's statement declining Women's Med Center v. State of Ohio Department of Health dated August 21, 2019.