By Cheryl Sullenger
Austin, TX – One Austin abortion facility's building is advertised as up for lease. It is a very good sign of the times.
Now, a new study published yesterday by the Texas Policy Evaluation Project shows that abortion numbers have dramatically declined by 13% since a new Texas abortion law, known as HB2, went into effect last year. That decline represents approximately 9,200 lives spared due to the new law.
The decrease in abortions in Texas is a direct result of abortion facilities shutting down due to HB2.
Out of the 41 abortion clinics in operation last July, already half have shut down as a result of provisions of the law that went into effect last year, especially the provision heavily supported by Operation Rescue that requires abortionists to maintain hospital privileges within 30 miles of their abortion clinics.
Only six facilities are expected to remain open in Texas after the remainder of HB2's safety regulations go into effect on September 1.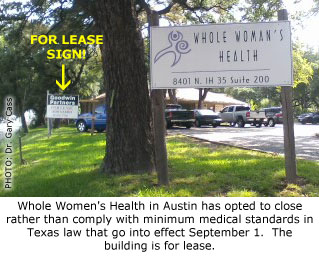 This means that 35 Texas abortion facilities were operating well below acceptable medical standards and are opting to close rather than comply with the law.
"When abortion clinics close, lives are saved as women find other ways to deal with the challenges they face rather than taking the lives of their babies," said Newman. "We expect to see abortion numbers continue to steeply decline in Texas as more abortion facilities shut down, and that is great news."
Among the abortion chains most affected has been Whole Women's Health, which once operated five abortion offices in Texas.
WWH facilities in Austin and Ft. Worth, the subjects of an Operation Rescue undercover investigation in 2011, will be among 15 abortion facilities that are expected to close by the end of the month when regulations that require abortion facilities to meet Ambulatory Surgical Center standards take effect.
The building housing Whole Women's Health's Austin facility, which cannot meet those requirements, has been placed for lease because WWH has decided to shut down rather than comply with the law. Only the WWH San Antonio facility will remain open.
"We are excited that abortion businesses will have fewer locations where they can prey on the vulnerabilities of pregnant women and heartlessly take the lives of pre-born babies," said Troy Newman, President of Operation Rescue. "Women throughout Texas will be better off without substandard abortion businesses placing their lives at risk. Abortion businesses are not above the law and requiring them to meet basic safety regulations – which they often can't or won't meet — is already saving thousands of lives."
Whole Women's Health shut down their Beaumont and McAllen locations on March 6, 2014, because their abortionists could not obtain hospital privileges that are required by law to protect the lives of women suffering abortion-related medical emergencies.
Operation Rescue filed complaints against Whole Women's Health clinics in McAllen, Beaumont, and Austin after discovering they were improperly dumping "identifiable" aborted baby remains a during the 2011 undercover investigation. This led the Austin and McAllen locations to be heavily fined.
That investigation alerted legislators to the need to tighten requirements on the previously unaccountable abortion trade in Texas. Another Operation Rescue investigation of Houston abortionist Douglas Karpen last year, which was based on first-hand experiences of four of his former abortion workers, revealed evidence that he was conducting illegal late-term abortions and allegedly had killed some babies after being born alive. This encouraged Gov. Rick Perry to call the special sessions to ensure that the abortion safety regulations passed.
The Texas legislature passed HB2 last year during during the second of two contentious special legislative sessions that drew national attention.
"The new study proves that the new law is effectively protecting the lives of women and their babies, and will extend those protections to even more women as the rest of the law goes into effect later this year. There should be no hesitancy for other states to adopt similar measures to protect the public and reduce the number of abortions in their states," said Newman. "Success is measured in results, and the fact that HB2 will shut down 85% of shoddy abortion mills and save nearly 10,000 lives per year in Texas shows that legislation is incredibly successful and should be emulated nationwide."