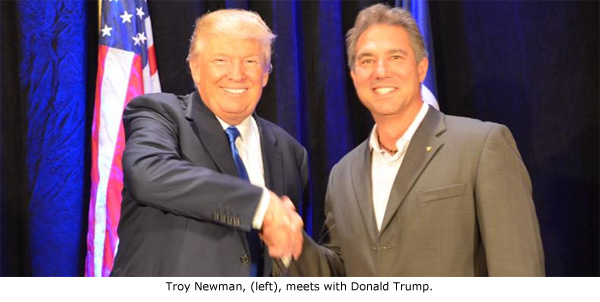 By Cheryl Sullenger
New York City, NY – Troy Newman, President of Operation Rescue, was among nearly 1,000 conservative religious leaders who met with presumptive GOP Presidential nominee Donald Trump yesterday at a packed ballroom in New York's Trump Tower.
"I'm very impressed that Mr. Trump would sit with conservative leaders for multiple questions, and then give direct answers," said Newman. "I don't believe anything like this has ever happened."
Newman served as former co-chair of the Pro-Lifers for Cruz coalition, and endorsed Sen. Ted Cruz early on. But with Cruz out of the race, Newman attended the meeting to ensure that Trump would indeed act on his newly-embraced pro-life position, if elected.
During the meeting, Trump promised the following:
1. Appoint pro-life Supreme Court justices, which have been pre-vetted by the conservative Federalist Society and Heritage Foundation.
2. Appoint strong pro-life judges to the Federal Courts.
3. Repeal and replace Obamacare and the abortion mandate that forces the insured to pay for abortions and abortifacient drugs.
4. Actively support and sign into law the Pain-Capable Unborn Child Protection Act.
5. Defund America's largest supplier of abortion, Planned Parenthood.
Trump also promised he will keep an open door policy with pro-life leaders, something Republican Presidential candidates have not done in recent elections.
For those pro-life advocates who still have reservations about voting for Trump, Newman had this response:
I understand your concerns, but I'm not here to elect a pastor for America. I'm here to be a voice for the unborn children. The babies scheduled to die at abortion facilities across America don't care what type of man saves their lives — only that they are not chopped to pieces and their limbs sold like meat in a butcher shop. We know for a fact that Hillary will aggressively continue the carnage. At the very least, Mr. Trump has promised relief for the pre-born babies. For me, that makes the choice at the ballot box an easy one.
[Read Newman's essay, "To Vote or Not to Vote, That is the Question", published May 11, 2016.]