UPDATE: Thanks to YOUR help, Wesley Medical Center Promises To Keep Carhart, Abortions Out! This petition is now closed. Thank you!
Petition to the CHIEF EXECUTIVE OFFICER and CHIEF MEDICAL OFFICER of WESLEY MEDICAL CENTER in Wichita, Kansas: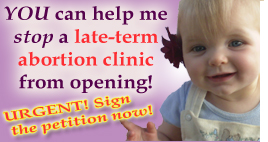 We the undersigned are concerned about post-viability abortions that take the lives of pre-born babies that can survive outside the womb.
We are concerned that late-term abortionist LeRoy Carhart has publicly expressed plans to open a new international post-viability abortion clinic, and is quoted in recent news articles as saying that his "main choice" would be to locate the clinic in Wichita, Kansas.

We are further concerned that LeRoy Carhart would present a danger to the public for the following reasons: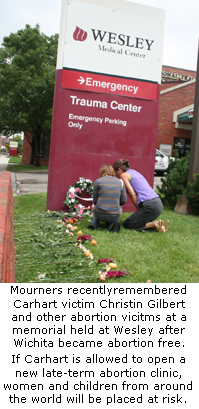 • Carhart was responsible for the third-trimester abortion death of 19-year old Christin Gilbert.
• Carhart was responsible for numerous other botched abortions requiring emergency hospitalization during his tenure as an employee of George Tiller's now closed late-term abortion clinic.
• Carhart engaged in the unsafe practice of transporting women with serious abortion complications to Wesley Medical Center in private vehicles instead of calling an ambulance while he was in the employment of George Tiller.
• Carhart's disregard for the law was demonstrated by opening his Bellevue, NE clinic recently without proper permits or sanitation, forcing the city to temporarily close it for public safety reasons.
• Records on file with the Nebraska Department of Heath indicate that Carhart has falsified entries on patient charts, interrupted abortions due to fatigue or exhaustion, engaged in personal phone conversations in the middle of abortions, and failed to train his staff on infection control protocols.
We are concerned that for years, the community of Wichita has suffered under the label of being the "Abortion Capital" because of Tiller's nefarious late-term abortion business, where Carhart was employed.
Now that the community is free from such a designation, having become an abortion-free city, we are concerned that Carhart will bring further suffering and shame on women, the community, the state, and the nation if he were to continue post-viability abortions there.
We are further concerned that many questions about illegal activity at Tiller's former abortion clinic remain unanswered. The fact that Carhart desires to return to Wichita to open a late-term abortion clinic renews concerns that that lives of viable babies would be wrongfully terminated and that the laws of Kansas that were enacted to protect such lives would continue to be circumvented.
We are concerned that Wesley Medical Center, a hospital that should be regarded as a place of healing, will once again tarnish its reputation and the reputation of the community by becoming a collaborator in Carhart's plans to re-establish an international post-viability abortion clinic in Wichita, to the detriment of the health and safety of women and their viable babies from across America, and across the world.
Without the cooperation of Wesley Medical Center, LeRoy Carhart will not be able to legally open a post-viability abortion clinic in Wichita, Kansas.
Therefore, we the undersigned demand in the interest of public safety, in the interest of the community's well-being, and in the name of common decency, that you deny any attempt by LeRoy Carhart or his associates to obtain hospital privileges, admitting privileges, a transfer agreement, and/or a transfer plan with Wesley Medical Center.
This petition's goals have been met and it is now closed. May God bless all who signed. Your voice was heard!
(Signing this petition will enable you to receive e-mail updates on this and other important issues from Operation Rescue.)