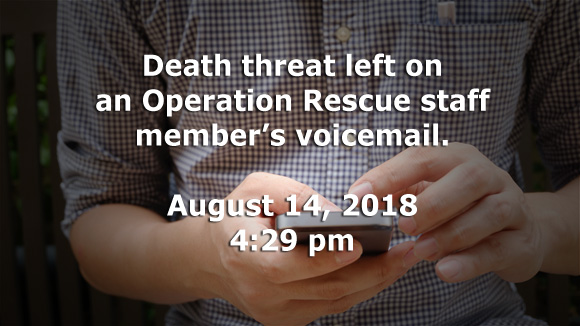 By Cheryl Sullenger
Wichita, KS – An Operation Rescue staff member received a series of disturbing and sexually explicit death threats yesterday afternoon from a caller who expressed anger over a 13-year old article posted on the OperationRescue.org website.
The menacing caller told the staffer that he was going to kill her and her entire family after he sexually assaulted two female family members. He said that he had often followed the staffer and female family members around Wichita, Kansas, the location of Operation Rescue's national headquarters, and knew where the staffer lived.
After the caller was blocked, he called back from a second number and left a voice mail message that was explicit with satanic overtones and revealed a person who appeared to be unbalanced. The fact that the numbers were local added extra concern.
Warning! This audio file contains explicit and disturbing content!


"This person was angry with Operation Rescue over things that made no apparent sense. The threats were directly related to the work of Operation Rescue. His sick voicemail threat was unhinged and highly disturbing. We are all taking increased security precautions and are withholding the staff member's name for security reasons," said Operation Rescue President Troy Newman.
The series of death threats were reported to the police and the FBI.
The caller identified himself as Christopher Thompson, although it is unknown if that is his true identity. No one at Operation Rescue recognized that name.
"We take this kind of thing very seriously. Charges will be pressed if police if and when police are able to identify and apprehend this person," said Newman. "We also pray he gets the help he needs before he hurts anyone."
Anyone who has information about the person who made the death threats should contact the Wichita Police Department immediately.