By Cheryl Sullenger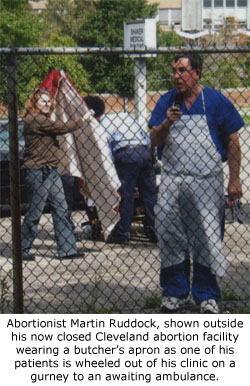 Cleveland, OH — In her second trimester of pregnancy, S.S. thought she wanted an abortion. On March 16, 2010, she and her mother traveled from their home in West Virginia to the run-down abortion clinic operated by Martin Ruddock in Cleveland, Ohio.
But what happened next changed her mind about the abortion and ultimately led to a civil suit with allegations that Ruddock broke the law, committed fraud, and attempted to alter evidence, according to court documentation obtained by Operation Rescue.
In her suit filed in the Cuyahoga County Court of Common Please, S.S maintained that on the first day of what was to be a three-day abortion procedure at Ruddock's Center for Women's Health, she was told to sign six informed consent forms before she ever saw Ruddock. This was in direct violation of Ohio law that mandates that a physician must meet with a patient at least 24 hours prior to an abortion in order to provide the patient with certain disclosures about the abortion procedure.
She was then told that on the first and second days of the procedure, Ruddock would insert dilators, known as laminaria, into her cervix and that the abortion would be completed on the third day.
However, instead of waiting 24 hours after consent was given, as required by law, Ruddock began the abortion that same day by inserting three laminaria sticks into the patient's cervix.
S.S. found this process extremely painful and caused her to have second thoughts about the abortion. She asked Ruddock to stop the abortion.
However, Ruddock refused. He wrongly told her that it was too late for him to stop. He indicated that it not possible for her to withdraw her consent once the procedure began. He also told her that her water had already broken and that if she stopped the abortion, her baby would be born mentally retarded.
Because of this, S.S allowed him to continue inserting the laminaria, a process described in legal papers as "painful and frightening."
What S.S. did next literally saved her child's life.
Instead of returning to Ruddock the next day, she went to another doctor who successfully removed the laminaria.
Imagine her surprise when the legitimate doctor informed her that her water indeed had not broken! What Ruddock told her to coerce her into continuing the procedure was simply not true.
S.S. went back to Ruddock for a refund and signed a waiver that agreed not to hold Ruddock responsible for any outcomes related to the laminaria removal since he had informed her it was against his so-called "sound medical advice."
In due time, S.S. gave birth to a perfectly healthy baby.
Later, when S.S. tried to obtain copies of her medical records, Ruddock refused and only released them after S.S had obtained an attorney and filed suit. When she obtained her records, she found that Ruddock had altered the Laminaria Release Form she had signed with additional, handwritten provisions.
S.S.'s lawsuit, filed on March 2, 2011, alleged the following causes of action:
• Failure to heed Ohio's informed consent law.
• Failure to allow a state-mandated 24 hour waiting period before initiating an abortion.
• Fraud.
• Misrepresentation.
• Spoilation of Evidence.
Ruddock countersued, alleging that S.S. was in "breach of contract" for suing him after signing a waiver.
In court, Ruddock argued that the suit should be thrown out because S.S. signed the Laminaria Release Form, waiving her right to sue.
On July 24, 2011, a district court judge agreed and granted Ruddock's motion for summary judgment and dismissed the case.
S.S. filed an appeal and on May 29, 2014, the Court of Appeals of Ohio reversed the lower court ruling and remanded the case for further action. It also ordered Ruddock to pay the costs of S.S.'s appeal.
In its decision, the Court of Appeals found that the release signed by S.S. only waived her right to sue Ruddock for outcomes related to the laminaria removal, but did not apply to violations of the informed consent and 24-hour waiting period, or any of her other causes of action.
Ruddock had argued that because S.S gave birth to a healthy baby, that he did not in fact perform an abortion, therefore the informed consent and 24-hour violations did not occur.
However, the Appeals Court disagreed because Ruddock had documented the procedure on an "abortion procedure report" and had in fact, according to his own documentation, "induced" an abortion on S.S.
The Appeals Court also found that Ruddock failed to properly provide S.S. with her medical records upon repeated written request. It also found that because Ruddock never objected to the allegation that he attempted to alter, or "spoil," evidence by making handwritten additions to the release after it was signed by S.S., that allegation should be considered again by the lower court.
In fact, the Appeals Court found that the lower court erred and that each of Ruddock's arguments were either not valid or involved material facts in dispute.
"We find the allegations in the suit against Ruddock reveal a telling picture of an abortionist who has no respect for the law or for the women he sees," said Tory Newman, President of Operation Rescue. "Former abortionist Alberto Hodari once stated that he believed abortionists have a 'license to lie.' We hope this case sends the strong message that abortionists do not have the right to lie to women in order to coerce them into abortions that they do not want. In fact, we would hope that evidence in this case would ultimately result in criminal charges against Ruddock."
Ruddock shut down his Ohio abortion business last year when he could not obtain a valid hospital agreement as required by Ohio law. He has since hired on to do abortions in the neighboring state of Michigan for several abortion facilities affiliated with Northland Family Planning.
In 2006, Ruddock was forced to temporarily close after Ohio Department of Health inspectors discovered that the clinic was not meeting even the most rudimentary of medical standards, such as taking a patient's temperature and blood pressure before risky late-term abortion surgeries.
In September 2012, Ruddock appeared outside his abortion clinic during a medical emergency wearing what appeared to be a butcher's apron. He was overseeing the transfer from his abortion clinic to an awaiting ambulance of a 26-year old second-trimester abortion patient suffering from a high fever and disorientation.
Five weeks later, an ambulance transported a 30-year old woman suffering lacerations and heavy bleeding after Ruddock botched her abortion at 22 weeks. Records of a 911 call obtained through open records requests indicated she was "bleeding bad" and passing large blood clots larger than a 50 cent piece.
"It is clear that Ruddock is a bad actor that should not be allowed to practice medicine," said Newman. "He has injured numerous women, been the subject of multiple malpractice suits, and has shown open contempt for the law. It is no wonder he chose to relocate to Michigan where abortion laws are more permissive rather than comply with common-sense safety rules in Ohio where his conduct has been nothing short of despicable."
S.S. has heroically stood up against the corruption inside the abortion cartel and bravely exposed abuses she suffered. If and when she prevails in court, this information can be used to warn other women of the kind of things they can expect at abortion facilities around the nation.
"Ruddock certainly is not an anomaly and is probably more representative of what can actually be found in abortion clinics across America," said Newman. "We have never encountered an abortion business that fully complies with the law, and Martin Ruddock is yet another in a long list of abortionists who continue to act as if they are above it."
Read the Appeals Court Decision