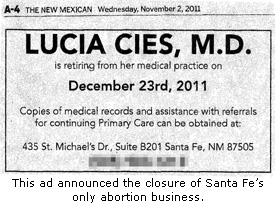 Santa Fe, NM – The only abortion clinic in Santa Fe will close as of December 23, 2011, when abortionist Lucia Ceis retires from private practice. The last day abortions will be done is December 16, 2011.
Ceis admits to having done thousands of abortions over her 35 years of business. Ceis posted an ad in The New Mexican newspaper announcing her retirement.
That closure will leave Santa Fe abortion-free and will reduce the number of abortion clinics in New Mexico to five.
Cies' abortion business offered abortions to 18 weeks at a cost of $500-$1,200. She also conducted abortions at St. Vincent Hospital in Santa Fe.
"Abortion clinics continue to close as Americans become more and more pro-life," said Operation Rescue President Troy Newman. "The number of surgical abortion clinics has dropped from 2,200 in 1991 to only about 675 today. That is quantifiable evidence that we are winning the hearts and minds of the American people. Abortion is a human rights abuse that will soon be rejected and relegated to the ash heap of history."
View Project Daniel 5:25, a listing of remaining surgical abortion clinics.