By Cheryl Sullenger
Wichita, KS – The dramatic defeat of the "Value them Both" Amendment during the August 2, 2022, Kansas Primary election left pro-life supporters stunned and abortion supporters invigorated. It also left lingering questions about what went wrong.
"Certainly, there were problems with the equivocal messaging and the lack of coalition-building on the part of the Value Them Both campaign, but now information has come out that leads us to believe that there may have been irregularities in the election process," said Operation Rescue President Troy Newman. "A recount has been ordered in nine Kansas counties, and we are waiting to see what happens there."
The Value Them Both Amendment was the first election involving the matter of abortion since the Dobbs v. Jackson Women's Health Center Supreme Court decision overturned the 1973 Roe v. Wade decision that decriminalized abortion in America, and the 1992 Planned Parenthood v. Casey decision, that established the "undue burden" doctrine used to over-rule one pro-life law after another over the past two decades.
The amendment would have nullified a dubious 2019 Kansas Supreme Court decision that ruled there was a right to abortion in the Kansas Constitution, which was ratified in 1859. Passage of the amendment would have allowed the State legislature to regulate or even ban abortions in Kansas.
The amendment faced the brunt of the pro-abortion backlash over the Dobbs decision, with the opposition campaign drawing 71 percent of its funding from out-of-state pro-abortion organizations and supporters.
Predictions of a close race
Pre-election polling released two weeks before the election showed support for the Value Them Both Amendment was ahead by four percentage points. There were 47 percent in favor, 43 percent opposed, and 10 percent undecided.
However, the preliminary results blew out the polling expectations by roughly 20 percent.
At the time of the August Primary, registered Republicans outnumbered registered Democrats in Kansas, holding an advantage of 44 percent to the Democrats 26 percent of registered voters with ten percent unaffiliated or registered with another political party.
Preliminary election results obtained from the Kansas Secretary of State's website, showed 41 percent, or 378,466 Kansans voted in favor of the Value Them Both Amendment while 59 percent, 543,855 voted against it. That's represents a difference of about 165,000 votes out of a record-setting 922,321 votes cast.

In the end, the August 2 Primary had the largest voter turnout for a Primary Election in Kansas history with 47 percent of all registered voters casting ballots. In comparison, the 2020 Primary Election, in which there was much interest, turned out only 34.2 percent of eligible voters.
Yet, 543,855 voters cast ballots against the amendment – more than the total number of eligible registered Democrats in the state. That meant a large number of voters who usually support pro-life candidates and initiatives inexplicably voted against the Value Them Both Amendment.
"The outcome of the Value Them Both vote just did not make any sense. The polling appeared to be off by a massive 20 percent. The results indicated a huge defection of traditionally pro-life Republican and Independent voters. It was something that could not be attributed to bad press, confusion over the language, or being outspent. It was a puzzle until heard about what happened in Cherokee County," said Newman.
Cherokee County
When conducting a routine audit of election results, Cherokee County Clerk Rebecca Brassart found "improper programming" on thumb drives that attributed votes cast for District 1 County Commissioner Myra Frazier to her challenger, Lance Nichols, who was initially credited with the win.
A hand recount followed, which flipped the race back to Frazier, who will now face a Democrat opponent in the November General Election.
"The integrity of our elections is of the utmost importance to me and the team within the County Clerk's Office. Upon discovering the improper programming, I immediately contacted representatives of Atchison, Kansas-based Lockwood Elections LLC, who is responsible for programming the thumb drives used in our elections. The company recognized their error, and my office has since re-tabulated the ballots by a hand count audit, which resulted in Commissioner Frazier retaining her party's nomination for the November General Election later this year. The Commission race was the only one impacted by the company's error and I have already visited with both candidates impacted," Brassert told KNSF, an NBC affiliate in Joplin, Missouri.
Mark Gietzen, a long-time activist in Wichita who heads the Kansas Coalition for Life and the Kansas Republican Assembly, told Operation Rescue that the vote-flipping program found on the thumb drives was a malicious software that would have gone completely undetected had Brassart not decided to randomly audit that race.
Out of hundreds of races in the 105 counties in Kansas, the odds were against her random sampling of votes discovering the only race that was impacted by malicious software.
Gietzen says the thumb drives were certified pieces of Kansas election equipment that were tested and certified before the election. Any "error" would have been detected at that time. However malicious programming is not simply an "error" in programming. It had to be created and placed on those thumb drives.
Recount in progress
The election irregularities in Cherokee County prompted Gietzen to get involved.
Soon after the election, Melissa Leavitt, of Colby, Kansas, requested a hand recount of the Value Them Both results in all 105 counties. The state required her to post $229,000 to pay for the costs of such a hand count. Leavitt tried to raise the money but fell far short until Gietzen stepped in and offered to cover the $120,000 cost of hand counting nine counties based on population. Leavitt raised part of the costs and Gietzen is also raising money through his own network of conservative, pro-life supporters.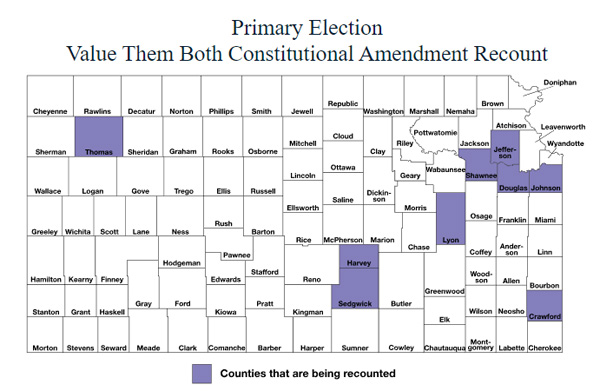 The counties being recounted are Crawford, Douglas, Harvey, Jefferson, Johnson, Lyon, Sedgwick, Shawnee, and Thomas.
"This is just the first step," said Gietzen, indicating that the results of the recount will dictate the next steps, which could include a partial canvass of randomly selected voters, verification of the number of voters at those addresses, and ultimately a legal challenge to the election outcome.
"Every election in this primary is uncertifiable," claimed Gietzen, who pointed out that if malicious programming was discovered almost by accident in one county, it could also exist undetected in others.
He also accused Secretary of State Scott Schwab, a moderate Republican, of having violated a recently passed law, KSA 25-2437, which states in part, "No person shall transmit or deliver more than 10 advance voting ballots on behalf of other voters during an election."
"That law was ignored, and ballot harvesters were allowed to use fictitious names for each group of 10 ballots that they put in ballot drop-boxes. Even if most of the fraudulent ballots came in by U.S. Mail, NO ONE IS ABOVE THE LAW, and as such, the election is not certifiable, without examination of what happened," Gietzen wrote on August 6, 2022, just four days after the Primary Election.
"There are a thousand ways to cheat in elections. During the 2020 election, there is evidence of problems with the electronic voting machines as well as drop boxes and ballot harvesting," said Newman. "I know the leftist-controlled mainstream media has tried to gaslight Americans into thinking that election irregularities are the 'Big Lie,' but anyone who has honestly looked into what happened then questions about the integrity of our elections."
Paying the price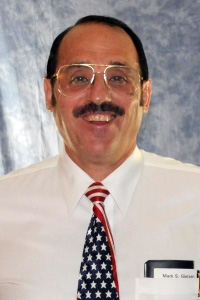 Since Gietzen put up the money to fund the nine-county recount, he has been targeted. Gietzen shared that AP reporter John Hanna, someone he has known for around 20 years, called him about his involvement in the recount effort.
Hanna reportedly became angry with Gietzen over his belief that there were issues with 2020 election and began shouting at him until Gietzen was forced to hang up on him.
Hanna later phoned Troy Newman and questioned him about Gietzen in what seemed to be an effort to dig up dirt on him.
"Mark Gietzen is a friend of mine who I've known for over 20 years," said Newman. "Personal attacks on those who think differently than the mainstream narrative seem to be stock and trade of the left these days."
Gietzen said he later reached out to Hanna via e-mail, but was contacted instead by another AP reporter, Heather Hollingsworth who seemed only interested in the list of donors who contributed money to the recall effort. Gietzen refused to divulge the names.
Together, Hanna and Hollingsworth penned a less-than complimentary article accusing Gietzen of promoting "election conspiracies."
Much at stake
Both Gietzen and Newman agree that there is more at stake in the Kansas recount than the Value Them Both Amendment. The men believe that ensuring election integrity is one of the most important things that must be done to ensure free and fair elections, and with it, our Constitutional Republic.
"If there are problems with the election system, let's find them and fix them," said Newman. "Fair elections are all that stand between free countries and corrupt, oppressive ones. I don't know what the results of this recount will be, but if irregularities are found but not remedied, that would steal away the voice of the people, and that just can't be ignored. We can advocate for the lives of the babies in the womb only because of our guaranteed freedoms in this great nation. If we want to keep living in a free country that allows us to save babies from abortion, we must protect the integrity of our elections. That's why this recount is so important."