Let's all stand with the Scheidler's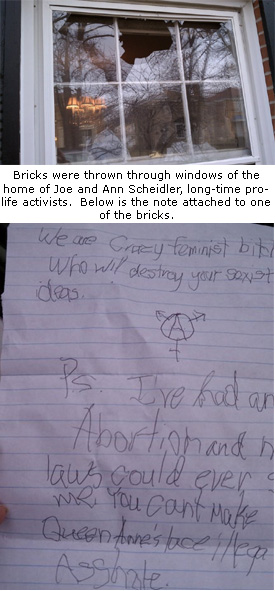 Chicago, IL – Operation Rescue was outraged to learn this morning that the home of long-time pro-life leader Joseph Scheidler was attacked in the middle of the night with bricks of asphalt being thrown through two front windows. One of the bricks contained a threatening note from an obvious abortion supporter bearing a message of hate. The attack occurred around 2:00 A.M.
"We denounce in the strongest terms the cowardly violence that shattered the peace of the Scheidler home last night," said Operation Rescue President Troy Newman. "We demand that that Attorney General Eric Holder order the Justice Department to launch an immediate investigation into this violent hate crime and to provide the same protections to Joseph and Ann Scheidler as they have in the past for unthreatened abortionists."
There has been a recent increase in violence against peaceful pro-lifers. In September, 2009, activist Jim Pouillon was brutally murdered as he stood with a pro-life sign in front of a high school in Owosso, Michigan. Operation Rescue's headquarters in Wichita, Kansas, has been repeatedly vandalized, and staff threatened in recent months. In Albuquerque, New Mexico, sidewalk counselors were threatened by a man at gunpoint and police later discovered a cache of weapons in the man's vehicle.
"Joe and Ann Scheidler are pioneers in the pro-life movement whose knowledge and experience has benefitted everyone who has ever taken a stand for the lives of the pre-born," said Newman. "Please join Operation Rescue in sending a special Christmas gift to the Scheidler's today as a show of support and to help defray the cost of repairing the damage to their home."
Cards and letters can be sent to:
Joe and Ann Scheidler
Pro-Life Action League
6160 N. Cicero Ave.
Chicago, IL 60646
Online donations can be made to them at https://ssl27.pair.com/ejs/plal/donations.php.