Despite the attacks, pro-life workers continue to save babies and impact the community with the message of Life


Albuquerque, NM – A man that had been verbally harassing pro-lifers outside a late-term abortion mill in Albuquerque for days, escalated his abuse to violence yesterday by driving his large paneled delivery truck up on a curb and striking the large pro-life sign being held by Bud Shaver.
Shaver was unhurt in the incident but his sign showing an image of an aborted baby was damaged.
Shaver jumped into the Truth Truck and was able to get the license plate number of the vehicle that hit him. He reported the incident to the police.
"We just explained our concern [to the police] that this man is starting to escalate his behavior," said Shaver. Police told Shaver that they would talk to the man, but it was unlikely that charges would be filed.
This incident took place just two weeks after an Arizona man was arrested and his weapons cache seized by police at the same abortion clinic after he threatened to shoot two pro-life women.
These incidents have not deterred pro-life work in the least. Shaver and his wife, Tara, are full-time missionaries with Project Defending Life. Bud also drives Operation Rescue's Truth Truck, which is on extended loan to the Albuquerque pro-life group.
The Truth Truck has been outfitted with new signs that specifically address late-term abortions that are being done at Southwestern Women's Options, an abortion clinic that operated by Texas abortionist Curtis Boyd.
Since the Shavers relocated to Albuquerque, they have been involved in saving several babies from abortion with the help of Operation Rescue's Truth Truck.
In one incident, Tara Shaver spoke at length to a woman named Makayla who had been considering abortion at the nearby Planned Parenthood. Tara explained the images of aborted babies on the Truth Truck and offered the woman help. A few days later, Tara received a call from Makayla, who told Tara she was not going to go through with the abortion. Makayla said that it was the images on the Truth Truck that made the difference.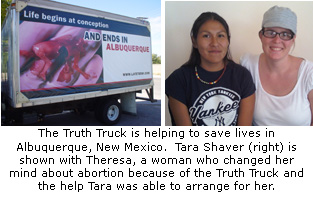 A homeless woman named Theresa was also considering an abortion at Planned Parenthood. Tara used the Truth Truck pictures to open a conversation with her. Tara was able to help Theresa get an ultrasound, housing, health insurance, and counseling. Because of the Truth Truck and the help, Theresa has decided to keep her baby.
"I am so excited to be there for both Makayla and Theresa and am praying that God will use their testimony in the lives of others. People must see abortion for what it is: the murder of innocent children. The truth truck does just that and is a powerful tool that saves countless lives," said Tara.