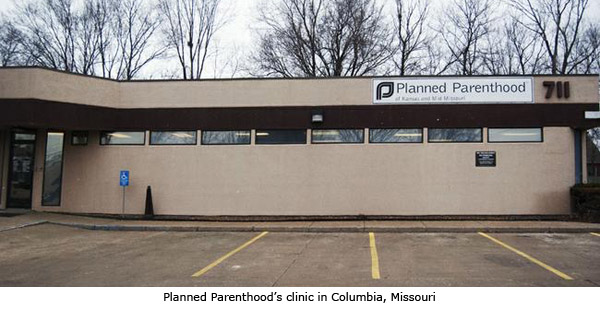 By Cheryl Sullenger
Jefferson City, MO – This morning, Planned Parenthood attorneys will appear in a Missouri Federal Court to make a case for a new injunction on a long-standing state licensing regulation that includes the requirement that abortionists maintain hospital privileges in the communities in which they conduct abortions.
Last month, a federal court judge tossed out the previous injunction, allowing Missouri to once again enforce the law. But when the state has an opportunity to present its case, it will introduce a piece of evidence that could present a huge blow to Planned Parenthood's plans.
One of Planned Parenthood's abortion facilities in Missouri, located in Columbia, would be forced to end the part-time abortions it currently offers because its abortionist, Colleen McNicholas, hold no hospital privileges in that central Missouri community.
Coincidentally, the Columbia Planned Parenthood's abortion facility license also expires today. In anticipation of a possibility that the abortion center's license may need to be renewed, the Department of Health and Senior Services (DHSS) conducted an unannounced onsite licensing inspection on September 26, 2018.
What they found was frankly shocking.
The facility's suction machine, used to do approximately 14 abortion procedures each month, was in appalling condition. The inspection report submitted into evidence along with the state's brief detailed the following:
• Rusted suction machine cabinets that posed an infection control issue since they prevented proper sanitation.
• Bloody single-use plastic tubing attached to the machine's glass suction canister that was never disposed of after the last abortion procedure on September 21, 2018.
• Reusable tubing on the top of the suction machine was contaminated with black mold.
• Staff admitted that the moldy tubing had been present for some time and that abortions continued to be conducted with that moldy tubing in place.
• A black substance that could have been mold or dried blood coated the bottom of the glass suction canister.
A second suction machine stored in a closet was rusty and dirty with tape and adhesive residue that could not be properly cleaned, along with a six-inch streak of brown residue down the side of the suction machine's cabinet that could have been dried blood.
"These filthy suction machines weren't found in Kermit Gosnell's West Philadelphia 'House of Horrors' abortion clinic as one might expect. On the contrary. They were found in a Planned Parenthood facility that is fighting renew to it's abortion license and block the enforcement of licensing rules meant to protect women," said Troy Newman, President of Operation Rescue. "Planned Parenthood will argue that closing the Columbia Planned Parenthood poses an undue burden on women. In truth, being subjected to such filth endangers women. The only burden closing this dump down will cause is on Planned Parenthood's pocket book, which it obviously values over the lives and safety of women."
There was a discrepancy among staff members concerning why the moldy tubing continued to be used. One said the tubing was on back-order. Another said replacement tubing was located inside the suction machine's cabinet, but no one else on staff knew it. Perhaps most shocking was the fact that no one at Planned Parenthood considered the moldy tube a problem.
Other violations affecting infection control and patient safety were also discovered. Those include:
• A metal storage rack in the Recovery Room's medication supply room was installed over an open sump pump well with no barrier between the well and the shelving. Periodically a sump well fills with dirty ground water that is pumped out when it reaches a certain level.
• Pressed wood tables in two exam rooms had chipped paint, making it impossible to properly sanitize them.
• A cabinet under a sink where supplies were stored was dirty with dried residues of various colors.
• Electric heating pads marked for household use only were used in the Recovery Room. Such heating pads can cause severe burns on numbed skin even on a low setting. Inspectors ordered the heating pads removed since they posed a danger to patients.
Meanwhile, despite no evidence that any of the cited violations have been corrected, Planned Parenthood has abortions scheduled for Wednesday in Columbia.
Another Planned Parenthood in Kansas City, which had been doing chemical abortions on a sporadic basis could also be forced to dump plans to resume abortions there. A third Planned Parenthood facility in St. Louis should be unaffected by the outcome of today's hearing.
The hearing was expected to begin October 1, 2018, at 9:00 a.m. CDT. The judge is expected to issue a ruling sometime later today, according to local news station KOMU.
Operation Rescue will monitor this situation and report on updates as available.
Read the inspection report.
Read background article.
Note: This article has been updated with a photo of the actual suction machine that was cited for rust and moldy tubing at the Columbia Planned Parenthood.