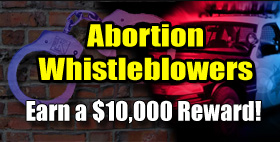 Columbus, OH – Documents and information provided by an abortion whistleblower indicate that botched abortions occur much more often than the public is led to believe. Transcripts provided to Operation Rescue show disturbing information about two botched abortions that took place at different abortion clinics in Columbus, Ohio, within the past month.
"It is our understanding from conversations with our confidential sources in Ohio that abortion patients in Columbus end up in the local emergency rooms with alarming frequency. Our whistleblower says that these two incidents are just the tip of the iceberg. The true number of abortion complications is hidden from the public and it now appears that complications requiring emergency hospitalization have reached epidemic proportions," said Newman.
Operation Rescue is demanding that the Medical Board of Ohio conduct inspections and close the dangerous abortion clinics in Columbus and around the state.
This is the latest of many tips that has come to Operation Rescue since it announced its Abortion Whistleblower Program.
Whistleblowers have been rocking the abortion cartel by coming forward with evidence of abortion abuses, including the following:
• Former employees of late-term abortionist LeRoy Carhart submitted affidavits detailing illegal abortions, unlicensed staff dispensing drugs and performing medical tasks for which they were not qualified, and other offenses. This launched investigations by the Nebraska Attorney General and Health Department.
• A whistleblower confirmed abortion abuses that have been occurring at Planned Parenthood of the Heartland in Iowa where dangerous abortion pills are being administered through a remote-controlled push-button scheme known as "telemed abortion." A medical board investigation is ongoing.
• Whistleblowers in California helped expose the fact that abortionist Andrew Rutland was violating the terms of his probation by doing abortions without the required supervision of another physician. He faces almost certain license revocation at a hearing scheduled for early next year.
• Operation Rescue blew the whistle on illegal late-term abortion referrals provided by abortionist Ann Kristin Neuhaus in Kansas. Neuhaus now faces disciplinary action after Kansas authorities filed an 11-count petition against her based on OR's complaint.
• Two victims of forced abortions done by Michigan abortionist Alberto Hodari came forward to tell of their horrific ordeals. Both women filed medical board complaints and one has sued. Currently, all seven of Hodari's Detroit area abortion mills are up for sale.
Read full article with documentation
Read about Operation Rescue's Abortion Whistleblower's program.