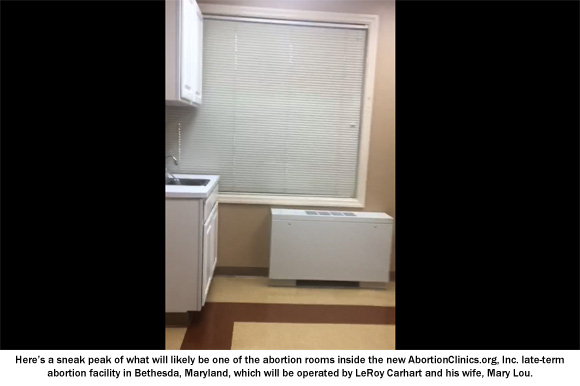 By Cheryl Sullenger
Bethesda, MD — This week, Nebraska late-term abortionist LeRoy Carhart plans to begin offering "advanced gestation" abortions at an illegal abortion facility, AbortionClinics.org, Inc., in Bethesda, Maryland. However, that opening, set for October 17, 2017, will be met with a strong and unified pro-life response.
A press conference and rally, sponsored by the Maryland Coalition for Life and a group of activists with the @StopCarhart coalition, will be held on opening day at noon on the sidewalk outside the new office located at 10401 Old Georgetown Road Suite 104, Bethesda, MD 20814. [Click for more info.]
Later that evening, a Candlelight Prayer Vigil will also be held outside the new abortion business at 6:30 p.m. [Click for more info.]
Operation Rescue, which discovered the address of the secretive facility through an undercover investigation and verified that it has no license to conduct abortions, will provide a written statement to be read at the press conference.
Operation Rescue has since confirmed that Carhart's new late-term abortion facility has no lab certification that would allow it to conduct routine lab testing, which is necessary for the kind of abortions late in pregnancy that Carhart plans to conduct there.
Operation Rescue has filed complaints with the Maryland Department of Health and Mental Hygiene and the Maryland Board of Physicians concerning the illegal abortion facility.
"We are praying that since Carhart's plan to conduct illegal abortions at a secret facility in Maryland have been exposed, that he will think twice about opening up this week," said Newman. "In the case he does open, we will be working hard to persuade the authorities to enforce Maryland laws."
Take Action!
Please contact Carhart's new landlord for his illegal abortion office at the Wildwood Medical Center, Aubinoe Management Company at (301)986-9070. Please respectfully inform them that AbortionClinics.org, Inc., is an unlicensed, illegal late-term abortion facility, and ask that Carhart's lease be terminated immediately.