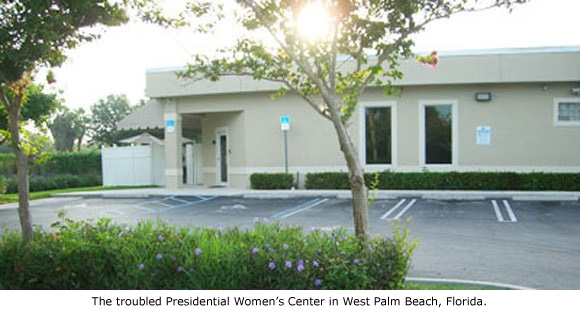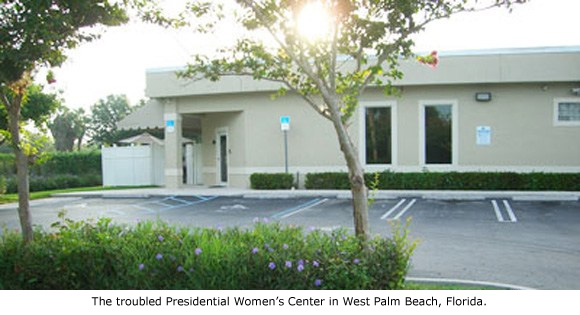 By Cheryl Sullenger
Palm Beach, FL — Just nine miles away from President Donald Trump's luxurious Mar-a-Logo resort in Palm Beach, another business operates in a completely different world from the opulent trappings of gourmet dinners with the rich and powerful, and leisurely golfing on lush, well-manicured greens.
This business operates in a shadowy world of which our pro-life President would hardly approve. It is a dark world of deadly secrets that are rarely exposed to the cleansing power of light.
It is an ever-shrinking world where abortion businesses thrive.
The ironically-named Presidential Women's Center (PWC) in West Palm Beach knows well how to exist in that seedy world. As the number of abortion clinics continues to decline — (at least seven have closed in Florida so far this year) – PWC has survived, even despite scandals that might have closed other abortion facilities.
There have been a series of botched abortions where PWC staff asked that sirens not be used when responding to life-threatening abortion complications.
There has been the criminal referral from the U.S. House Select Investigative Panel on Infant Lives to the Florida State Attorney General's Office seeking investigation and prosecution of PWC after it uncovered evidence that the abortion business had engaged in the illegal sale of aborted baby body parts for profit. So far, the state has failed to conduct more than lip service. Years after the evidence was uncovered, there is still no word on any investigative conclusion – must less a prosecution.
This and other issues seem to have rolled off PWC like water off a duck's back.
Those other issues include a patient death. It doesn't get much more serious than that.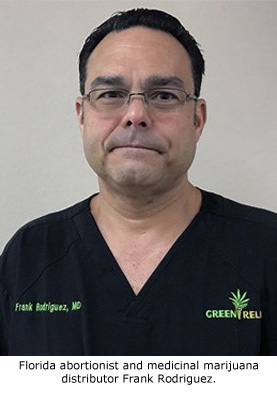 On September 22, 2012, a 31-year old patient, referred to in Medical Board documents as "S.H.," kept her appointment at the Presidential Women's Center to complete what appears to have been a second-trimester abortion.
Details, which are commonly found in disciplinary documents that relate to patient deaths, are sketchy in this case.
It is known that S.H. saw part-time PWC abortionist Frank Rodriguez, who had previously inserted laminaria dilator sticks into her cervix. These sticks are thin, but swell with a woman's natural body fluid, slowly expanding the opening of the cervix so abortion instruments can fit inside. Similar to tampons, the laminaria dilators have strings attached for convenient removal.
When it was time to remove them and complete the extraction of S.H's pre-born baby, one of the dilators slipped inside the uterus. Rodriguez let go of the string, making retrieval difficult. Instead of making the effort to remove the dilator, Rodriguez completed the abortion and discharged S.H, but never bothered to remove the laminaria still inside her uterus.
Surprisingly, Medical Board disciplinary documents against Rodriguez never mention the fact that S.H. died five days after her elective abortion. That information was found in an obscure Florida malpractice claim reporting form filed by Rodriguez due to a monetary pay-out of close to $120,000 to settle a potential malpractice case with S.H.'s family.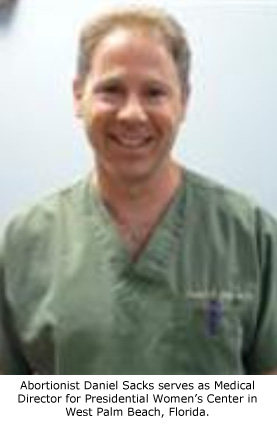 Another malpractice claim reporting form recently obtained by Operation Rescue indicates that Presidential Women's Center's Medical Director, Daniel Sacks, was also somehow involved. His insurance plan paid out just over $40,000 – a pittance to settle a potential wrongful death case.
There's no word on how much the abortion business paid out to avoid a lawsuit that may have revealed more than PWC would have wanted.
So how did S.H. die? The laminaria stick left inside her sensitive post-abortion uterus likely caused a fatal infection, such as sepsis. For S.H., the last five days of her life would have been painful and frightening.
Frank Rodriguez was disciplined by the Florida Department of Health with a mere slap on the wrist. He was ordered to pay $35,619 in fines and costs and ordered to undergo a quality review and competency evaluation. There was no suspension or probationary period mentioned in the consent order.
Daniel Sacks' medical license profile shows he was never disciplined for his part in S.H.'s death.
By the way, Rodriguez now works for the notorious and disgraced Florida abortionist James Scott Pendergraft IV, who was convicted of felonies involving illegal drugs he was distributing in South Carolina as a part of an unlicensed illegal abortion scheme he was running out of his van.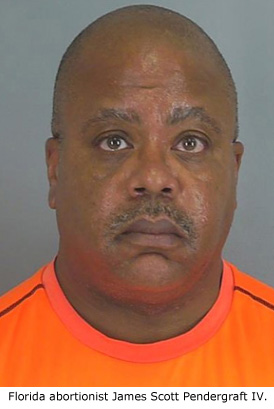 Pendergraft cannot currently conduct abortions or legally own abortion businesses. Ownership was transferred to his ex-wife, but Pendergraft is still frequently seen at these facilities, which are also now serving as "Green Relief" medicinal marijuana distribution centers.
Now, Rodriguez is not only conducting abortions at Pendergraft's "former" abortion businesses, but is now also the poster boy for Pendergraft's new medicinal marijuana centers in Central Florida.
Meanwhile, Presidential Women's Services continues to operate with a mystifyingly clean inspection record from the Department of Health.
"The only way inspectors would find no violations is if they inspected with a blindfold on," said Troy Newman, President of Operation Rescue. "Women are being hospitalized and even killed. Laws preventing the sale of aborted baby tissue and organs for profit have apparently been broken. This abortion facility should not be allowed to operate as if it is above the law or with a mere slap on the wrist when things go tragically wrong. We urge Attorney General Pam Bondi's office to fully investigate Presidential Women's Center and prosecute them to the fullest extent of the law."