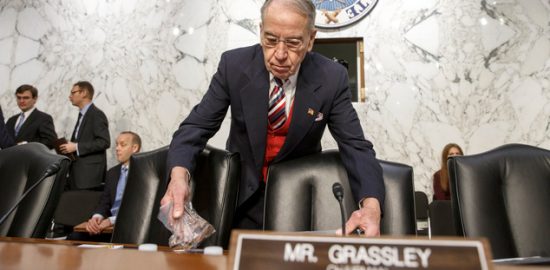 By Cheryl Sullenger
Washington, DC – The powerful US Senate Judiciary Committee has referred four Planned Parenthood organizations and three organ procurement companies to the Department of Justice for further investigation and criminal prosecution related to the illegal trafficking in aborted baby remains for profit.
In a referral letter signed December 13, 2016, by Judiciary Committee Chairman Sen. Chuck Grassley, which was addressed to US Attorney General Loretta Lynch and FBI Director James Comey, the Committee has also recommended that Planned Parenthood Federation of America be further investigated for potential criminal prosecution due to "reasonable suspicion that these organizations, and/or individuals employed by them, may have engaged in a conspiracy to violate the fetal tissue law (18 U.S.C. § 371)."
The four Planned Parenthood organizations referred to the DOJ for criminal prosecution include:
• Planned Parenthood Mar Monte
• Planned Parenthood Los Angeles
• Planned Parenthood Northern California
• Planned Parenthood of the Pacific Southwest
The House Select Panel on Infant Lives previously referred Planned Parenthood Gulf Coast to the Texas Attorney General for criminal prosecution, based on its own investigation into the shadowy and lucrative trade in aborted baby remains.
Each of these Planned Parenthood organizations were featured in undercover video recordings released by the Center for Medical Progress last year. Those releases prompted the Congressional investigations into the alleged illegal conduct.
Also referred to the DOJ by the Senate Judiciary Committee were three organ procurement companies:
• StemExpress, LLC
• Advanced Bioscience Resources, Inc.
• Novogenix Laboratories, LLC
Each of these three companies were also featured in the Center for Medical Progress investigative videos, which showed evidence they provided monetary compensation to Planned Parenthood organizations in exchange for organs and tissue from aborted babies, which were then resold with a substantial mark-up to laboratories for experimentation.
Grassley's referral letter also noted that a 547-page report was submitted to the DOJ that details the Committee's findings – as well as the DOJ's overall failure to enforce laws that ban the sale of aborted baby remains for profit:
The report documents the failure of the Department of Justice, across multiple administrations, to enforce the law that bans the buying or selling of human fetal tissue (42 U.S.C. § 289g-2) with even a single prosecution. It also documents substantial evidence suggesting that the specific entities involved in the recent controversy, and/or individuals employed by those entities, may have violated that law. Moreover, that evidence is contained entirely in those entities' own records, which were voluntarily provided to the Committee and are detailed in the report."
Operation Rescue's Troy Newman served as a founding board member for the Center for Medical Progress during its undercover investigative project. Newman, along with CMP lead investigator David Daleiden, continues to fight a Federal lawsuit filed by Planned Parenthood and the National Abortion Federation, to block the release of additional video evidence.
Newman has this response to the Judiciary Committee's criminal referrals:
These criminal referrals of Planned Parenthood and their partners in the organ procurement business are the result of independent investigations that corroborate the information gathered by the CMP investigators. With a new administration about to take office in Washington DC, my hope for successful prosecutions of these crimes are higher than ever.
The Senate referrals have also provided very convincing new arguments for defunding Planned Parenthood of the half-billion dollars they receive from our tax coffers every year. Congress must make it a priority to immediately halt all tax funding to this criminal enterprise.