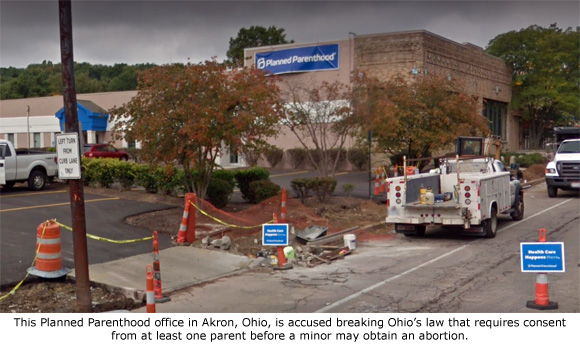 By Cheryl Sullenger
Akron, Ohio – A complaint has been filed with the Ohio Attorney General's office accusing an Akron Planned Parenthood office of violating laws requiring parental consent before a minor can receive an abortion, according to a document obtained by Operation Rescue.
The complaint form, which was received by Operation Rescue in an unredacted form, was filed on July 27, 2017, apparently filed by a parent who stated of Planned Parenthood, "They performed an abortion o[n] a 16-year-old without parental consent."
Notations on the form indicated that the case was assigned to two different complaint specialists, who referred the case to Constituent Services on August 1, 2017. There was no further action noted.
OH Complaint PP Akron Redacted 2 by Cheryl Sullenger on Scribd

The Planned Parenthood center in Akron does not do abortions, but provides abortion referrals to their Bedford Heights office. The Akron center will also schedule abortion appointments over the phone for their Bedford Heights location.
"It is possible that the Akron Planned Parenthood was involved in the illegal abortion by referring or scheduling the young lady for an abortion at another Planned Parenthood facility that did not obtain parental consent," said Operation Rescue President Troy Newman.
Failing to obtain parental consent is not only against the law in Ohio, but it places minor girls at risk, particularly if they are the victims of child sexual abuse.
This complaint supports a growing body of evidence that Planned Parenthood has engaged in a nationwide pattern of ignoring parental consent and notification laws nationwide. These violations go hand-in-hand with the concealment of child sexual abuse, which is also a known Planned Parenthood practice.
"If the Ohio Attorney General's office finds that Planned Parenthood did indeed break the parental consent laws for minors, it should be prosecuted to the fullest extent of the law," said Newman. "Planned Parenthood must not be allowed to flout the law and behave as if they know better than parents, lawmakers, and prosecutors. This scofflaw attitude not only places minors in jeopardy, but is also an attack on the rights of parents and the rule of law. I hope the Ohio Attorney General's office will bring a speedy prosecution."