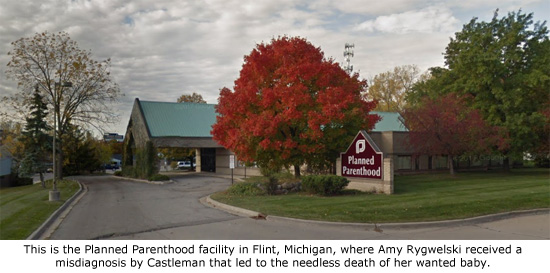 By Cheryl Sullenger
Flint, Michigan — Last year, Planned Parenthood abortionist Laura Castleman was involved in the fatal abortion of Cree Erwin. Erwin received a suction aspiration abortion at a Planned Parenthood office in Kalmazoo, Michigan on June 30, 2016. Her uterus was perforated and she died in her mother's home less than three days later. Her mother's heart wrenching 911 call attests to the penetrating grief of losing a child.
Unfortunately, Castleman and the Planned Parenthood organization in Michigan were never held accountable for Erwin's needless and tragic death.
Now, it appears that Laura Castleman has been involved in another mismanaged abortion. This time, the needless fatality was a wanted baby.
In March 2017, Amy Rygwelski sued Castleman and Planned Parenthood for malpractice stemming from a September 2014 visit to Planned Parenthood in Flint, Michigan, where Castleman also worked and oversaw the medical staff.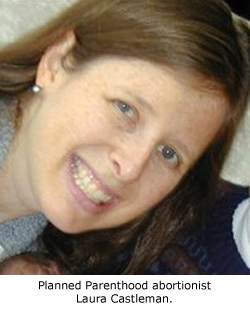 According to Rygwelski's lawsuit, she first went to Planned Parenthood seeking confirmation of pregnancy and treatment for a vaginal discharge. Planned Parenthood confirmed that Rygwelski was pregnant, but failed to conduct an ultrasound to verify the age of her wanted baby.
She returned to Planned Parenthood a few days later on October 1, 2014, for a cervical biopsy. Quest Diagnostics later returned her test results indicating that the cervical tissue was "products of conception." However, the test results were faulty. The tissue was actually an endocervical polyp, which is a benign growth inside the cervical canal.
A defendant identified as M. Rodriguez was a health care administrator who was working under Castleman's medical license and oversight. It appears that, without ever having personally examined or consulted with Rygwelski, Castleman had Rodriguez tell the patient that her condition as an inevitable miscarriage.
However, that was a misdiagnosis that could have been avoided if anyone had ever bothered to examine Rygwelski or conduct an ultrasound on her. Under Castleman's supervision, Rodriguez wrongfully prescribed misoprostol, a drug used to cause medication abortions.
After two courses of the abortion-inducing drug, Rygwelski had not passed any tissue. She went to see her primary physician who, unlike the Planned Parenthood staff, actually examined her. The doctor found the endocervical polyp and conducted an ultrasound that determined Rygwelski's baby was thriving at seven weeks, 2 days gestation.
Just a few days later, a Planned Parenthood nurse practitioner working under the supervision of Laura Castleman contacted Rygwelski and told her she would need to report for a surgical abortion because the misoprostol would cause her baby to be malformed.
She submitted to a surgical abortion, done by a third party, on October 20.
Rygwelski claims that if an ultrasound had been performed by Planned Parenthood, they would have realized that her baby was fine and that there was no miscarriage in progress. Her lawsuit indicates that prescribing the abortion-inducing drug without having performed an ultrasonic examination was a violation of the standard of patient care and needlessly led to the wrongful death of her wanted baby.
The lawsuit seeks an undetermined amount for the wrongful abortion and death of her child that resulted in pain and suffering, emotional distress, shock, embarrassment, humiliation, mortification, and loss of the companionship and affections of her child.
There is nothing more painful in this world than the loss of a child. This is a pain that Amy Rygwelski and Cree Erwin's mother now sadly share and will carry with them for the rest of their lives.
Nothing can compensate these mothers for the loss of their children, but holding Castleman and Planned Parenthood accountable for these tragic and avoidable deaths will bring some small measure of justice, and perhaps comfort.
"There is evidence to lead us to believe that the deaths of Cree Erwin and the Rygwelski baby were caused by the incompetency of Planned Parenthood. That alone should disqualify them from seeing patients. It's just too risky," said Troy Newman, President of Operation Rescue. "They killed two people. They belong in jail, but unfortunately the only punishment available right now is a huge monetary settlement, which I hope Amy Rygwelski gets."
Read the Rygwelski complaint, dated March 17, 2017.
Learn more about Cree Erwin.