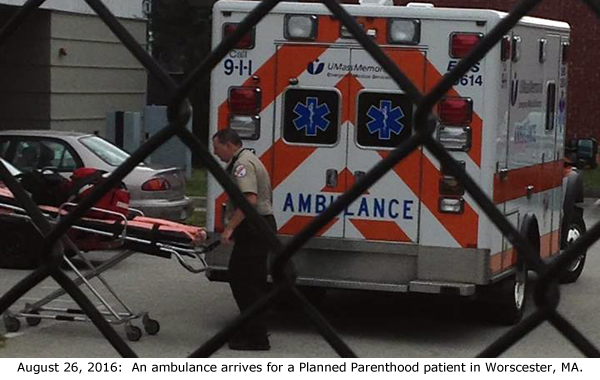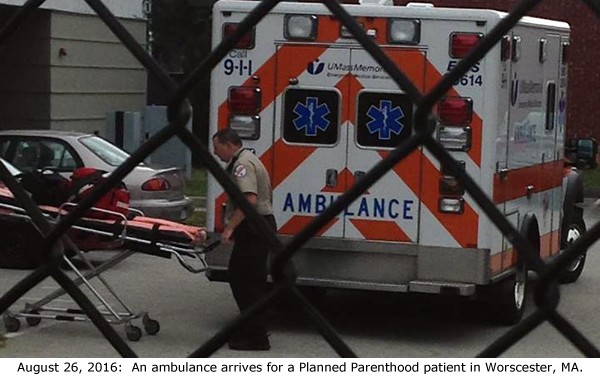 By Cheryl Sullenger
Worcester, MA – Yet another ambulance has transported a Planned Parenthood patient to a hospital emergency room– this time from the Central Health Center Planned Parenthood in Worcester, Massachusetts.
The incident occurred on Friday, August 26, 2016. Pro-life activists at the scene at the scene were told by a mailman who was leaving the facility that there was "panic inside" the Planned Parenthood.
Witnesses observed emergency responders bring out an African-American woman on a gurney. She was sitting up and conscious. No more is currently known about her condition.
The Worcester medical emergency is just the latest problem for Planned Parenthood.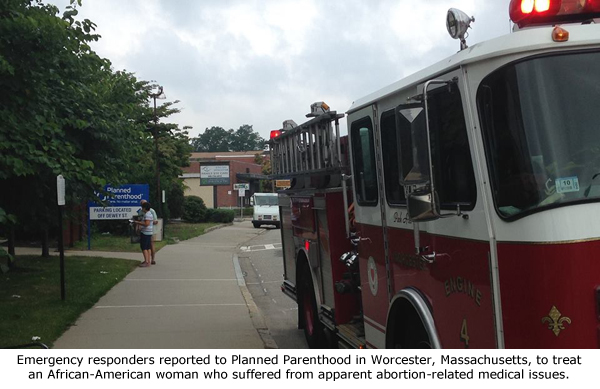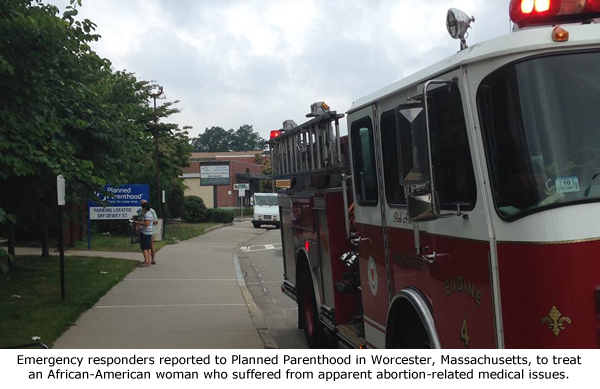 Operation Rescue has documented at least a dozen medical emergencies at Planned Parenthood abortion facilities over the past eight months in the following cities:
• Worcester, Massachusetts. African-American patient with unknown injuries.
• Madison, Wisconsin. Hemorrhage.
• Denver, Colorado. Hemorrhage.
• Kalamazoo, Michigan. 15-year old suffering a "Priority 1" life-threatening condition.
• St. Louis, Missouri (3 incidents) All unknown complications due to Fire Department refusal to release information.
• New York City, NY. African-American woman taken to ambulance in a wheelchair.
• Silver Spring, Maryland. African-American woman barely able to walk lifted into ambulance
• San Bernardino, California. Female patient with unknown condition due to failure of San Bernardino to release any 911 records.
• Overland Park, Kansas. Fire Department EMS response to unknown condition.
• Annapolis, Maryland. Transported to hospital with non-life-threatening complications.
"The targeting of poor urban women of color is an obvious pattern in this list. Planned Parenthood is seeking out the most vulnerable women in minority areas for their dubious abortion practices," said Troy Newman, President of Operation Rescue. "This list is just a small fraction of the actual abortion complications that take place since most manifest after the patient has left the Planned Parenthood abortion center."
Newman continued, "It's time for politicians to stop protecting Planned Parenthood and their shoddy abortion practices. Defund them now and shut them down."

View the Worcester, Massachusetts, Planned Parenthood abortion facility's profile page on AbortionDocs.org.