By Cheryl Sullenger, Operation Rescue Senior Policy Advisor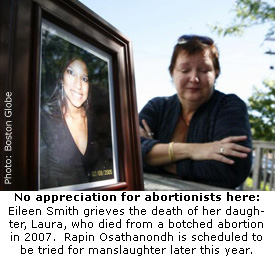 Every year on March 10, abortion groups promote giving thanks for the dwindling number of abortionists in America, but could there be a bigger oxymoron than Abortionist Appreciation Day?
I don't think that Eileen Smith has much appreciation for abortionist Rapin Osathanondh, who is set to stand trial in September for manslaughter in the death of her daughter, Laura. Osathanondh killed Laura when he gave her an abortion in September, 2007, without having proper staffing or emergency protocols in place. Smith suffered life-threatening complications from the same drug that killed Michael Jackson, Propofol, and died on the abortion table.
We won't find many "thank you" letters from the patients of abortionist Kermit Gosnell, either. The State of Pennsylvania recently closed Gosnell's abortion mill and suspended his medical license after the death of a patient from an apparent drug overdose administered during an abortion. Inspectors found "deplorable and unsanitary conditions" at Gosnell's Philadelphia abortion mill along with a grisly collection of aborted baby remains dating back 30 years.
Caitlin Bruce is another abortion patient that won't be thanking her abortionist this year. In fact, she filed suit against Alberto Hodari and his assistant for holding her down and forcing an abortion on her at his Flint, Michigan, abortion clinic in April, 2008. Included in the suit are six counts against Hodari, including lack of informed consent/medical malpractice, battery, fraud, misrepresentation, intentional infliction of emotional distress, and ethnic/gender intimidation. The families of Tamiia Russell, Regina Johnson won't be sending flowers to Hodari, either. Instead, they may choose to lay flowers on the graves of their loved ones who died from botched abortions done by Hodari.
California abortionist Laurence Reich is also unlikely to receive notes of appreciation from the two women he sexually assaulted during abortions, incidents that led to his second sex crimes conviction and license surrender in 2006.
Speaking of rape, Arizona abortionist Brian Finkle shouldn't expect jailhouse visits from the 22 women he is convicted of sexually assaulting during abortions, charges that earned his 35 years in prison. I doubt very much if the other seventy women who came forward to tell how they suffered sexual abuse by Finkle will be sharing the love with him today, either.
Then there is the extended family of 19-year old Christin Gilbert, a loving Down's syndrome teen who suffered a horrifically botched third-trimester abortion by LeRoy Carhart in 2005. Those broken hearts have yet to be fully healed.
These instances are simply the tip of an immense ice berg, proverbially speaking, of women who have suffered as a result of abortion.
Apart from those who have been subjected to serious injury or death, there are a growing number of women in America who deeply regret their abortions. One woman told me that she would give anything in the world to be able to hold her baby in her arms for even a moment. Her grief is still palpable even though her abortion was many years ago.
These women recognized too late the value of human life and the preciousness of their irreplaceable aborted children. They live their lives wondering what might have been, with a gnawing regret that simply doesn't pass with time. These women have been there, done that, and learned the hard way that abortion was not the liberating experience they were promised.
An estimated one-third of all women will have had an abortion by the age of 45. With that number of women experiencing first hand the grievous tragedy of abortion, it is no wonder that support for abortion has plummeted in recent years and that support for the pro-life position is gaining ground.
Appreciation for abortion providers? Considering all the human misery that abortion has caused, the very thought seems ludicrous.
Do something about it:

Operation Rescue is offering $10,000 reward for information leading to the arrest and conviction of an abortionist who is breaking the law. Click here to learn more about Abortion Whistleblowers.