By Troy Newman, President, Operation Rescue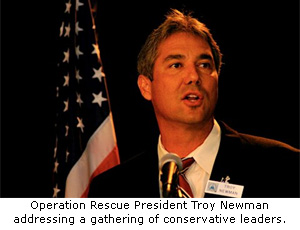 It was sometime in the early nineties that I remember a couple of radical pro-abortion groups holding a funeral march in downtown San Francisco. Most were dressed in black, if they had on any clothes at all. They started with party of sorts at a Unitarian "church." Once they had worked themselves up, they tramped down the street yelling slogans like, "Racists, Sexist, Anti-gay – Operation Rescue go away!" or "Keep your rosaries off my ovaries", a chant that seemed more amusing than threatening since over half the procession was male.
In this manner they prattled on in their funeral protest while carrying a banner draped coffin, with the name "Operation Rescue" written on the white sheet.
Operation Rescue was dead, or so they claimed.
The rabble was comprised of two different organizations. One group was BACAOR, an acronym for Bay Area Coalition Against Operation Rescue. The second throng was ACTUP, which was an acronym for AIDS Coalition to Unleash Power. These groups had two things in common. They loved abortion and hated Operation Rescue.
Today, BACAOR no longer exists and ACTUP is little more than an outdated website. Most of their members have literally died off, and the rest just lost interest and faded away.
Operation Rescue, on the other hand, continues as the leading pro-life activist organization in the nation. Our dedication and single-minded determination to save babies from abortion has never wavered.
Recently, the Associated Press, along with their willful accomplices in the left-stream print media, feverishly pronounced Operation Rescue's doom. A reporter seized upon one of my letters to our supporters and concocted a story that made it seem as if I was about to leave the pro-life movement and begin a new career flipping burgers at McDonalds.
As is common in letters of this sort, our financial needs were laid out and an appeal for donations was made so that we would have the resources to continue our projects. Operation Rescue, like many other organizations, subsists month to month on the good graces of our supporters. So critical are our life-saving projects that I am not ashamed to ask for funds. Without financial support from our faithful and dedicated benefactors, our doors close, the Truth Trucks go into mothballs, and abortionists who are committing illegal activity are more likely to continue to violate the law and place the lives of women at risk.
As has been the case each month for twenty years, the generous supporters of Operation Rescue answered my letter, and our vital pro-life campaigns continue in full swing. We have since launched the national "I AM 71" project in opposition to tax-funded abortion. We have exposed three botched abortions at Southern California Planned Parenthoods, and called for their investigation. We are applying pressure to the California Medical Board to revoke the license of a San Diego area abortionist caught red-handed violating terms of his probation. Meanwhile, the criminal investigation of Nebraska late-term abortionist LeRoy Carhart, launched at our request, is continuing. Our yet-to-be-published investigations of other abortionists in several other states are active and ongoing. Our office is as busy as it ever has been.
In the coming weeks I will be announcing an exciting new project that will rock the abortion cartel back on their collective heels.
So there is little of substance to support the wishful thinking of the militant guardians of "choice" like the Kansas City Star, the Washington Post, the New York Times, or others, who like BACAOR and ACTUP so many years ago, were overly anxious to announce our demise.
Operation Rescue is alive and well and determined more than ever to continue our work until pre-born babies once again enjoy the protection of law, and abortion is relegated to an ugly footnote in our nation's past.