By Cheryl Sullenger
Dayton, Ohio – A thirty-year-old seizing and unconscious abortion patient was transported to Miami Valley Hospital in Dayton, Ohio, on Thursday, February 7, 2019, after the Women's Med Center could not treat her condition.
The Women's Med Center is a late-term abortion facility owned by the nationally-known abortionist Martin Haskell, who claims to have invented the partial birth abortion procedure, which was conducted on living babies until the process was banned by federal law in 2003.  His abortion facility, located in the Dayton suburb of Kettering, is known to still conduct abortions throughout all nine months of pregnancy for "fetal indications," although it claims to limit abortions in other circumstances to 22 weeks of pregnancy.
According to 911 records received by Operation Rescue from a local pro-life activist, an abortionist who identified herself as Catherine Romanos, who is also known to work at Planned Parenthood abortion facilities around the state, called for ambulance transport for the woman who had been seizing uncontrollably for ten minutes.  The woman was in the recovery room after having just completed an abortion procedure.
Romanos told the 911 dispatcher that her patient's pulse varied between 90 and 140 beats per minute and that Valium administered through her IV port had not controlled the seizing.
The EMS report indicated that the woman was unconscious.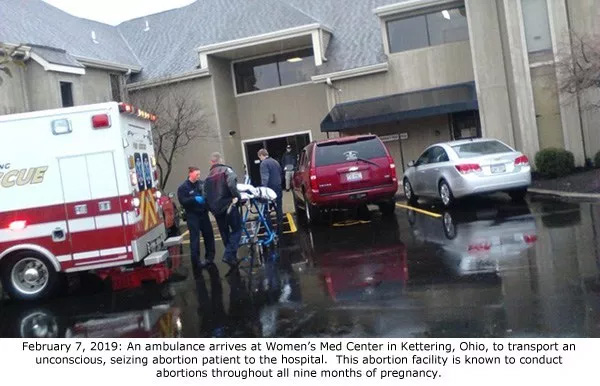 Romanos attempted to minimize the condition the woman – or at least the clinic's responsibility – by emphasizing that the woman had undergone an uncomplicated abortion and suffered from a seizure disorder.  Romanos claimed the patient's husband indicated that ten-minute seizures were not uncommon for his wife.
"Why did the Women's Med Center conduct an abortion on a woman with a known seizure disorder when they were not equipped to treat her in the event of a seizure?  It seems that this woman's condition should have contraindicated abortion in an ill-equipped outpatient surgery facility," said Troy Newman, President of Operation Rescue.
The Women's Med Center has been locked in a legal battle with the Ohio Department of Health (ODH) since 2015, when the ODH ordered it to close after determining that it was not in compliance with ambulatory surgical facility licensing regulations that required abortionists to maintain hospital privileges or obtain a variance using an approved hospital transfer agreement.
The notorious abortion facility has been allowed to continue operating while the legal action is pending, even though its last approved license expired in 2012.
In August 2018, a judge upheld the ODH decision to revoke its ambulatory surgical facility license.  Haskell's appeal on that decision is set for a hearing March 12 at 10:30 a.m. in the Ohio 2nd District Court of Appeals.
In 2014, Haskell was ordered to close his Sharonville, Ohio, abortion clinic for similar licensing violations after another years-long legal process.  Haskell finally closed it permanently in August of that year.
"While we have to give Ohio credit for trying, its license revocation process is so long and arduous that women are placed at a facility that cannot meet the safety requirements for licensing," said Newman.  "We will be watching the outcome of the appeals process carefully and pray that this dangerous abortion clinic is soon closed for good."