By Cheryl Sullenger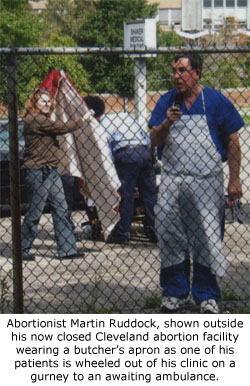 Detroit, MI — After shutting down his problem-plagued Cleveland, Ohio, abortion facility in 2013, due to his inability to comply with clinic licensing standards, abortionist Martin Ruddock now finds himself in trouble in Michigan.
The Michigan Department of Licensing and Regulatory Affairs has filed two disciplinary petitions against Ruddock for administering low-dose sedation consisting of controlled substances without a valid dispensing license from the Drug Enforcement Agency.
"Ruddock seems incapable of complying with the laws of any state. We urge the Michigan medical licensing authorities to strip him of his license before he seriously injures or kills anyone else," said Troy Newman, President of Operation Rescue, referring to past abortion injuries inflicted by Ruddock that Operation Rescue has documented.
From September 24 through October 16, 2013, Ruddock was employed by the Scotsdale Women's Center in Detroit, Michigan. According to the disciplinary petitions, Ruddock administered fentanyl and midazolam to patients without a valid drug control license for that facility as required by law. When he did supply a drug license for that location, it was lapsed.
Ruddock was cited for "dispensing a prescription without a drug control license at that location" and for a "general duty" violation.
Ruddock began practicing in Michigan in 2013 when his failure to qualify for a hospital transfer agreement in Ohio forced him to close his Cleveland abortion business permanently and seek employment elsewhere.
That abortion business was continually in hot water with regulators.
His clinic was temporarily closed in 2006, after Ohio Department of Health inspectors discovered that the clinic was not meeting even the most rudimentary of medical standards, such as taking a patient's temperature and blood pressure before risky late-term abortion surgeries.
In September 2012, Ruddock appeared outside his abortion clinic during a medical emergency wearing what appeared to be a butcher's apron. He was overseeing the transfer from his abortion clinic to an awaiting ambulance of a 26-year old second-trimester abortion patient suffering from a high fever and disorientation.
Five weeks later, an ambulance transported a 30-year old woman suffering lacerations and heavy bleeding after Ruddock botched her abortion at 22 weeks. A 911 call recording obtained by Operation Rescue indicated she was "bleeding bad" and passing large blood clots larger than a 50 cent piece.
In 2011, Ruddock was sued by a former patient after he refused to stop a painfully inserting laminaria in preparation for a second trimester abortion. Her suit claims Ruddock violated Ohio's informed consent and 24-hour waiting period then lied to her when he told her he could not stop the abortion because her amniotic fluid sack had been broken. She immediately sought care with a legitimate physician who removed the laminaria and informed her that there was no break in her amniotic fluid sack. In due time, she delivered a healthy baby.
Ruddock has sought employment as an abortionist at various clinics in the neighboring state of Michigan and currently works at Northland Family Planning Center West in Westland, Michigan, and other Northland locations.
"It is because of shoddy abortionists like Ruddock that we are seeing so many patient care issues at abortion clinics across America. Only bottom-of-the-barrel providers are attracted to the abortion business. Anyone with even adequate skills and nominal ethics simply does not become an abortionist," said Newman. "Martin Ruddock is a case in point for tighter abortion clinic scrutiny and oversight. We pray the Michigan Licensing authorities will do their duty and act quickly to bar Ruddock from the practice of medicine in their state."
Read Michigan Administrative Complaints (One & Two)
View Ruddock's profile on AbortionDocs.org