By Cheryl Sullenger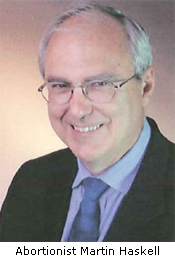 Dayton, Ohio – A regulation requiring abortion clinics to maintain transfer agreements with local hospitals is paying off in Ohio, with at least three major abortion clinics unable to arrange such agreements, including a Planned Parenthood.
Those clinics have each applied for variances, which would allow them to continue operating even though they cannot meet the requirements of the law.
The notorious late-term abortionist, Martin Haskell, is the owner of two of the embattled clinics in Dayton and in the Cincinnati suburb of Sharonville.
No hospital will extend privileges to Haskell. In January, his Women's Med Center in Sharonville was ordered closed after the Ohio Department of Health (ODH) failed to approve a variance and operating license for that clinic when it was found in non-compliance with law. However, that order was stayed by a court injunction after Haskell sued the ODH, which found his lack of compliance endangered the lives and health of the public. His Sharonville clinic continues to dangerously operate without a license or valid hospital transfer agreement.
Haskell's other Women's Med Center abortion clinic in Dayton and a Planned Parenthood clinic in the Cincinnati neighborhood of Mt. Auburn, have also applied for variances since their abortionists also either could not get hospital privileges or had their privileges terminated. Those applications remain under review.
"In light of the ODH's decision to reject Haskell's Sharonville variance, it is probable that the Dayton and Planned Parenthood variances will also be denied," said Troy Newman, President of Operation Rescue. "While the abortion clinics complain that would close them down, it would be in the public's best interest. Currently, abortionists that lack hospital privileges and transfer agreements simply cannot ensure the safety of women who, on a regular basis, suffer life-threatening abortion complications at Ohio abortion clinics."
Currently, no hospital will turn away a woman suffering an abortion-related medical emergency if she presents at the emergency room, but the burden for the care then falls upon hospital staff who are less familiar with the patient's previous treatment. Emergency room physicians have complained that when abortionists simply dial 911 and dump their injured patients on ER staff, if often places the woman at further risk when the hospital providers delay care while they try to figure out what happened and what treatment is appropriate.
Hospital transfer agreements ensure continuity of care for patients when minutes could mean the difference between life and death.
"Rather than extend transfer agreements to abortionists, it is in the interest of the public's health and safety to reject such agreements and simply allow their abortion clinics to close. If these substandard practitioners are out of business, they can't keep inflicting injuries on women," said Newman.
Hospitals simply do not want to become involved in entering such agreements for a variety of reasons. State law prohibits public hospitals from providing abortions or entering into transfer agreements. Some private hospitals will not participate in abortion due to moral or religious objections, while others distance themselves from abortion because of the liability issues involved.
In the Cincinnati area, Christ Hospital, Mercy Health, TriHealth and St. Elizabeth Health in Northern Kentucky will not allow elective abortions at their facilities. One other facility simply would not comment of the issue when asked by a Cincinnati Enquirer reporter.
"Abortionists are not among the most reputable physicians. Most are a troubled lot that cause liability issues for hospitals," said Newman. "Ohio abortionists and those formerly involved with transfer agreements and variances there are certainly among that group."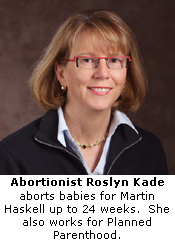 That includes abortionist Roslyn Kade is Medical Director of Planned Parenthood of Southwest Ohio's Cincinnati abortion clinic, the Elizabeth Campbell Center. She also worked for Haskell's Sharonville abortion clinic, and was contracted to provide hospital care to his botched abortion patients until her own hospital privileges were terminated at Christ Hospital on February 29, 2012.
Kade's loss of hospital privileges was only another in a list of problems. In 2007, Kade was sued by the parents of a 14-year old girl who allege that Kade illegally committed an abortion on their daughter without their consent after the young girl was impregnated by her 22-year old soccer coach. Her abuser took her for an abortion while pretending to be her step-brother. Kade never reported the incident of child sex abuse.
Another abortionist, Walter T. Bowers, who was involved in providing hospital care for women injured during abortions by Haskell, was convicted of incompetence and banned from the practice of obstetrics in Ohio's neighboring state of Kentucky. After Operation Rescue publicized his appalling record, he was dropped from Haskell's variance.

Haskell temporarily amended his variance to replace Kade and Bowers with Chandra Gravely and Cindy Hansel. However, Operation Rescue discovered that Gravely and Hansel have also been accused of negligence and incompetence, having been sued at least seven times since 2000 for medical malpractice, including one suit wrongful death suit that included Hansel as a co-defendant.
"It's no wonder that hospitals don't want to take a chance in involving themselves with abortionists like Haskell, Kade, Bowers, and others. No reputable hospital would want to be responsible for cleaning up and covering up for their incompetence," said Newman.
Operation Rescue has encouraged legislation and regulation changes that require abortionists to maintain privileges at hospitals with 30 miles of their clinics. In Texas, this law shut down nearly a dozen abortion clinics where abortionists were rejected by local hospitals. In Mississippi, the 30-mile hospital privilege rule could close down the Jackson Women's Health Organization, the last remaining abortion clinic in that state, since hospitals have declined to extend privileges to all its fly-in abortionists. The same legislation in Missouri has closed all but one abortion clinic in that state.
"This is about protecting women and their babies from incompetent abortionists whose shoddy practices injure and kill women every year. If an abortion clinic cannot ensure that women suffering complications cannot get the same standard of care in emergencies that others must get, they deserve to close," said Newman. "The truth is that abortionists' own bad behavior has created the situation that is now closing them down. They have no one to blame for that than themselves."