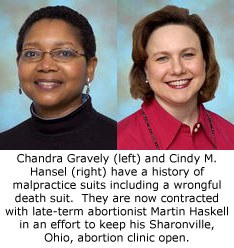 Cincinnati, OH – Under pressure from pro-life groups and the public, abortionists Walter T. Bowers and Roslyn Kade have been dropped from an agreement with late-term abortionist Martin Haskell to provide emergency hospital care to women injured at his Sharonville, Ohio, abortion clinic.
Haskell has no hospital privileges as required by law, and must receive a special variance, or written exemption, from the Ohio Department of Health in order to continue operating his abortion business. Haskell must have signed contracts with other physicians who do have hospital privileges in order to guarantee that his patients suffering abortion complications receive seamless emergency care.
Operation Rescue discovered that Bowers had been disciplined by the State of Kentucky for causing the death of a wanted baby through his negligence. He was banned from the practice of obstetrics in that state. Ohio issued a public reprimand to Bowers based on the Kentucky discipline. Bowers also tried to hide from the Kentucky Medical Board the fact that he worked as an abortionist in the State of Indiana and has falsely represented himself to be Board Certified in Obstetrics and Gynecology when no record of such certification exists.
While Kade no longer provides emergency hospital care, she continues to do abortions for Haskell at his Sharonville office one day per week.
Last month, Kade and Bowers were replaced on Haskell's variance with two new doctors who have agreed to provide emergency hospital services to Haskell's injured abortion patients. Those doctors are Chandra Gravely and Cindy Hansel who will be covering for Haskell at Bethesda North Hospital. David B. Schwartz will continue to provide similar services for Haskell's patients at The Christ Hospital.
Both Gravely and Hansel work for Crescent Women's Medical Group in Cincinnati. While both women's medical licenses show no disciplinary action, records on file with the Hamilton County Clerk of the Court reveal a disturbing evidence of negligence and incompetence. Gravely and Crescent Women's Medical have been sued seven times since 2000 for medical malpractice, including one suit wrongful death suit that included Hansel as a co-defendant.

Abortion complication with uncontrolled seizure, 03/28/2012
"The number of recent medical malpractice claims filed against Haskell's associates should disqualify them from providing emergency medical care to women suffering life-threatening abortion complications. These women cannot adequately care for their own patients without being continuously sued for malpractice and wrongful death. Haskell's arrangement with them only serves to further endanger the lives of women already suffering from the consequences of substandard abortion practices," said Troy Newman, President of Operation Rescue and Pro-Life Nation.
The variance is important because Haskell's clinics have a history of sending patients to the hospital. In April, Operation Rescue filed a complaint against Haskell alleging violations of the standard of patient care after local activists documented a botched abortion at his Sharonville clinic on the outskirts of Cincinnati. On 911 recordings obtained by Operation Rescue, Haskell can be heard placing the call for emergency assistance after an abortion patient went into uncontrolled seizures. Haskell was heard on the recording laughing at the dispatcher when she offered him additional instructions on caring for the woman until emergency units could arrive.
"We are asking the public to stand up for the lives and safety of women by contacting the Ohio Department of Health and the two hospitals involved with Haskell's abortion business to ask them to stop enabling Haskell's dangerous late-term abortion business, which rightfully should not be allowed to operate under existing laws," said Newman. "We are asking the ODH to cancel the variance that allows Haskell to sidestep the law and we are asking the hospitals must disassociate from the doctors who are contracting with Haskell."
Read the new variance documents.
Contact:
Dr. Theodore Wymyslo, Ohio Department of Health
E-mail: Director@odh.ohio.gov
Phone: 614-466-2253
(Ask that the ODH cancel Haskell's variance.)

Michael Beauchat at The Christ Hospital
Phone: 513-585-4900
E-Mail: Michael.Beauchat@TheChristHospital.com
(Ask them to disassociate from David B. Schwartz)

John S. Prout, President and CEO, TriHealth, Inc.
Phone: 513-569-6141
E-Mail: john_prout@trihealth.com
(Ask him to disassociate Bethesda Hospital North from Gravely and Hansel)