Video refutes Cecile Richards' claim that there is no profit for Planned Parenthood and raises further questions about the unethical altering of procedures to one "less crunchy."
VIDEO 2
Washington, DC — The second video in an investigative series from the Center for Medical Progress exposing Planned Parenthood's illicit sale of aborted baby body parts has now been released.
The most recent video shows a luncheon conversation with Dr. Mary Gatter, who currently serves as President of Planned Parenthood's Medical Directors' Council and Medical Director of Planned Parenthood's Pasadena abortion clinic. She also served as the Medical Director of Planned Parenthood Los Angeles until 2014.
In the video, Gatter is heard haggling over the price she will charge for intact fetal body parts and is concerned that she will be "low-balled." She asks for at least $75 per specimen, but wants to see what other Planned Parenthood abortionists are getting to make sure she gets similar compensation so she can buy an expensive sports car.
"But, you know, the money is not important. But it has to be big enough that it makes it worthwhile for me. . .It's been years since I've talked about compensation, so let me just figure out what others are getting and if this is in the ballpark, that's fine. If it's still low, we can bump it up. I want a Lamborghini," Gatter laughed.
New Lamborghini models run in the $250,000-550,000 price range.
"The statements in the Gatter video prove that Cecile Richards flat-out lied when she said that Planned Parenthood does not profit in any way from the sale of aborted baby parts. It takes a lot of baby livers to buy a Lamborghini," said Troy Newman, President of Operation Rescue. "And now it also appears that Planned Parenthood is also lying to women, altering their procedures in order to get body parts that can be sold for profit. These represent serious legal and ethical breeches for which Planned Parenthood must be held accountable."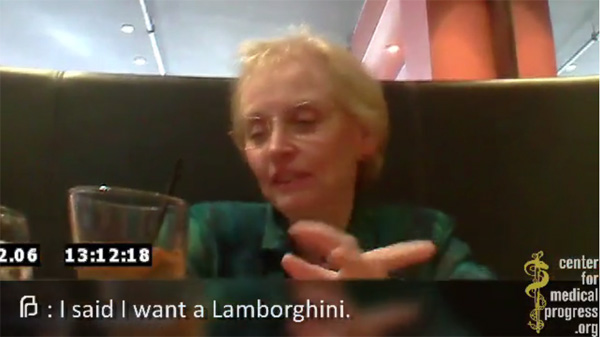 Newman consulted on the undercover investigation conducted by David Daleiden, Director of the Center for Medical Progress for which Newman is a Board Member.
Gatter displayed a callousness toward women and seemed to brush off any concerns patients might have about the altered procedure.
". . .Patients don't care what we do, of course," she said.
Gatter explains that she has no problem altering a procedure to one that is "less crunchy" ensure that the baby's body is as intact as possible, but also implies that they need to avoid the appearance — if not the fact — that they are selling the tissue.
Altering the abortion procedure to make sure organs are intact is considered unethical by medical standards and also illegal, which Gatter appears to consider a "specious little argument."
"Let me explain to you a little bit of a problem, which may not be a big problem," says Gatter. "If our usual technique is suction, at 10-12 weeks, and we switch to using an IPAS or something with less suction, or increase the odds that it will come out as an intact specimen, then we're kind of violating the protocol that says to the patient, 'We're not doing anything different in our care of you.' Now to me, that's kind of a specious little argument and I wouldn't object to asking Ian, who's our surgeon who does the cases, to use an IPAS at that gestational age in order to increase the odds that he's going to get an intact specimen, but I do need to throw it out there as a concern."
Gatter continued, "I don't think the patients would care one iota. So yeah, I'm not making a fuss about that."
IPAS is a manual abortion method that uses a syringe to apply gentle suction using no sharp implements. On the other hand, suction abortions use powerful vacuum suction to dismember the baby's body, leaving dismembered remains that too macerated for use in research.
Planned Parenthood Federation of America is well aware of each participating affiliate's organ procurement contract and approves each one.
Last week, the CMP released a video showing Planned Parenthood Medical Director Deborah Nucatola cavalierly discussing the sale of livers and other fetal organs obtained from altering late-second trimester abortion procedures. The video sparked a firestorm of outrage and prompted investigations into Planned Parenthood's sale of human fetal organs in Congress and seven states.