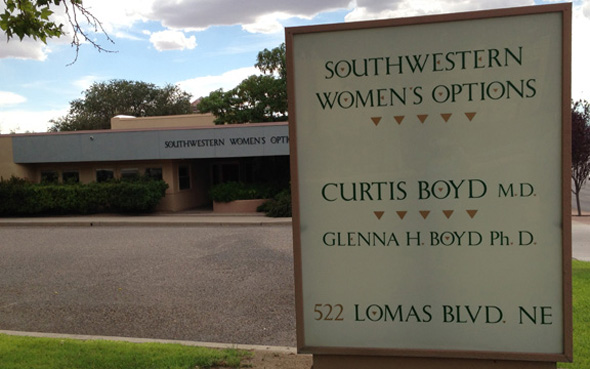 By Cheryl Sullenger
Albuquerque, NM — During a meeting with pro-life activists on Monday, March 6, 2017, representatives from the New Mexico Attorney General's office confirmed that the University of New Mexico and Southwestern Women's Options, the largest late-term abortion facility in the United States, are under investigation for violations of state law.
Tania Maestas, Deputy Attorney General, informed Tara Shaver, Senior Policy Advisor for ProtestABQ, and ProtestABQ's senior attorney, Angelo Artuso, that a complaint filed by Shaver in 2015, is under investigation by the criminal division of the New Mexico Attorney General's office.
Shaver's complaint involved Southwestern Women's Options consent forms from 2012 and 2015, which women are obligated to sign prior to abortions. Those forms state that the remains of babies aborted at Southwestern Women's Options may be used in medical research.
SWO Consent Form 2015 by Bud Shaver on Scribd

Southwestern Women's Options is the sole supplier of aborted baby tissue to the publicly-funded University of New Mexico.
Potential state law violations in the complaint included the Jonathan Spradling Anatomical Gift Act and the Maternal and Fetal Experimentation Act.
In addition, Maestas informed Shaver and Artuso that the criminal referrals of UNM and Southwestern Women's Options made by the U.S. House Select Investigative Panel on Infant Lives to New Mexico Attorney General Hector Balderas last year, are also under investigation.
The House Select Investigative Panel presented Balderas with evidence to back up their findings, which included several key points. (Read more about this.)
1. Taxpayers partially fund both UNM and the Southwestern Women's Options late-term abortion business.
2. Two UNM abortionists created a radically pro-abortion climate at the "resistant" university and created a cultural shift that now aggressively promotes abortion.
3. The primary goal of UNM's partnership with Southwestern Women's Options was to increase the volume of second trimester abortions, in order to provide the UNM Health Sciences Center with an ample supply of aborted infant remains for "research" and other purposes.
4. Southwestern Women's Options is the sole provider of "aborted infant tissue" to the UNM Health Sciences Center (UNMHSC).
5. Whole brains from aborted babies were admittedly used for dissection by "summer camp" students.
6. UNM's training agreement with Southwestern Women's Options violated UNM's own policies and procedures on such contracts.
7. UNM granted faculty status to Southwestern Women's Options abortionists that included employee benefits that provided professional and financial benefit. These benefits may qualify as "valuable consideration," which would put them in violation of State and Federal law.
8. The Select Investigative Panel agreed with Shaver's conclusions that New Mexico's Spradling Act was violated.
"This is a matter of urgency as aborted baby remains are still being harvested and transferred between the facilities for experimental research. Each day that passes poses a risk to the public and sends the message to the New Mexico abortion cartel that they have free reign to do as they please," said Shaver. "We are grateful for the confirmation from the New Mexico Attorney General's office that the complaint and referral before them is being taken seriously and we urge them to work quickly to resolve this very important matter."
"We urge the New Mexico Attorney General's office to move with all possible speed to bring those involved in criminal conduct at UNM and Southwestern Women's Options to justice," said Operation Rescue President Troy Newman, who also provided information during the Select Panel's Investigation. "The longer the investigation drags on, the more UNM and the Southwestern Women's Options abortion business will continue to break the law and exploit women, all at taxpayers' expense."