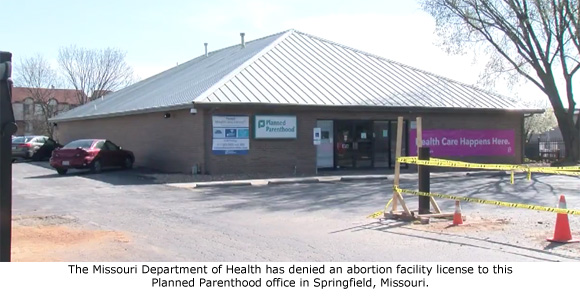 By Cheryl Sullenger
Springfield, MO – New documents have been obtained by Operation Rescue that reveal more about why the Missouri Department of Health and Senior Services (DHSS) denied the non-compliant Planned Parenthood office in Springfield an abortion facility license.
Now it appears that the situation at Springfield Planned Parenthood is actually worse than was originally reported, and that due to numerous violations of licensing regulations, the DHSS has actually declined to issue an abortion license this facility three times.
"The Springfield office is run by the same people that run the St. Louis Planned Parenthood, which is considered the most dangerous abortion facility in the nation. It would be appalling to allow these incompetent people to run another abortion facility," said Troy Newman, President of Operation Rescue. "The serious health and safety issues at the Springfield Planned Parenthood, and the fact that none of the three abortionists listed on Planned Parenthood's complication plan live in the Springfield vicinity, clearly supports the repeated Department of Health denials for an abortion facility license."
It began last year when Planned Parenthood of the St. Louis Region and Southwest Missouri, which operates the trouble-prone Reproductive Health Services abortion facility in St. Louis, announced plans to expand medication abortion services into their existing centers in Springfield and Joplin.
A letter dated October 12, 2017, was issued by the DHSS to Janice Thomas, Vice President of Patient Services & Research, at the St. Louis Reproductive Health Services of Planned Parenthood. That letter referenced an initial licensing inspection that took place on October 10-11, 2017, wherein 14 citations were issued for violations of six licensing regulations.
The DHSS letter stated, "The initial survey could not be completed as the facility was not fully ready to provide all patient care services in full compliance with all state regulations."
Some of the deficiencies cited include:
• Improper medication storage that risked cross-contamination.
• Expired urine test strips.
• Rusty examination table in the ultrasound room that was missing laminate at the front of the table, exposing pressed board, which is an uncleanable surface.
• Improper decontamination of vaginal ultrasound probes, which were rinsed in the hand-washing sink and placed in disinfectant in an instrument soaking contained next to the hand-washing sink. The probes should have been placed in a bag and transported to the soiled utility room for proper decontamination.
• Lack of recent infection control training for two employees.
• Failure to conduct criminal background checks on half the facility's employees.
• Sloppy and incomplete record-keeping on the credentials of all three physicians.
• Failure to have available required emergency equipment such as a suction machine and endotracheal equipment to ensure clear airways.
"Please respond in writing providing evidence/documentation that each of these items has been fully addresses/corrected. Only upon successful completion of the revisit process an ASC license can be issued," the DHSS letter concluded.
A second letter from the DHSS to Planned Parenthood's Thomas, dated December 21, 2017, reiterated the deficiencies found during the October 10-11, 2017, inspection and noted that no plan of correction had been received.
In addition, that letter informed Planned Parenthood that a new emergency rule regarding complication plans for "certain drug and chemically induced abortions via abortion facilities" had been enacted as of November 3, 2017. The Springfield Planned Parenthood was also not in compliance with that new rule.
"To date, your facility has not submitted a proposed Correction Plan. Since the facility's plan is to perform only medication abortions for the time being, until your facility becomes compliant with that rule, the facility cannot be licensed as an abortion facility," the DHSS letter stated.
Finally, on March 29, 2018, a third letter was sent to Planned Parenthood's Janice Thomas regarding a proposed complication plan submitted by the Springfield Planned Parenthood on January 8, 2018. That plan was rejected for not meeting the requirements of the complication plan rule.
It is easy to see why the plan was rejected.
The plan was for a "Dr. Grebe" to provide abortion drugs in Springfield and provide emergency care in the event of an emergency "whenever possible." Operation Rescue has learned that "Dr. Grebe" is actually 72-year old Terry Keith Grebe, who lives and works in Joplin, Missouri – which is one hour and 15 minutes driving time from Springfield.
When Dr. Grebe was unavailable, Planned Parenthood's complication plan was for Dr. David Eisenberg to treat patients at Reproductive Health Services abortion facility in St. Louis, which is three-hours driving time from Springfield. Finally, if neither Grebe nor Eisenberg was available, patients suffering complications from abortion drugs would be sent to Overland Park, Kansas – two-and-a-half hours driving time from Springfield – to be treated by 76-year old Orrin Moore.
So what kind of care can women expect from Eisenberg and Moore?
During a failed inspection at the St. Louis Planned Parenthood abortion facility last year, Eisenberg, who serves as Medical Director, was cited for failing to wash his hands between glove changes. When the inspector mentioned it to him, he questioned whether the handwashing requirement was a new protocol. [Documentation related to Eisenberg can be found on AbortionDocs.org.]
Moore has a long history of botched abortions, including the death of a patient, Dawn Mack, 21, and has been sued repeatedly for medical malpractice. In March 2016, Moore was banned from participating in KS Medicaid & KanCare, and was subject to administrative review. [Documentation on these and other issues can be found at AbortionDocs.org.]
"Additionally, the proposed plan fails to recognize the importance of the physician-patient relationship by providing for continuity of cane and ensuring communication among the physician who induced the abortion and all subsequent health care providers involved in treating the patient's complication," the letter stated.
Apparently, all of the deficiencies cited in the failed October inspection report were not yet corrected as of the writing of the letter on March 29, 2018.
The letter concluded, "Because the facility's proposed plan does not meet the requirements of [the emergency rule], the Department cannot approve the plan. Accordingly, the Department cannot issue the facility a license until an approved plan is in place (and all other deficiencies have been corrected.)"
Meanwhile, Planned Parenthood is challenging the state regulations related to medical abortions in Federal Court. Hearings concluded on Friday, and a series of briefs on the issues were ordered. A decision on the case is not expected for some time.
Read the letters:

DHSS to Thomas, 10/12/2017
DHSS to Thomas, 12/21/2017
DHSS to Thomas, 3/29/2018