UMass Paid $29,000 in Public Money for Fetal Cadavers from StemExpress



By Cheryl Sullenger
Worcester, MA – A loss in court and increased public outrage over fetal parts trafficking has prompted StemExpress, to sever its ties with Planned Parenthood and recalibrate its public profile to one that is "predominately" focused — at least outwardly — on adult blood and tissue procurement.
This news came in the same week that Operation Rescue obtained purchase orders that show the University of Massachusetts Medical School paid StemExpress a total of $29,000 for human fetal cadaverous tissue, (presumably harvested from Planned Parenthood abortions), for the purpose of creating "humanized" mice.
StemExpress is a biotech company in Placerville, California, that has been featured in video exposés released by the Center for Medical Progress, which show the company partnering with Planned Parenthood to harvest and profit from the sale of aborted baby parts.
StemExpress had earlier obtained an injunction barring the CMP from releasing an alleged recorded conversations with the company's executives made on May 22, 2015. However, on August 13, a judge denied StemExpress' efforts to obtain journalistic materials from CMP, saying that it would violate the CMP's First Amendments rights.
Friday, StemExpress issued a statement announcing that it has severed its business relationship with Planned Parenthood, claiming that it represented only "a small percentage of our overall business activity."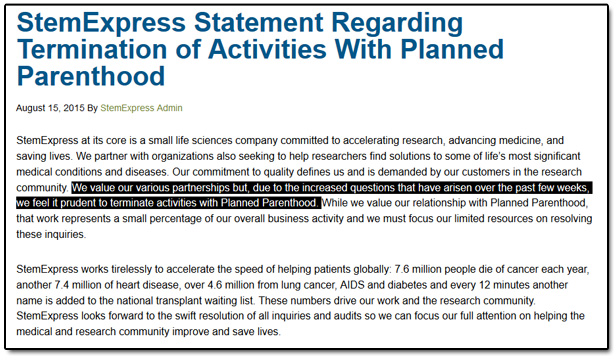 "If true, that would be welcomed news, but it still does not absolve StemExpress from responsibility for alleged legal violations that have been documented by the CMP's undercover journalistic study. No amount of public relations spinning can distance StemExpress executives from possibly criminal acts done in concert with Planned Parenthood," said Operation Rescue President Troy Newman. "Meanwhile StemExpress continues its unethical practice of profiting from the sale fetal remains obtained from abortion clinics, and new evidence obtained by my office only reinforces the massive profit-taking that has gone on for years."
CMP Director David Daleiden issued the following statement in response to StemExpress' announcement.
Earlier this week, the CEO of Planned Parenthood Northern California said they were "proud of" their baby parts program with StemExpress (http://sanfrancisco.cbslocal.com/2015/08/09/northern-california-planned-parenthood-counters-anti-abortion-groups-undercover-videos/). Now, StemExpress claims it is terminating its "business relationship" with Planned Parenthood (http://www.politico.com/story/2015/08/planned-parenthood-fetal-tissue-company-cuts-ties-videos-121371.html). Yet StemExpress leadership confirmed to CMP investigators in May they are struggling to meet demand for intact fetal livers. Was there a dispute about money with Planned Parenthood? Or is StemExpress following orders from Planned Parenthood National to save face? Does Planned Parenthood abortion doctor Ronald Berman continue to serve as Medical Director of StemExpress? Planned Parenthood and StemExpress should both answer questions about this shady move, and the full details of their "business relationship," under oath before Congress and the American people.
Just three days earlier, on August 12, 2015, StemExpress released a statement denouncing CMP videos and stating that it is "a life-sciences company that predominantly supplies adult cells, blood and tissue to the nation's leading researchers."
The focus on "adult" specimens represents a huge public relations recalibration for StemExpress, which continues to market fetal liver "products" on its online shopping page.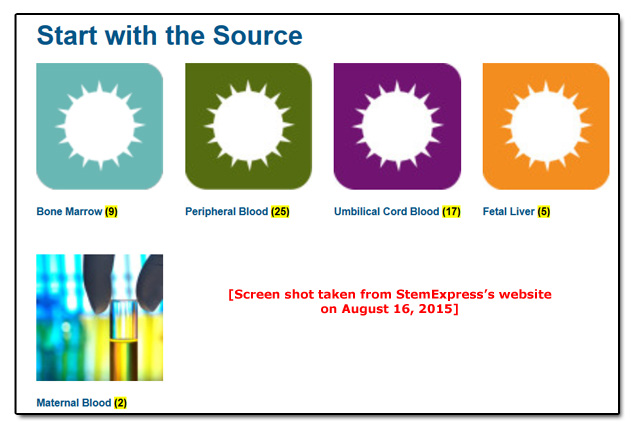 But among those "researchers" referred to by StemExpress is the publicly funded University of Massachusetts Medical School's Program of Molecular Medicine.
Operation Rescue has now obtained purchase orders showing that the publicly funded University of Massachusetts has paid $29,000 to StemExpress for three shipments of "fetal cadaverous tissue."
The purchase orders are dated between February, 2013 and July, 2014, and were slated for the research laboratory of Dale L. Greiner, Ph.D. in the Molecular Medicine with attention to Greiner's research assistant, Darcy Reil.
According to Greiner's profile on the UMass web site, the focus of his research includes "the use of humanized mice to study human diseases and infections."

Humanized mice, as Operation Rescue previously reported, have suppressed immune systems that allow for the transplantation or injection of human tissue without the threat of rejection. This allows tissue and cells harvested from aborted babies to be grown in the mice so that researchers can obtain more human-like responses especially when testing new pharmaceuticals or commercial products.
The source of the human tissue that is grown in the immune-suppressed mice is human fetal remains obtained by StemExpress from abortion clinics like Planned Parenthood.
"Just a few years ago the thought of aborting babies, selling their cadavers, and growing their parts in mice would have sounded like some kind of science fiction horror novel. Now this practice has secretly grown until it is an everyday occurrence," said Newman. "There are ethics breaches – and very likely criminal activity — at every level of this corrupt enterprise."
Profiteering from the sale of human fetal remains is illegal.
Before the incriminating CMP videos were released, StemExpress' relationship with Planned Parenthood had been a profitable one.
Last fall, Inc.com listed StemExpress as number 363 among the top growing companies in America and number 35 among the fastest growing woman-led companies. StemExpress boasts of an annual profit of $2.2 million, having three-year growth rate of 1316 percent.
Videos released over the past six weeks by the Center for Medical Progress have documented Planned Parenthood's profit motive in contracting with StemExpress and similar companies.
Most recently, Holly O'Donnell, a former procurement technician for StemExpress related in one CMP video that it is common for women are pressured to abort in order for technicians to harvest their babies' remains. In some cases, O'Donnell says some technicians take fetal tissue without obtaining proper consent.
Arguments that the tissue was "donated" to research laboratories are debunked by the UMass purchase orders showing payments totaling $29,000 to StemExpress for "fetal cadaverous tissues."
"In fact, the only ones not shown to profit at all throughout the baby body parts money stream are the women who pay Planned Parenthood to do their expensive later-term abortions," said Newman. "These ladies are exploited nine ways to Sunday then left only with pocketbooks as empty as their wombs."
Now, more questions must be answered. Were the fetal cadaverous remains obtained by UMass intact? The purchase orders are not clear, but CMP videos contain evidence that aborted babies have been delivered "intact" using an abortion method that was outlawed nationwide with the passage of the Federal Partial Birth Abortion Ban Act of 2003, which was upheld by the U.S. Supreme Court in the 2007 Gonzalez v. Carhart decision.


In order to be of use to researchers, fetal cadavers must be free from substances like Digoxin, which is sometimes used in later abortions to ensure "fetal demise" prior to beginning the dismemberment or intact delivery process. [Read more about this process.] Without the use of Digoxin or other agent, there is grave concern that babies are being born alive at Planned Parenthood facilities during abortions that are specifically altered to ensure the best "specimens" for sale to procurement companies.
This practice of aborting babies and killing them or leaving them to die is also in violation of State and Federal laws. In fact, Philadelphia abortionist Kermit Gosnell was convicted in 2013 of three counts of First Degree Murder for intentionally killing babies that were born alive at his "house of Horrors" abortion clinic. He is currently serving life in prison.
"It remains to be seen if Gosnell's fate will be shared by executives from the now estranged partners of StemExpress and Planned Parenthood," said Newman. "One can certainly hope."