Three sworn statements by former employees of abortionist LeRoy Carhart will be reviewed by Attorney General's office. Pro-life groups ask for a criminal investigation and charges.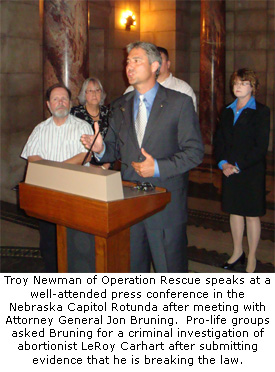 By Cheryl Sullenger
Lincoln, NE – Pro-life groups met with Nebraska Attorney General Jon Bruning Thursday and presented to him three signed affidavits from former employees of abortionist LeRoy Carhart alleging a pattern of illegal activity stretching back for years.
"For the first time, we have sworn statements from women who have admitted that they were instructed to commit illegal activity at Carhart's abortion clinic in Bellevue, Nebraska. That makes their allegations compelling and convincing," said Operation Rescue President Troy Newman. "These women came forward on their own to blow the whistle on Carhart out of concern for the safety and wellbeing of women. These are not pro-life activists by any stretch of the imagination."
The affidavits and other documents were presented to Bruning at the meeting where he took custody of them. The groups were assured that copies of the documents would also be forwarded to the Department of Health and Human Services, which earlier initiated an investigation of Carhart at the request of Operation Rescue, Nebraskans United for Life, and Rescue the Heartland.
"We emphasized to the Attorney General that many of the allegations being made violate criminal statutes and we requested an investigation by his office in addition to whatever the Department of Health was doing," said Newman.
"Mr. Bruning assured us that he would use all due diligence to review the matter, and if he finds that the laws of Nebraska have been broken, he would do his duty within the confines of the law. Mr. Bruning is an honorable man who we believe will not hesitate to enforce the law. Now we must allow time for the process to work."
The former employees, whose names remain confidential, have made allegations that Carhart had workers without proper licensing and training performing medical tasks that were illegal for them to do, such as starting IVs and dispensing medications. They said that illegal post-viability abortions were performed. The women also indicated that drugs had gone missing at the clinic, that Carhart was chemically impaired while on duty, and that there were generally unclean conditions at the clinic, including dried blood on medical instruments. They indicated that Carhart had poor personal hygiene and rarely washed his hands between patients.
"Operation Rescue will continue our own investigations of Carhart and will forward any additional information to the authorities as it comes to us," said Newman.