Muskegon, MI — A local Muskegon television news station is reporting that a former chairman of the Michigan Board of Medicine with ties to troubled abortionist Robert Alexander, improperly protected him from further discipline by ordering that there be no investigation of a 2009 complaint filed by the obstetrician of two patients that suffered botched abortions by Alexander.
Alexander made headlines shortly after Christmas when police responded to a report of broken glass at his Muskegon abortion clinic only to discover wretched and appalling conditions that caused the city fire marshal to immediately close the clinic.
Dr. George Shade Jr., a long-time ally of Alexander's, made the decision not to investigation the complaint made by Dr. Michael Engel that Alexander concerning two botched abortions committed by Alexander.
Shade has long-time ties to Alexander. According to a news report on Woodtv.com:
Alexander lost his medical license in 1990 and spent time in federal prison for having sold illegal prescriptions at a Detroit weight loss clinic in the 1980s.
Shade played a key role in helping Alexander get back his license, working for a time as his supervisor, according to state records obtained through the Freedom of Information Act.
"This kind of cronyism and corruption within Medical Boards that protect abortionists from legitimate complaints is sadly not unique to Michigan," said Troy Newman, President of Operation Rescue and Pro-Life Nation. "We have seen similar situations in several other states, including Kansas during the Sebelius Administration. These are cases where Boards create a political climate that shields abortionists from accountability no matter how egregious the offense, then turns the offending abortionists loose to continue to inflict pain and injury on women. Those who will allow political ideology to trump the lives and health of women should be criminally prosecuted over this abuse of power and breach of public trust. I certainly hope heads roll in Michigan over this."
According to Engle's complaint against Alexander, one patient, Sheria McCloud, underwent a failed abortion in April, 2009, at what she thought was 10 weeks into her pregnancy. A month later, suffering pain, McCloud went to Dr. Engel, who discovered that she was still pregnant and in her 30th week of gestation. McCloud miraculously birthed a healthy baby boy who she cherishes today.
"What he sucked out, who knows," Engel told a news reporter from Target 8 Woodtv.com. "He could have punctured her placenta. This was an outrageous thing he did."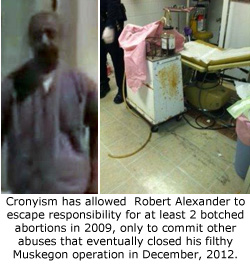 The second patient in Engle's complaint concerned one of Alexander's patients that suffered a perforated uterus during an abortion, which "rendered the patient unable to walk for a month due to the pain," according to Engle's complaint.
"She could have bled to death," Engel told the news reporter.
Now one legislator is calling for hearings to get to the bottom of corruption at the Michigan Board of Medicine. State Sen. Tonya Schuitmaker, a Republican who serves on the Senate Health Policy Committee, is asking for hearings into Shade's relationship with Alexander and is asking the Board to reopen Engle's complaint.
Meanwhile, Operation Rescue's complaint, filed on August 29, 2012, is pending with the Board concerning horrific facility conditions and shoddy practices employed by Alexander. Operation Rescue received confirmation from the Board on September 26 that an investigation had been authorized.
"We are pressing the Board to immediately suspend Alexander's medical license until it can be formally revoked," said Newman. "There is no doubt that Alexander is a danger to the public and must not be allowed by the Board to slink off to another facility where he will continue to endanger women and defy the law."
Operation Rescue reported that Alexander had been hired by Summit Medical Center, an abortion clinic in Detroit, following the closure of his Muskegon operation. However, news reports indicate that Alexander has since left employment at that clinic. He also filed false addresses with the City of Muskegon and appears to have gone into hiding.