By Cheryl Sullenger
Detroit, MI – Discredited abortionist Robert Alexander has lost a taxpayer-funded job as director of a state-operated STD clinic in Detroit where he fled last year after his squalid Muskegon abortion mill was shut by the Fire Marshall for posing extreme health hazards.

Alexander apparently resigned under pressure from his STD clinic job after a Woodtv.com reporter contacted his employer and then attempted an impromptu interview with Alexander in the parking lot of the STD clinic, asking him about medical board allegations of incompetence.
The news reporter was tipped off to Alexander's place of employment by long-time Michigan pro-life activist Lynn Mills.
The news station then broadcast a 5 minute, 23 second exposé on Alexander that included first-hand revelations made by a former employee that served as an informant to Operation Rescue.
It was Operation Rescue, (not the group erroneously mentioned in the news report), that filed a complaint against Alexander on her behalf prior to the discovery of appallingly filthy conditions at Alexander's Muskegon clinic that forced its closure in December 2012. That complaint prompted Michigan Board of Medicine to investigate Alexander after the wretched conditions at his clinic was discovered, resulting in the filing of an Administrative Complaint against Alexander in November, 2013, in which he faces possible revocation of his medical license.
During her interview, the former employee, who wants to remain anonymous, detailed one grisly abortion abuse after another, including witnessing Alexander rinse dirty syringes in a sink then reuse them on other patients.
"I don't know how he still has a job," she told the reporter. "I don't know how he still has a job. I don't. I don't know how anyone would hire him because it's hard enough for me to get a job and I just worked for him."
Other allegations made by the informant during the interview included:
• Botched abortions that led to patient hospitalizations and surgeries.
• At least two abortions that were so badly muffed that total hysterectomies were required.
• The unlicensed worker was ordered to dispense drugs and give injections even though Alexander knew she was not qualified to do so.
• Blood smeared all over the clinic on walls, furniture, and equipment.
• Broken ultrasound machine that caused Alexander to "guess" at fetal ages.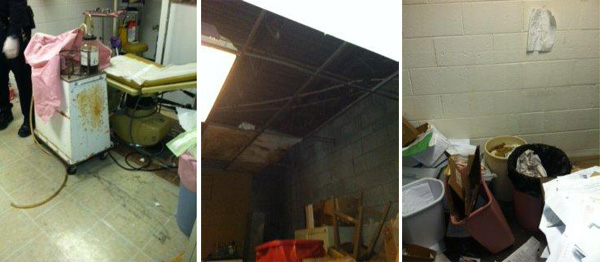 Alexander has a long history of troubles. In 1990, Alexander's medical license was revoked and he spent time in a Federal prison for selling illegal prescriptions. A former head of the State Board of Medicine, Dr. George Shade, helped Alexander get his license back then refused to investigate complaints lodged by another physician concerning horrifically botched abortions done by Alexander.
The case prompted Sen. Tonya Schuitmaker to introduce legislation that would require three board members to review complaints as a safeguard against further corruption.
"The evidence is clear that [Alexander] should not have a license and it's only a failure of the system that really allows him to still practice today," said Sen. Schuitmaker.
Troy Newman, President of Operation Rescue agreed. "If the system had worked correctly in the first place, this incompetent quack would have been off the street years ago. Who knows how many women suffered injury and loss of the ability to bear children because of the failure of the Board of Medicine to act. Those at the Board now need to make amends for their past mistakes and immediately suspend Alexander's medical license until they can work through the process of permanent revocation."
Newman noted that Alexander's situation is not unique, pointing Pennsylvania's Kermit Gosnell and California's Andrew Rutland.
In Gosnell's case, Pennsylvania medical board officials also refused to investigate physician complaints against him and neglected to inspect his abortion clinic for 18 years. This refusal to exercise oversight allowed Gosnell's practices to deteriorate until he was severing the spines of babies born alive during failed late-term abortions. Gosnell was convicted last year of three counts of First Degree Murder and a host of other abortion-related crimes. He is serving multiple life sentences behind bars.
In the case of Andrew Rutland, he had also undergone license revocation in 2002, but was able to persuade California Medical Board officials to reinstate his license just five years later. Like Alexander, Rutland found employment in the abortion industry where he eventually killed 30-yearl-old Ying Chen during a botched abortion in a dirty, ill-equipped acupuncture office under conditions reminiscent of Alexander's Muskegon mill. Rutland surrendered his license rather than face Board accusations that his negligent treatment qualified as a homicide.
"When cases like these become public, they serve as a public wake-up call that has led to legislation and increased oversight of abortion businesses across the nation to prevent abuses such as those perpetrated by the likes of Alexander, Gosnell, and Rutland. That has closed down abortion clinics and saved lives," said Newman. "We will continue to hold officials accountable until they ban Alexander from the medical field for good."