Administrative judge frustrated with Robert Alexander's "smoke and mirrors" defense
By Cheryl Sullenger

Lansing, MI – Abortionist Robert Alexander, often referred to by pro-life supporters as the "Gosnell of Michigan," appeared at a disciplinary hearing to answer to charges brought against him by the Michigan Board of Medicine after horrific conditions were discovered at Alexander's Muskegon abortion business in late December, 2012.
Four months prior to the discovery, Operation Rescue had filed a complaint against Alexander based on testimony from one of his former employees, who came forward to blow the whistle on Alexander's dangerous back-alley-style abortion operation. She detailed the same conditions that were later found and photographed by law enforcement.
Michigan pro-life veteran Lynn Mills, who attended the hearing and shared her notes from the proceedings with Operation Rescue, said Alexander told her during a bizarre conversation outside the hearing room that he had converted to the pro-life position. However, Mills indicated that his conversion did not ring true and may have been a manipulative ploy.
At issue during the hearing was the condition of his abortion facility as discovered by police after someone broke glass and triggered an alarm while the business was closed for the Christmas and New Year's holidays. Police responded and discovered squalid, blood-spattered, trash strewn conditions that rivaled those found at Kermit Gosnell's West Philadelphia "House of Horrors." The Fire Marshall who was called in to document the gruesome discovery immediately shut down the facility, noting that the conditions "pose[d] a danger to human life and welfare."
Alexander granted media interviews in which he blamed Operation Rescue for breaking in and staging the filth.
"Nobody could have staged the leaky, moldy ceiling or the rusty equipment with dried blood everywhere. Paranoia and delusions were among the symptoms Alexander listed in his description of his mental illness, and perhaps that is what accounts for his denial," said Operation Rescue President Troy Newman. "Alexander shifted the blame and never accepted responsibility for his actions throughout his testimony. That means if he is allowed to retain his license, he is very likely to re-offend, placing patients in danger."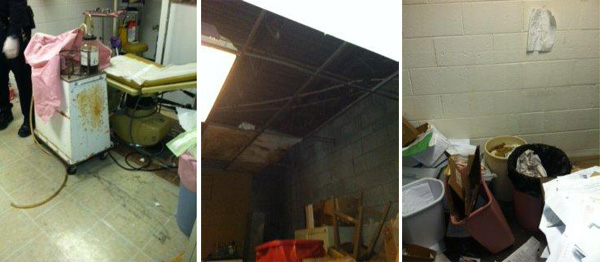 Alexander testified for slightly under an hour, detailing his battle with bi-polar disorder since he was 19-years old. Alexander read a lengthy list of symptoms experienced by those with that mental illness and told the administrative judge that he is heavily medicated in order to manage his condition, taking Lithium three times per day and Prozac twice a day. Alexander claims to be under the regular care of a psychiatrist and a psychologist.
Alexander also inexplicably maintained that he should be allowed to continue practicing despite his mental illness under the Americans with Disabilities Act.
"I mean, to be honest with you, as I listen to Dr. Alexander tell me about all the various symptoms that a person may have, I question whether anyone should be practicing medicine with a lot of those symptoms," said the judge who oversaw the proceedings.
The Attorney General's office, which is prosecuting Alexander, contends that the conditions found at Alexander's abortion facility are his sole responsibility.
However, Alexander continued to blame others until being admonished by the judge, who expressed frustration with Alexander's refusal to simply answer questions and stay on topic.
"I don't really care whose job it was to carry out and put the garbage in the dumpster. Okay? But I got a sneaking suspicion that somebody here was responsible to see to it that it was taken out," stated the judge.
Throughout his testimony, Alexander repeatedly handed the judge letters and other exhibits on matters not pertaining to the issues at hand.
"So right now I want you to understand that I'm not prepared to admit these documents as exhibits because I don't – all I see is that they are basically 'smoke and mirrors,'" the judge said.
Alexander appeared arrogant and slightly combative under questioning.
At one point, according to Lynn Mills, Alexander rebuked the Assistant Attorney General who questioned him.
"You're delusional, you're delusional. I'm an M.D. and I'm saying you are," said Alexander.
He repeatedly maintained that the squalor in his abortion facility had been staged and referred to an incident in 2007 when he said pro-life supporters smeared blood and feces in his vehicle using the "same spatter pattern" found by authorities at his abortion facility.
However, Mills told Operation Rescue that Alexander's vehicle was never vandalized, and that over the years she has observed Alexander's car that always appeared to be dirty and cluttered with trash and disheveled belongings.
Damaging testimony was given against Alexander by police who responded to the alleged break-in at the Muskegon abortion facility, and by two former employees, one of which had served as Operation Rescue's confidential informant.
The administrative judge will next make a recommendation to the medical board, which will review the case and determine what disciplinary action, if any, is appropriate. The state as requested that Alexander surrender his medical license, but so far he has refused to do so. A final decision from the Board is not expected for some time.
"Alexander has proven time and again that he cannot be trusted with the treatment of patients. Anything less than license revocation for Alexander will only continue to place the public at risk," said Newman.
Alexander's medical license was revoked in the 1990s after it was discovered that he was illegally dispensing drugs from a weight loss clinic in Detroit. A friend of Alexander's, George Shade, who served on the medical board helped Alexander get his license back then improperly protected him from further discipline by ordering that there be no investigation of a 2009 complaint filed by the obstetrician of two patients that suffered botched abortions by Alexander.
Since then, a new regulation in Michigan called "Alexander's Law" was enacted that requires that a panel of three Board members to authorize or stop a state licensing investigation.