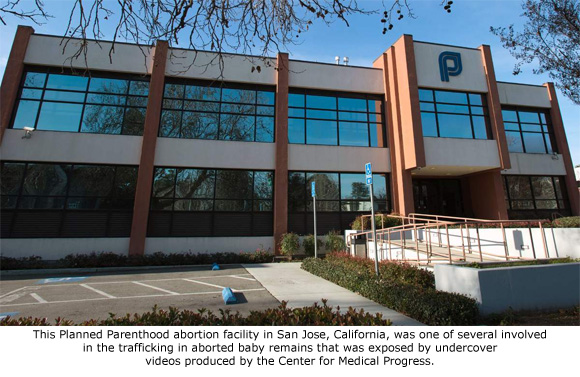 By Cheryl Sullenger
San Francisco – Four California Planned Parenthood affiliates have been ordered by a Federal Magistrate Judge to answer written questions related to hard costs associated with their fetal tissue trade.
Federal Magistrate Donna M. Ryu ordered the Planned Parenthood affiliates on January 24, 2019, to give an explanation of their denial that the amount of money they received on a per-specimen basis did not exceed their hard costs.  Planned Parenthood was further ordered to produce the written response within seven days.
Federal law prohibits the sale of aborted baby body parts "for valuable consideration," but allows for reimbursement of hard costs incurred by the abortion businesses.
Planned Parenthood affiliates involved in the trade of aborted baby tissues and organs were:
Planned Parenthood Mar Monte, Inc.
Planned Parenthood Northern California.
Planned Parenthood Los Angeles.
Planned Parenthood Pacific Southwest.
The order came as discovery is progressing in two federal court cases brought by Planned Parenthood and the National Abortion Federation against the Center for Medical Progress and its members Troy Newman, Albin Rhomberg, Sandra Merritt, and David Daleiden for releasing undercover video that purports to show that Planned Parenthood illegally profited from the sale of tissues and organs procured from the bodies of babies aborted at Planned Parenthood facilities prior to June 2015.
Defendant Troy Newman is the President of Operation Rescue.  He served on the founding board of the CMP during the investigative phase and the release of the explosive undercover videos that showed Planned Parenthood executives discussing the sale of aborted baby body parts, how procedures were altered to ensure intact organs, and haggling over top dollar for each specimen, because one abortionist wanted to buy a Lamborghini.
The pro-life defendants had submitted written questions to the four Planned Parenthood affiliates with Requests for Admission (RFAs) to numerous statements as a routine part of the discovery process.
The pro-life defendants learned through earlier discovery that four Planned Parenthood affiliates who participated in the "donation" of fetal tissue had "received money for fetal tissue on a per-specimen basis." However, the affiliates "kept no contemporaneous accounting of any costs associated with the transportation, implantation, processing, preservation, quality control, or storage of the tissue."
In fact, it was also learned through earlier RFAs that the Planned Parenthood affiliates "never attempted to determine the actual costs of their fetal tissue transfer program until after Defendants released the first videos in July 2015."
"If Planned Parenthood never bothered to determine their costs, how could they known if they were in compliance with Federal law." asked Newman.  "It is a question that deserves an honest answer, because any amount of money that exceeds actual hard costs would implicate them in crimes."
CMP investigations, including interviews with former StemExpress employee Holly O'Donnell, who worked as a procurement agent at Planned Parenthood abortion clinics, revealed that it was StemExpress employees embedded in the abortion facilities that handled the procurement, preservation, and shipping of aborted baby tissues and organs, and that Planned Parenthood had few if any hard costs associated with the handling of those baby parts.
Read Judge Ryu's order