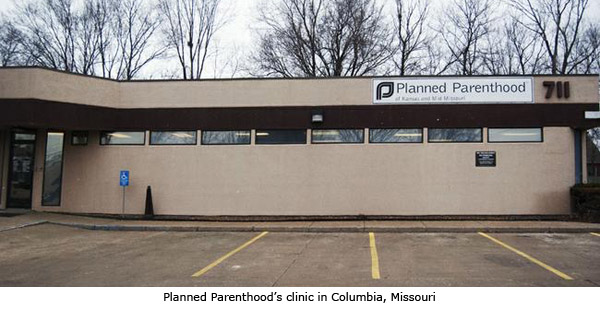 By Cheryl Sullenger
Columbia, MO – U.S. District Court Judge Brian C. Wimes issued an order yesterday afternoon denying Planned Parenthood's motion for a temporary restraining order that would have blocked enforcement of a Missouri law that requires abortionists to maintain local hospital privileges.
At immediate issue is the Planned Parenthood facility located in Columbia, Missouri, that offers surgical abortions. Its only abortionist is Colleen McNicholas, who does not live in the area and has no valid hospital privileges in Columbia.
In his five-page decision, Judge Wimes explained his decision and opened the door for Planned Parenthood to refile their motion once it came into compliance with all other licensing requirements.
The Columbia Planned Parenthood's abortion facility license is expired and cannot be renewed until multiple sanitation violations discovered during a recent licensing inspection have been corrected. Those violations include:
• Rusted suction machine cabinets that posed an infection control issue since they prevented proper sanitation.
• Bloody single-use plastic tubing attached to the machine's glass suction canister that was never disposed of after the last abortion procedure on September 21, 2018.
• Reusable tubing on the top of the suction machine was contaminated with black mold.
• Staff admitted that the moldy tubing had been present for some time and that abortions continued to be conducted with that moldy tubing in place.
• A black substance that could have been mold or dried blood coated the bottom of the glass suction canister.
Judge Wimes noted that even if an injunction was issued on the hospital privilege regulation, the abortion business still could not legally operate under the current conditions, and that there was no evidence that the sanitation violations had been corrected.
Despite having an expired license and having failed the licensing inspection, Planned Parenthood had scheduled abortions for October 3, 2018.
Yesterday, local pro-life leader Kathy Forck was outside the Columbia Planned Parenthood facility and told Operation Rescue that abortion patients were indeed turned away from the facility.
"For now, we are grateful that the Planned Parenthood abortion facility in Columbia cannot legally conduct abortions," said Troy Newman, President of Operation Rescue. "But instead of halting abortions for good, Judge Wimes has given Planned Parenthood a path forward toward resuming child-killing at that facility. We are disappointed by this decision, but are confident that Planned Parenthood will not meet the burden required to block Missouri's live-saving law – if it is ever able to clean up its nasty facility."
In 2017, Planned Parenthood obtained an injunction against the hospital privilege law that allowed it to expand abortions into Kansas City and resume them in Columbia. State Attorney General Josh Hawley appealed that decision and on September 10, 2018, the Eighth Circuit Court of Appeals struck down that injunction and allowed the state to once again enforce the law. Planned Parenthood filed their currently unsuccessful bid for a new restraining order eight days later.
"When abortion clinics close, lives are saved," said Newman. "Right now, we thank God for every innocent life that is spared."
Read the Court Order dated October 3, 2018.