By Cheryl Sullenger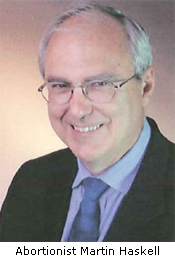 Sharonville, OH — Yesterday, the Ohio Department of Health (ODH) released its recommendation that the facility license of a late-term abortion clinic owned and operated by the notorious abortionist Martin Haskell be revoked for failing to meet the legal qualifications of an Ambulatory Surgical Facility (ASF).
Haskell has no hospital transfer agreement as require by law. His variance, which allowed him to operated without such an agreement expired in October, 2012, and was not renewed at the discretion of ODH Director Theodore Wymyslo.
Haskell has 10 days to appeal the ruling, which was issued October 8 after a lengthy September hearing in which Haskell personally testified. In the meantime, his abortion clinic remains operational.
"We are cautiously optimistic that this recommendation could eventually close Haskell's Sharonville abortion clinic, but we have seen him slip through loopholes in the past," said Troy Newman, President of Operation Rescue, which has worked with local pro-life groups, including Cincinnati Right to Life, to expose Haskell's abortion abuses and bring his risky abortion business to a close through legal avenues.
"Haskell's lack of transfer agreement places the lives and health of women in grave risk. The history of the incompetent abortionists who helped him get an exemption from the law in the past is frightening," Newman continued. "Any woman suffering a life-threatening medical emergency at Haskell's clinic – and there have been several – could only expect to be treated by abortionists that had hospital privileges revoked or suffered other disciplinary or legal action for incompetence. It was like those women jumped out of the frying pan and into the fire. We fought to make this appalling situation public and bring it to the attention of the ODH."
Haskell has operated his Sharonville abortion clinic, known both as the Lebanon Road Surgery Center and Women's Med Center, under a variance issued by the ODH that allowed him to be excluded from the hospital transfer agreement requirement as long as he could provide alternate means of assuring prompt emergency treatment and continuity of patient care.
Haskell obtained a variance in 2011 on the condition that three abortionists, Roslyn Kade, Walter T. Bowers, II, and David B. Schwartz, maintained unrestricted admitting privileges. The three had agreed to provide back-up hospital care whenever Haskell or his associates inflicted injuries on abortion patients.
Bowers' incompetence was publicly exposed by Operation Rescue, which discovered that he had been banned from the practice of obstetrics in Kentucky after his botched delivery of a wanted baby resulted in a dead child. He was placed on five years of probation and settled a claim with the parents for $250,000.
On February 29, 2012, Kade, who is also employed by Haskell to do abortions, lost her unrestricted privileges at Christ Hospital. Her privileges were a critical requirement for the variance.
Kade's loss of hospital privileges is only her most recent problem. In 2007, Kade was sued by the parents of a 14-year old girl who allege that Kade illegally committed an abortion on their daughter without their consent after the young girl was impregnated by her 22-year old soccer coach. Her abuser took her for an abortion while pretending to be her step-brother. Kade never reported the incident of child sex abuse.
In June of 2012, Haskell temporarily amended his variance to replace Kade and Bowers with Chandra Gravely and Cindy Hansel. However, Operation Rescue discovered that Gravely and Hansel have also been accused of negligence and incompetence, having been sued at least seven times since 2000 for medical malpractice, including one suit wrongful death suit that included Hansel as a co-defendant.
Operation Rescue has recently documented four medical emergencies at Haskell's two Ohio abortion clinics, raising serious concerns for patient safety.
In March 2012, Haskell personally placed a 911 call from his Sharonville clinic and was heard laughing at the dispatcher who offered emergency information.
Kellie Copeland, executive director of NARAL Pro-Choice Ohio, erroneously told the Columbus Dispatch Wednesday that Haskell's Sharonville late-term abortion clinic has "an exemplary record of medical safety."
"Copeland has a funny way of defining 'safety,'" said Newman. "The documentation we have assembled proves that she is either living in a fantasy world or has no real concern for the lives and health of women."
Read Operation Rescue's 3-Part Exposé on Haskell: Part 1, Part 2, Part 3