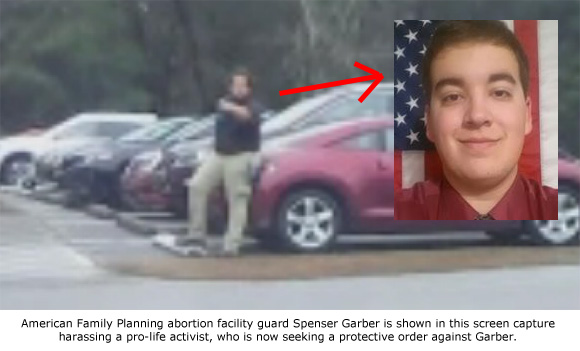 By Cheryl Sullenger
Pensacola, FL – A pro-life activist is seeking a protective order against an abortion facility security guard who he says has been stalking and harassing him.
Dr. Thomas Messe regularly conducts First Amendment outreaches at the American Family Planning abortion facility in Pensacola, Florida.  But lately, tensions there have escalated – at the request of the abortion business.
A peaceful, but creative pro-life presence had been growing over the past year outside the abortion facility, owned by the disgraced New Jersey abortionist Steven Chase Brigham.
To counter their effective presence, American Family Planning posted to a Facebook group in late December 2020 seeking volunteers to act as a buffer between the clinic and the pro-life supporters.
Since then, an aggressive group of pro-abortion bullies have shown up to harass and intimidate pro-lifers who are attempting to reach out to pregnant women and offer them help so they will change their minds about aborting their babies.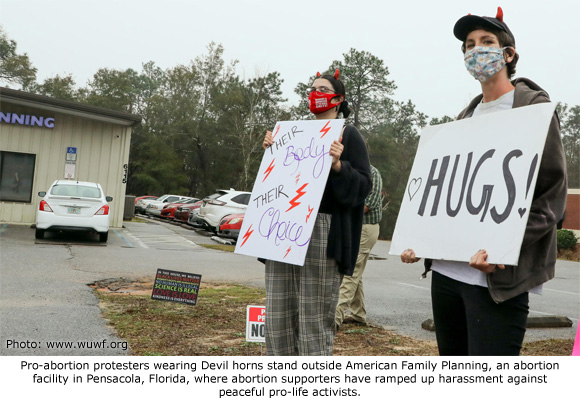 "For past 3 months, it has been crazy at our clinic," Dr. Messe told Operation Rescue. "They are very abusive counter-protesters. At first, they would elbow us and scream one inch from our noses. . . I have personally traveled up the road a bit with my presentation and signs every Saturday."
All the ruckus has also emboldened the clinic's security guard, Spenser Garber, 24, to step up harassment against Dr. Messe. 
Garber has continued to make repeated harassing calls to Dr. Messe's cell phone and has signed him up for text alerts from about every news organization and business Garber can find.
A hearing on Dr. Messe's request for a protective order was originally set for March 3, 2021 but has since been moved to March 17.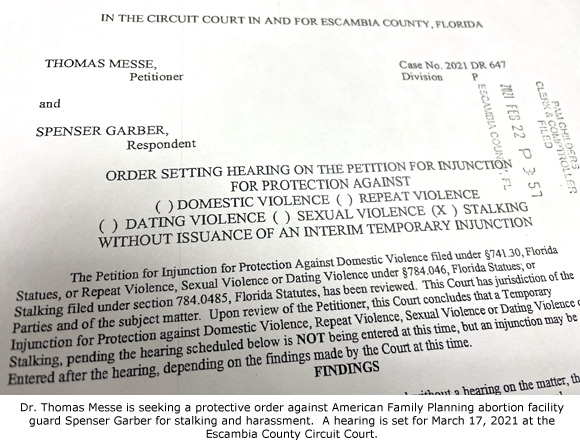 Meanwhile, the new pro-abortion counter protesters are seeking to raise money to put up a six-foot fence around Brigham's abortion clinic to replace a make-shift tarp barrier used to block pro-life appeals to women entering the abortion facility.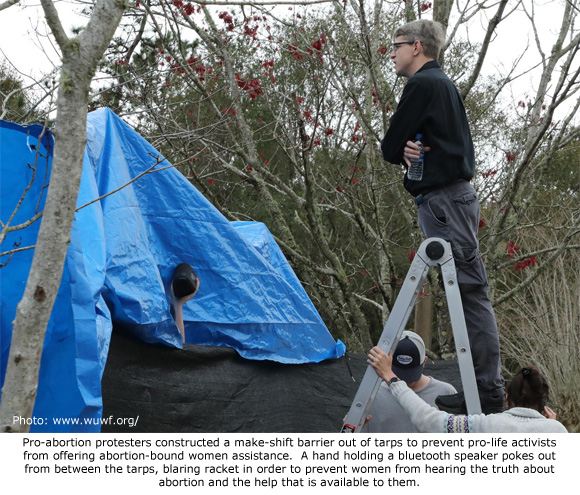 "Donating money to Steven Brigham is like giving money to a crack addict. Nothing good can come of it. Brigham is one of the most dishonest abortionists in the U.S. That's not hyperbole. That's a proven fact," said Troy Newman, President of Operation Rescue.
"I wish Dr. Messe well in his legal attempt to stop the malicious harassment from this abortion facility guard," Newman continued. "Pro-life supporters in Pensacola are essentially under siege by unhinged pro-aborts at one of the most troubled abortion clinics in America.  They need our prayers for protection, as do pro-life activists around our nation as abuse from abortion supporters escalates in this new hostile political environment."
Operation Rescue encourages pro-life activists to be aware of their surroundings when ministering outside abortion facilities, always have a camera running or in hand, and never go to an abortion facility alone.
"Pro-life activists are among the bravest people on the planet," said Newman. "But in this day and age, it's prudent to take extra security precautions for everyone's sake."