[Operation Rescue partners with Project Defending Life and Protest ABQ to expose abuses and bring an end to abortion in Albuquerque, NM, the Late-Term Abortion Capital of the World. — OR Staff]
By Tara Shaver, Protest ABQ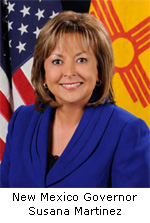 Albuquerque, NM – Protest ABQ is an Albuquerque effort made up of local residents, including families, who are committed to protesting and exposing those who support, condone or profit from the New Mexico abortion cartel. To understand why Protest ABQ is currently focusing attention on self-professed pro-life Gov. Susana Martinez (R), one needs to understand two key points.
First, New Mexico is known as the Abortion Capital of the Southwest, acting as a magnet for abortionists who cannot or will not comply with the abortion laws of other states. Abortion facilities in New Mexico are totally unregulated and never inspected or held to any kind of medical standard.
Albuquerque, in particular, is considered the Late-term Abortion Capital of the entire country, with unrestricted abortion throughout all nine months of pregnancy. At Southwestern Women's Options, babies are aborted that are in some cases just days away from birth.
Secondly, Susana Martinez was elected as governor in part due to her stated pro-life position. She is currently running for re-election. It is no secret that she is using her status as governor and her conservative, pro-life credentials to attain national political aspirations and has been frequently mentioned as a possible Vice-Presidential candidate on the Republican Party ticket in 2016.
However, during her tenure as New Mexico's governor, she has done absolutely nothing to advance the pro-life cause, and may have actually hurt it.
History
In the fall of 2011, pro-life State Senator Bill Sharer, along with activists Bud and Tara Shaver, and Fr. Stephen Imbarrato, met with Gov. Martinez and her then-Chief of Staff, Keith Gardner. The meeting was to specifically discuss New Mexico's national reputation as being the "Wild West" for the abortion industry, where anything goes, including abortions of viable third-trimester babies. References to Albuquerque as the Late-Term Abortion Capital were specifically used with her during the hour long meeting. Other issues specifically discussed with Martinez include:
• The lack of any abortion restrictions in the state.
• The 911-call investigation done by Project Defending Life that exposed abortion injuries at two Albuquerque abortion clinics.
• Tax funding of abortion through Medicaid.
• The University of New Mexico's agenda to promote abortion.
• Other legal issues and much more.
We specifically addressed a multitude of administrative and executive strategies available to the Governor to reduce the number of abortions and provide industry oversight.
Because of this, it would be disingenuous of Gov. Martinez to attempt to plead ignorance about the many abortion-related issues that face the State of New Mexico or the opportunities for action available to her.
The meeting ended on a positive, hopeful note that led us to believe that she would investigate the many alternatives at her disposal that would protect women from unaccountable abortion businesses in New Mexico.
"Since that meeting in 2011, three legislative sessions have passed. During that time, not one piece of pro-life legislation been voted on and not once has Susana Martinez uttered a word of support or expressed any desire to have legislative restrictions placed on the abortion industry in New Mexico," stated Fr. Stephen Imbarrato.
Most recently, in the fall of 2013, the battle over the Pain Capable Unborn Child Protection Ordinance was being waged in Albuquerque. A letter from major national and local groups was sent to the Governor asking her to come out in support of the referendum. She was completely silent, remarking only that the ordinance was a "local issue" even though she knew the law would have banned late-term abortions at the largest abortion clinic of its kind in the nation that draws women from every state. She was well aware that the ordinance was feared by Democrats nationally and would have affected abortion law statewide as well.
Presently

Martinez recently opened her 2014 Campaign Re-Election Office in Albuquerque. Protest ABQ was there to expose her lack of leadership in opposing unrestricted abortion in New Mexico. Protest ABQ signs stated the truth: "Susana Martinez condones Pre-born Baby Killing."
During this event, a Protest ABQ core group member was inside the headquarters. Martinez was asked, "Can you tell us one thing you have done to restrict abortion in the State of New Mexico?"
Her response was that the legislature has not been able to pass any pro-life legislation. This is true, but at the same time, unlike many other issues supported by the Governor that have been blocked by the Democratically-controlled legislature, Susana Martinez has never issued even a single statement publicly supporting any piece of pro-life legislation, and has never urged the legislature to pass bills that were even remotely related to abortion.
At that same campaign event, Martinez referenced the Protest ABQ protesters outside the venue, stating that they were from "out of state and not New Mexico locals." Not only is that not true, but she simply parroted a pro-abortion talking point falsehood that stemmed from the Albuquerque late-term abortion ban referendum campaign!
The fact is that while Protest ABQ core members are indeed citizens of New Mexico, the abortionists who commit the very latest of abortions in Albuquerque are residents of California who travel to New Mexico to conduct abortions that are illegal in their home state. The abortion clinic where they work, Southwestern Women's Options, is owned by Curtis Boyd, a legal resident of the State of Texas!
Each time Martinez has been given an opportunity to publicly affirm her support for the pro-life position we have heard nothing but silence. Crickets chirping have a louder voice.
Over the past three years, it has become increasingly clear that the reason Martinez has been avoiding the abortion issue is due to the influence of Jay McCleskey, her chief campaign strategist. According to a National Journal article, has latched onto Martinez as a rising star in the Republican Party and has been grooming her for the national political stage.
Just recently, McCleskey referred to Protest ABQ pro-lifers as "pieces of s**t!"
In the days since that comment stirred national controversy, Martinez's office never denied McCleskey's statement or even expressed one shred of dismay about it. In an Albuquerque Journal article, Martinez's office publicly referenced Protest ABQ as an anti-abortion "fringe" group and "bullies," while McCleskey has outrageously implied that Protest ABQ's peaceful First Amendment outreaches are "terror" tactics.
Perhaps as further indication of Martinez's true political alignment, she has remained silent concerning a New Mexico court decision legalizing end-of-life "right to die" measures, and refused to weigh in on a renegade campaign by New Mexico county clerks that were illegally issuing same-sex marriage certificates.
The Bottom Line
Martinez's steadfast refusal to take any meaningful action as Governor to stop abortion demonstrates that her pro-life commitment is shallow and perhaps only a political expediency.
When confronted with the concerns that Protest ABQ has put forth during a recent KOAT TV interview, Martinez responded, "If it (a bill) is to protect that fetus, I would absolutely consider signing it because I am Pro-Life." (Emphasis added.)
Offering to "consider" signing pro-life legislation is very different from committing to signing all pro-life bills that cross her desk, a promise made and kept by Kansas Gov. Sam Brownback, for example.
Only "considering" to signing a pro-life bill and an empty statement about her so-called "pro-life" position are not enough to save lives of children from abortion in New Mexico.
Fr. Imbarrato issued the following statement, "Governor Martinez presides over the most abortion-friendly state in the country. She proclaims herself to be pro-life yet she has not used her office and influence in any way as governor to reign in an out-of-control abortion industry in New Mexico. As governor, Martinez could have urged the Department of Health or the Medical Board to consider regulation changes that would have provided oversight for these abortion clinics, but she has not lifted a finger to do so. Abortion clinics are potentially dangerous, as we have seen from the long list of 911 calls and ambulance runs that transport injured abortion patients to the emergency room. These abortion businesses are possibly involved in illegalities, but without oversight, they continue to run amok, endangering women and killing babies that should have the protection of law. Not only has she stood idly by, offering no leadership in these areas, her negative demeanor towards pro-life efforts in New Mexico illustrates why New Mexico is the Abortion Capital of the Southwest and the Late-term Abortion Capital of the country."
What can Governor Martinez do?
If she is not going to show even minimal support for the pro-life cause she says she embraces as Governor, she certainly will not take action to prevent abortions if elected to national office. What good does it do to elect "pro-life" officials if all they do is give aid and comfort to the abortion cartel through their silence?
There is an old adage that states, "Silence is consent."
In spite of the pro-abortion majority in the state legislature, there are still things Gov. Martinez can do to give more than lip-service to the pro-life cause and show she does not in fact consent to the brutal killing of innocent children through abortion.
At a minimum, Martinez should acknowledge and draw public attention to the horrific lack of regulation and oversight that is allowing New Mexico abortion clinics to operate outside any accepted medical standards or oversight. She should commit to doing all she can to change New Mexico's abortion reputation and provide a legal safety net for women who are exploited by unaccountable and uninspected abortion businesses.
As a Latino woman, she should serve as a role model, encouraging women of color who are disproportionately targeted for abortion, to cherish life. She could acknowledge – instead of attack – the efforts of pro-lifers throughout the state who are working to provide practical alternatives and assistance to abortion-vulnerable pregnant women. She could make it a legislative priority to support common-sense pro-life legislation that has been successful in other states, which New Mexico sorely lacks.
These simple actions are the least of what one should expect from any pro-life elected official.
A more pro-active strategy could include the following actions:
• Replace Lynn Hart as the head of the New Mexico Medical Board. Under Hart's leadership, late-term abortionist Shelley Sella was "cleared" of wrong-doing even though she nearly killed a 35-week pregnant woman with a history of previous C-Section delivery during an abortion by prescribing drugs that are not supposed to be given to women with that medical history. One expert testified that it was "a thousand wonders" that the woman did not die after suffering a ruptured uterus. Sella continues to conduct dangerous late-term abortions in Albuquerque that fail to meet accepted patient care standards, thanks in part to Ms. Hart.
• Launch an investigation into the nearly-dozen 911 calls originating from Albuquerque abortion facilities that reflect a dangerous number of abortion-related injuries.
• Call on fellow Republican, Albuquerque Mayor R.J. Berry, to stop obstructing public access to 911 records, which were easily obtained until local pro-life activists began calling attention to the abortion abuses revealed by them.
• Call for an investigation into an alleged abortion-related death at the UNM Center for Reproductive Health abortion facility.
• Direct her administration to seek ways in which to establish oversight for abortion clinics as has been done in other states throughout the country.
In spite of the disparaging statements made by Gov. Martinez and her staff, Protest ABQ stands on the facts and continues to offer the challenge to Gov. Martinez: Can you tell us one thing you have done or plan to do as Governor to change New Mexico's deplorable abortion reputation as the "Wild West" Late-term Abortion Capital where anything goes?
So far, all we have heard are crickets.