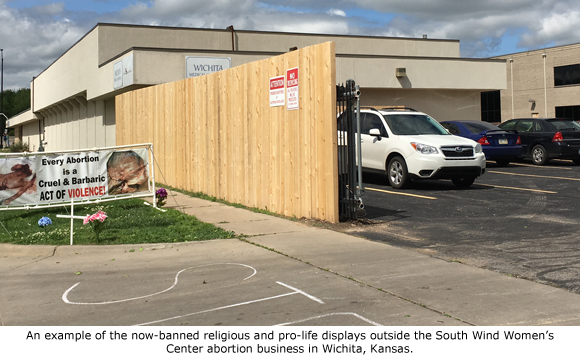 By Cheryl Sullenger
Wichita, KS – Since Mother's Day of 2004, a First Amendment religious display of wooden crosses representing the deaths of aborted children has been faithfully displayed each day during business hours outside a Wichita abortion facility. Over the years, the display withstood numerous attacks – both physical and legal.
On April 28, 2017, that all changed.
That's when the City of Wichita began enforcing a new sign ordinance that prohibits stand-alone signage on the public right of ways.
Mark Gietzen, Chairman of the Kansas Coalition for Life, owns the cross display along with other pro-life signs that have been regularly displayed for years outside a building that first housed a late-term abortion facility and is now occupied by South Wind Women's Center. In fact, Gietzen was even notified that the sign taped to his literature table that read "We can help you," is now considered illegal.
Even the use of sidewalk chalk is now a crime in Wichita.
The only type of sign now legal is the hand-held type, which Gietzen says his members cannot use because they are busy handing out literature and speaking to women entering the abortion facility.
Gietzen sent a letter this week to Wichita Mayor Jeff Longwell and the City Council asking that they reconsider the ordinance because it violates Supreme Court precedent, and hinders his group's free exercise of their First Amendment rights as well as the rights of women to receive their message.
Gietzen explained the importance of his displays:
KCFL Volunteers, assisted by their 1st Amendment signage, have saved the lives of more than 514 unborn babies who would otherwise have been put to death by abortion. The 514 associated mothers were simply given a choice, and were spared the grief and heartache of knowing that they killed their own child. Most of these now appreciative mothers, would not have known about the life-giving choices available to them, without seeing the KCFL signage located near the abortion facility.
Gietzen says his stand-alone displays are always attended, have never blocked vehicular or foot traffic, and were always completely picked up at the end of each business day.
Yet, there have been incidents with security guards stealing the signs and the city illegally confiscating them.
Last July, one of Gietzen's nearly-blind volunteers was wrongly arrested after a clinic security guard attempted to steal a sign that the man had momentarily leaned against the literature table. A tussle over the sign ensued, which resulted in the man's arrest.
"Also, during the past 13 years, NOT ONE City-of-Wichita sign-related complaint or citation has been issued, that stood up in court, even at the lowest levels of court," wrote Gietzen.
Under the new ordinance, South Wind workers are free to impound pro-life signs outside the abortion business, increasing the chances that pro-life activists may be further bullied and attacked.
Gietzen hopes that the ordinance will be voluntarily rescinded by the city, but if it isn't, he's prepared to go to court to seek an injunction barring the city from enforcing their unconstitutional ordinance and infringing on the Constitutional Rights of his members.
Operation Rescue, which is based in Wichita, Kansas, stands ready to assist the Kansas Coalition for Life to restore right to display their their crosses and signage as they have for over a dozen years.
"The way the new sign ordinance is being implemented, it is obviously illegally targeting the pro-life activists and their audiences," said Troy Newman, President of Operation Rescue. "The Wichita City Council must rescind the unconstitutional law that favors South Wind's shoddy and exploitative abortion business above the First Amendment rights of its citizens."
Take action!
Contact Wichita Mayor Jeff Longwell and ask him to rescind the unconstitutional sign ordinance.

Voice: (316) 268-4331
E-Mail: JLongwell@wichita.gov