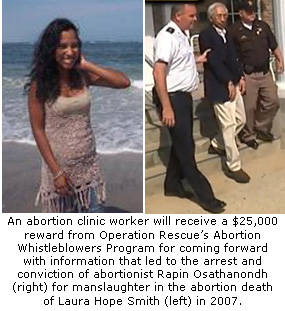 Washington, DC – On the 38th memorial of the Roe v. Wade Supreme Court decision that decriminalized abortion in America, Operation Rescue's Abortion Whistleblower's Program will present a check to former abortion worker Kim Nichols for $25,000 as a reward for information which led to the arrest and conviction of an abortionist who broke the law.
Nichols came forward to blow the whistle on her former boss, abortionist Rapin Osathanondh, after Laura Hope Smith died from an abortion at Osathanondh's Hyannis, Massachusetts, abortion clinic in 2007.
Nichols will be presented with the $25,000 reward at a pro-life rally on Saturday, January 22, 2011, at 7:00 PM at the Neelsville Presbyterian Church, 20701 Frederick Road, Germantown, MD 20876.
Wracked with guilt over Laura's needless death and refusing to go along with Osathanondh's illegal efforts to conceal his negligence, Nichols worked with Laura's mother, Eileen Smith, to bring Osathanondh to justice. In turn, Smith was advised by Operation Rescue.
"Due to Nichol's courageous and truthful testimony before the Massachusetts Board of Physicians, Osathanondh was declared a danger to the public. His two abortion clinics were closed and he surrendered his medical license, rather than suffer the humiliation of revocation. Nichol's testimony was the basis for criminal charges that resulted in Osathanondh's conviction and incarceration on the charge of involuntary manslaughter for causing the death of Laura Smith. She did all of this while enduring threats and harassment from Osathanondh who attempted to frighten and intimidate her into silence," said Operation Rescue President Troy Newman. "We are proud to present our first $25,000 reward to Kim Nichols and pray that her brave commitment to the truth encourages other clinic workers who have witnessed abortion abuses to do the right thing and tell the authorities what they know."
Read Nichol's dramatic story, "Blowing the Whistle: How one abortion worker allowed the truth to set her free–and put an abortionist behind bars."
The Abortion Whistleblower's program provides a $25,000 reward for information leading to the arrest and conviction of abortionists who are breaking the law. Operation Rescue acknowledges that credible information concerning abortion abuses in several states has already been received from several abortion industry insiders. That information is currently working its way through the system.
To learn more about the Abortion Whistleblowers Program, please follow the link.