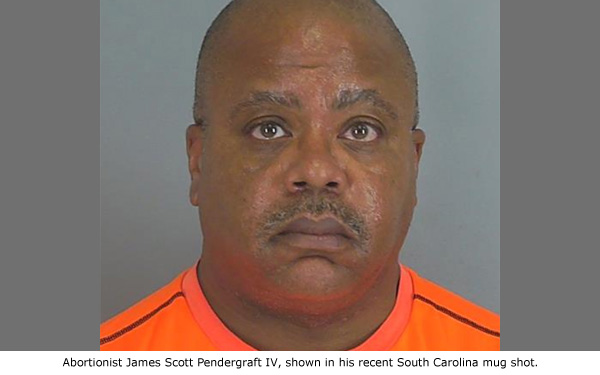 By Cheryl Sullenger
Orlando, FL – Operation Rescue has been notified that a final disciplinary action hearing with the Florida Board of Medicine will be held for Florida abortionist James Scott Pendergraft IV on Friday, December 7, 2018.
The case is based on a complaint filed by Operation Rescue seeking revocation of Pendergraft's medical license after his arrest in South Carolina in October 2015 on drug charges.
Soon after Pendergraft's arrest, Spartan County Sheriff Chuck Wright made the announcement at a press conference without mentioning Pendergraft's name. Sheriff Wright told reporters that inside his van, Sheriff's Deputies discovered bloody surgical implements – with tissue still attached – that had been used to conduct illegal "in home" abortions.
"We got a guy and a girl early in the week that was a traveling abortionist. He traveled around the state of South Carolina without a medical license, with drugs and with medical tools, performing in-home abortions," Wright said. "So basically, we got an illegal baby killer."
Operation Rescue was able to determine the man arrested was actually Pendergraft, and immediately filed a complaint with the Florida Board of Medicine notifying them of the arrest and other issues involving shoddy patient care at his Florida abortion facilities.
Pendergraft's case later went to a grand jury that indicted him on 10 felony and misdemeanor counts related to the illegal possession and distribution of drugs, including Marijuana, LSD, and Fentanyl. He pleaded guilty to these charges and was placed on five years of probation and fined a total of $26,342.25.
The Florida Medical Board has previously suspended Pendergraft's medical license on five occasions for numerous violations related to his abortion business.
"While we don't yet know what the final disposition of Pendergraft's case will be, we are optimistic that his medical license will be permanently revoked," said Operation Rescue President Troy Newman. "But even then, he must be closely monitored. Anyone that would troll the highways in a van full of drugs doing illegal home abortions is capable of almost anything, including further deception and criminal activity."
After Florida Department of Health revoked the facility licenses for four of Pendergraft's abortion facilities on May 5, 2017, Pendergraft transferred ownership to his ex-wife and has begun to open medicinal marijuana businesses at some of those abortion locations.
"It is possible that Pendergraft is adding the medicinal marijuana business in order to remain involved in the abortion businesses on a clandestine basis," said Newman.
Pendergraft has a long history of operating outside the law and outside patient care standards.
In 2012, an undercover investigation conducted by Operation Rescue found that Pendergraft was operating a dangerous illegal late-term abortion racket at an unlicensed abortion facility in Maryland with the help of abortionist Harold O. Alexander. Alexander's medical license was temporarily suspended as a result. Pendergraft was never licensed to practice medicine in Maryland.
"Truly, Pendergraft belongs behind bars. It is the only way to ensure that he will not continue to victimize women and their babies with his criminal conduct. However, if the Medical Board revokes his medical license, that will be considered a victory that has been years in the making," said Newman.
Cheryl Sullenger, Senior Vice President of Operation Rescue, who filed the original complaint in this case, plans to attend Pendergraft's disciplinary hearing on December 7, 2018.
Read the letter of notification from the Florida Medical Board to Sullenger.