URGENT: If you or someone you know had an in home abortion in South Carolina recently done by a traveling abortionist, please contact the Spartanburg County Sheriff's Investigation Division at 864-503-4509.
By Cheryl Sullenger
UPDATE: Florida's Notorious Abortionist James Pendergraft Identified as Rolling Abortionist Arrested in South Carolina
Spartanburg, South Carolina — When sheriff's deputies pulled over a vehicle on a South Carolina highway last week, they thought they might find illegal drugs. But what they actually found during that traffic stop in I-95 was much more shocking.
Inside the vehicle were bloody surgical implements – with tissue still attached – that had been used to conduct illegal "in home" abortions.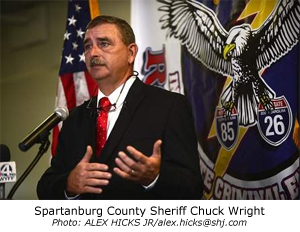 Spartanburg County Sheriff Chuck Wright announced at a press conference on Friday that his deputies arrested an man and his wife, who were operating a mobile abortion clinic out of their vehicle. The unlicensed abortionist was conducting abortions on women up and down the State of South Carolina. The arrests were made as the result of a multi-jurisdictional traffic sweep called Operation Rolling Thunder.
"We got a guy and a girl early in the week that was a traveling abortionist. He traveled around the state of South Carolina without a medical license, with drugs and with medical tools, performing in-home abortions," Wright said. "So basically we got an illegal baby killer."
He added, "It's bad enough that somebody would use abortion as a means of birth control, but it's worse when you do it illegal. The moms are already making, I think, a bad decision. Of course I don't know everyone's situation, we've just got to pray about it."
The couple, who were not named, were arrested on drug charges while they continued to investigate the man for practicing medicine without a license and conducting illegal abortions.
The abortionist's wife was charged with intent to distribute marijuana.
"In any criminal enterprise, the mode of transportation is going to be the interstate. There are all kinds of things going up and down the highway," said Cherokee County Sheriff Steve Mueller, whose department participated in the joint operation that netted the arrests. "Had we not gotten anything else but getting that guy … it still would've been worth it."
Mueller told reporters that they were seeking victims of the illegal abortion scheme, hoping someone would come forward so full charges could be brought.
"We got a tip about this last week from someone who said that they heard a rolling abortion clinic was discovered," said Operation Rescue President Troy Newman. "But before we could check it out, news broke with details."
According to Operation Rescue's tipster, there is a possibility that the abortionist was licensed at one time, but had his license revoked. However, OR has been unable to confirm that so far.
"What we do know is that this quack will not be conducting his grisly baby-killing operation for the foreseeable future, and that is great news!" said Newman. "We applaud Sheriff Wright, Sheriff Mueller and their deputies for getting this dangerous charlatan off the streets!"