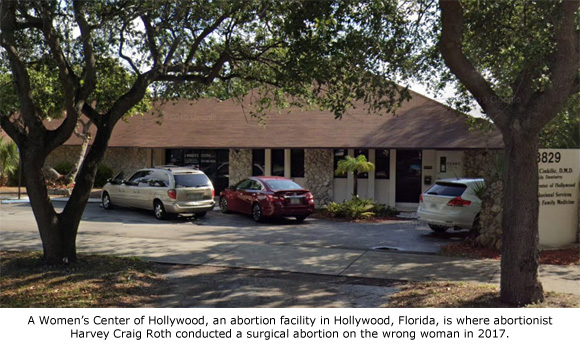 By Cheryl Sullenger
Hollywood, FL – Abortionist Harvey Craig Roth has been disciplined by the Florida Board of Medicine for conducting a surgical abortion on the wrong woman in 2017 at A Women's Center of Hollywood, an abortion facility in Hollywood, Florida.
A final order in the case dated July 22, 2019, noted that a settlement agreement was reached with Roth where he agreed to pay a fine of $10,000, costs totaling $3,563.70, and has had a "Letter of Concern" placed in his file.
Roth will also have to undergo additional education in risk management and give a one-hour lecture on "risk management and avoiding wrong procedures in an office setting" that must also include information on the performance of the "time out" rule during surgical procedures.
According to the Administrative Complaint filed against Roth, Patient K.M., who was 35-years old at the time, reported to the abortion facility on December 11, 2017, for a medication abortion, which involves taking pills that cause early abortions. Instead, Roth sedated her and gave her a surgical abortion.
News coverage in the Sun-Sentinel of Roth's disciplinary hearing before the Florida Medical Board in June gave further details of the incident.
Roth told the Board that during the ultrasound examination of Patient K.M., he had a "brief conversation" with her. He thought she was another patient named "Ashley," but when he referred to K.M. by that name, she did not correct him.
"I told her that I was going to give her some medication. We started on IV. I gave her some sedation," Roth said.
Roth admitted that he never specified that he would be giving her a surgical abortion and also admitted that he failed to conduct a "time out" prior to the abortion where her identity and type of procedure should have been confirmed.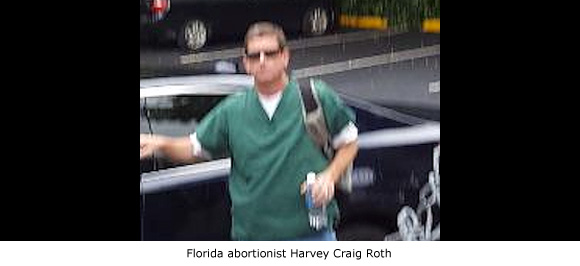 Roth's attorneys insisted that he immediately admitted his mistake to K.M. and apologized.
However, Board of Medicine Vice Chairman Hector Vila was not convinced of Roth's sincerity. According to the Sun-Sentinel, Vila stated:
"I think he's lacking any sense of responsibility for the true care of the patient in the facility," Vila said. "Whether you just work in the facility or whatever, the conduct of the care of the patient is your responsibility. You can't just walk in and say, 'I'm just here to do a certain procedure,' " adding, "That patient is your responsibility."
There was also discussion of how K.M.'s medical records were handled. Roth's attorneys indicated that Roth had immediately documented his mistake in K.M.'s chart, and accused the clinic of removing that information from K.M.'s records. Supposedly, when Roth discovered it had been removed, he reinserted it into her file.
Dr. Steven Rosenberg, who serves as Chairman of the Board of Medicine was alarmed by the "sloppy" practices admitted to in Roth's case and requested that the clinic be reported to the Agency for Health Care Administration, which has jurisdiction of abortion facilities in Florida.
The case was initiated by a complaint filed by K.M. in which she stated the surgical abortion was "traumatic" and that she felt she suffered "a violation of her body."
Harvey Roth works at A Women's Center about three to five hours per week. He splits his time between a total of seven abortion facilities in Florida, including facilities with connections to disgraced former abortionist James Scott Pendergraft IV, whose own medical license was revoked by the Florida Medical Board in December 2018.
Roth also has a lengthy list of medical malpractice suits, including a 2015 case that alleges Roth mishandled a baby's delivery that resulted in the child suffering brain damage.
"It's great that Roth is suffering some consequence for his actions, but given his long history of disciplinary and medical malpractices cases, and the fact that he did not appear to understand the seriousness of how he violated his patient, a suspension or even license revocation would have better fit the situation," said Troy Newman, President of Operation Rescue.  "Mark my words, as long as he is allowed to practice, Harvey Roth will offend again.  It's just a matter of time."