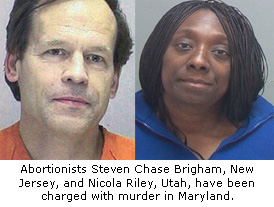 Elkton, MD — Two abortionists with troubled pasts are set to break new legal ground in the first ever case of abortionists being charged with murder for aborting pre-born babies.
Steven Chase Brigham of New Jersey and Nicola Irene Riley of Utah have been charged with murder in the deaths of viable babies in a bi-state late-term abortion ring. Additional details concerning the charges and the grand jury investigation that led to them are expected to be released this week.
Both Brigham and Riley, who are being held without bail in their home states, are awaiting extradition hearings this week that will send them back to Maryland to face a total of a dozen murder charges. Riley is scheduled for her initial appearance in court Tuesday at 8:30 AM.
"This is a ground-breaking case that could have implications across the nation," said Operation Rescue President Troy Newman. "Not only could Brigham's abortion empire of abortion clinics operating in four states collapse, but it could blaze a legal trail that could eventually lead to major reforms in abortion laws. We will continue to closely monitor and report on this case."
In September, 2010, Operation Rescue filed a complaint with the State Attorney in Elkton, Maryland, asking for criminal charges against Brigham, and launched grassroots efforts to bring him to justice.
Operation Rescue obtained public records, including interviews given to the Maryland Board of Physicians (MDBP) by Riley and others involved in a horrific botched abortion that brought Brigham's illegal abortion practices to light. Operation Rescue launched an investigation into Brigham's and Riley's backgrounds, releasing several reports documenting shoddy abortion practices and criminal histories.
The following investigative reports are available online:
This report contains disturbing details of Brigham's illegal late-term abortion operation and the botched abortion incident that launched the murder investigation. Based on open records and sworn statements from Riley and others.

More open records obtained by Operation Rescue reveal details of additional cases of illegal late-term abortions began in New Jersey by Brigham and completed in Maryland on babies from 24 to 33 weeks gestation on patients J.P and M.L. It further explains why Brigham's bi-state abortion scheme was illegal.

This is an analysis of Brigham's defense against charges brought against him by the New Jersey State Board of Medical Examiners in September, 2010, related to the botched abortion of patient D.B., his unlicensed practice of medicine in Maryland, and his violations in New Jersey where he was banned from initiating abortions after 14 weeks.

This exposé shows documented evidence that Brigham's American Women's Services abortion clinic chain is operated by shoddy abortionists with dangerous pasts.

Based on open records obtained exclusively by Operation Rescue, this exposé details Riley's criminal conviction as ringleader of an identity theft/credit card fraud ring during her service in the U.S. Army, and reveals that she lied in order to gain licensure in three states.
Other stories about Brigham and Riley are documented at http://www.operationrescue.org/category/brigham/.