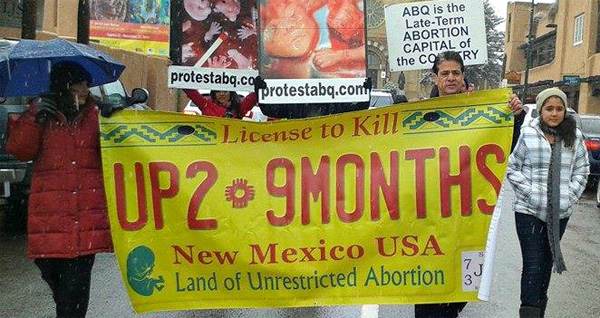 By Cheryl Sullenger
Albuquerque, NM — The first-ever National Strike for Life, held on January 22-23 was an astounding success, especially in New Mexico, where the idea for the two-day strike first originated.
One of the most impressive developments to come out of the event was a dramatic change in heart of New Mexico Gov. Susana Martinez, who campaigned as a pro-life supporter, but has been reticent in the past to take any action to make abortion facilities more accountable in her state where clinics have no oversight and abortions are legal throughout all nine months of pregnancy.
"There are literally no abortion laws in New Mexico. There's no waiting period, no parental notification, and no safety standards or inspections. There's no limits on abortion whatsoever. Because of this 'Wild West' attitude toward abortion, babies are killed in Albuquerque up until the day before birth," said Operation Rescue President Troy Newman, co-author of the new book, Abortion Free, which describes how to end abortion one community at a time. "Women and babies who should be protected by law are vulnerable prey to unscrupulous abortion mills that exploit the moms and take the lives of their babies for profit. It is only reasonable to call on the Governor for reforms."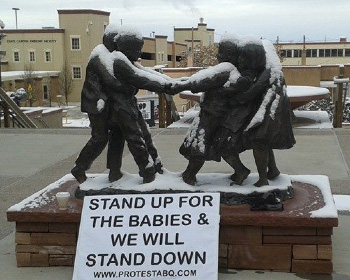 Now, a remarkable turn-around has taken place as a result of a year of focused protests culminating in last week's National Strike for Life. Led by Protest ABQ's Bud and Tara Shaver, who once interned for Operation Rescue, and Fr. Stephen Imbarrato, the protests weren't always popular.
In fact, last June, Martinez's Re-Election Campaign Manager and Chief Campaign Strategist, Jay McCleskey, became tired of the protests that begged for help from Martinez in protecting women and babies from late-term abortions and confronted the pro-life activists – including the Shavers — stating, "You are all pieces of S***!"
Bishops speak out
But during the Catholic Bishop's annual prayer breakfast with legislators on January 21, Archbishop Michael J. Sheehan of the Archdiocese of Santa Fe, joined in Project ABQ's call for abortion reforms and urged the New Mexico Legislature to pass a bill that would ban abortions at 28 weeks, or in the third trimester of pregnancy. So important is this new bill that the Bishops of New Mexico have made it their top legislative priority.
"It seems very reasonable after 28 weeks to have a bill for restrictions," stated Archbishop Sheehan.
With the Republicans now in control of the House in New Mexico after years of domination by pro-abortion Democrats, for the first time the bill actually has the potential of passing.
Governor relents
Just two days after Archbishop Sheehan's speech, Gov. Martinez relented of her previous inaction and went on the record in support of the bill banning late-term abortions. In addition, her spokesman noted that she also believes parents should be notified before a minor can have an abortion and went on the record with her support of Parental Notification legislation.
Albuquerque Journal supports late-term abortion ban vote
Then on Monday, January 26, the Albuquerque Journal published an editorial calling on the Legislature to put a late-term abortion ban to a vote. This is remarkable, given the newspaper's opposition to the 2012 Pain Capable Unborn Child Protection Ordinance that would have banned abortions after 20 weeks in the City of Albuquerque, where the largest late-term abortion facility in America, Southwestern Women's Options, dangerously operates.
"In 2013, 42 years after the Supreme Court's landmark ruling in Roe v. Wade, a Gallup poll found a nation still deeply divided – 47 percent said they were pro-choice and 46 percent pro-life. But in the same poll, just 14 percent thought abortion should be legal in the last three months of pregnancy and 80 percent opposed it," stated the Journal's Editorial Board. "When it comes to late-term abortion, New Mexico's lawmakers should put themselves on record as well."
Beginning of the end?
The Bishop's public support for ending late-term abortions via new legislation, Gov. Martinez new pledge of support for pro-life legislation, and the Albuquerque Journal's new-found support of a late-term abortion ban represent a foundational shift in public policy that could be the beginning of the end for unrestricted abortion in New Mexico.
If successful, the new legislation would save thousands of lives from abortion and spare women from the exploitation and grief that is currently inflicted upon them by the abortion cartel in New Mexico every day.
"Certainly, if it had not been for Protest ABQ's relentless effort to bring about change, this dramatic reversal would never have happened," said Newman. "Creating social tension through protest is still an effective tool for achieving change, and the developments in New Mexico prove it."
Operation Rescue partnered with Protest ABQ in sponsoring the National Strike for Life, along with The Survivors, Created Equal and The Anti Choice Project: Washington D.C.
For more details and photos from the National Strike for Life activities nationwide, visit ProtestABQ.com.
Photos courtesy of ProtestABQ.com.