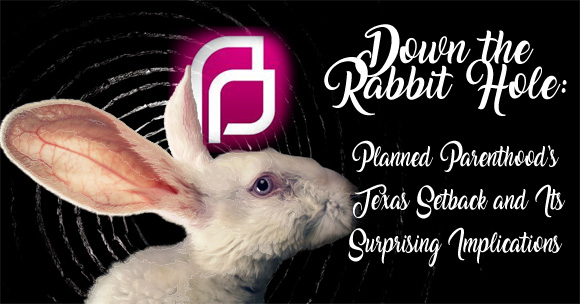 By Cheryl Sullenger
A decision by the Fifth Circuit Court of Appeals in a Texas case provided a significant setback to Planned Parenthood and has opened a doorway to a very deep rabbit hole filled with twists and turns that lead to unexpected and dark revelations about the abortion giant.
The Fifth Circuit case began when the Texas Health and Human Services Commission's Office of Inspector General (OIG) moved to terminate Planned Parenthood's Medicaid Provider agreements, based primarily on undercover videos produced by the Center for Medical Progress, which showed staff of a Houston Planned Parenthood abortion facility negotiating with CMP operatives for the price of aborted baby remains for a fictional research project. The videos also showed a dish of baby body parts over which there was a discussion with Melissa Ferrell, who served as Research Director for Planned Parenthood Gulf Coast, about altering abortion procedures to ensure intact organs. The director of the abortion facility, Dr. Tram Nguyen, participated in the discussion and confirmed Ferrell's statements concerning the ability of two Planned Parenthood abortionists to conduct the altered abortion procedures.
Both the sale of aborted human baby parts and the altering of abortion procedures to procure those parts are violations of Federal laws.
The OIG determined that the CMP videos contained evidence of the violations and therefore moved to terminate Planned Parenthood's ability to participate in the Medicaid program.
Three Planned Parenthood affiliates sought a preliminary injunction against the OIG's decision. An injunction was granted, based on a dubious "forensic analysis" submitted by Planned Parenthood that indicated the videos had been deceptively edited. (This is an important point we'll get back to later.)
The injunction was appealed to the Fifth Circuit.
In the OIG's appellate brief, a screen shot from one of the videos was inserted into the pleadings that depicting the dish of aborted baby remains on the table at the Houston Planned Parenthood. It also included a report commissioned by the Alliance Defending Freedom from Coalfire Sytems, Inc., legitimate experts in video analysis, who conducted an independent review of the full-length videos and concluded that the videos were authentic and that the audio was not tampered with in any way.
The Appeals Court ruled that the lower court judge applied the wrong standard to the evidence in discounting the CMP videos that had been cited by the OIG as the basis for the contract terminations. In fact, that judge had rejected the video evidence in its entirety. The injunction was vacated and the case was remanded back to the lower court for reconsideration.
As if to punctuate their own ruling, the Fifth Circuit included that photo from the state's appellate brief within their written decision. (View it here on page 4.)
The fact that the Fifth Circuit was convinced that the video evidence was an appropriate basis for the IOG to terminate Planned Parenthood Medicaid Provider agreement is a big deal. The Court agreed that Planned Parenthood had broken the law.
Federal suits against CMP members
The Fifth Circuit ruling is expected to have a positive impact on two California cases brought by Planned Parenthood and their accomplices in the National Abortion Federation against the Center for Medical Progress, including Troy Newman, President of Operation Rescue who served as a CMP board member during the undercover investigation.
According to a statement released by the American Center for Law and Justice (ACLJ), which represents Newman in both California cases, the ruling supports two important points.
Planned Parenthood Gulf Coast, which is a plaintiff in the lawsuit against the CMP representatives, has claimed they are innocent victims of a "smear campaign." However, the Fifth Circuit has now sided with the U.S. Senate Judiciary Committee and the U.S. House Special Investigative Panel on Infant lives, which also concluded that that Planned Parenthood broke the law in their criminal referrals of PPGC to the Department of Justice for investigation and prosecution.
The allegation by Planned Parenthood that the videos were deceptively edited to make it appear their officials said something they didn't has been completely debunked, especially in light of the fact that full-length videos supported word for word the conversations that appeared in the summary videos.
Federal District Judge William Orrick presides over both cases. In 2015, Orrick also discounted evidence in the CMP videos citing the fake forensic report supplied by Planned Parenthood, and issued an injunction that gags the pro-life defendants from releasing or discussing approximately 500 hours of unreleased video footage.
As a side note, Judge Orrick was also the judge that threw out President Donald Trump's Executive Order denying Federal funds to Democrat-run Sanctuary Cities that harbor illegal immigrants from ICE agents.
Fusion GPS and Perkins Coie

That brings us back to the company that had been hired by Planned Parenthood to conduct an analysis of the CMP videos, Fusion GPS. That name is now recognizable as the same firm that also prepared the fake Russian Dossier against President Donald J. Trump that was illegally used by rogue FBI and DOJ officials to obtain warrants to spy on Americans with connections to the 2016 Trump Presidential Campaign.
When hired by Planned Parenthood to assist with damage control efforts after the release of the videos, Fusion GPS had no expertise in video analysis. Unsurprisingly, Fusion GPS simply produced a product that made their client appear to be innocent of any legal violations by falsely attacking the videos as fakes.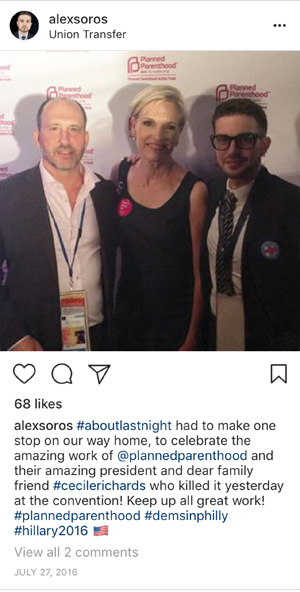 In the Russian Dossier case, Fusion GPS was paid through a law firm hired by the Hillary Clinton Campaign and the Democratic National Committee. That firm was Perkins Coie. Not coincidentally, that firm also has provided legal representation for Planned Parenthood going back several years.
Clinton's public support for abortion in general and Planned Parenthood in particular is well known. The support was reciprocal. Cecile Richards, who was serving as Planned Parenthood CEO at the time of the presidential campaign, was often seen on the campaign trail speaking in support of Clinton's presidential candidacy.
In fact, Cecile Richard's family are long-time friends with the George Soros family, one of Clinton's biggest financial backers.
But Planned Parenthood's connections with Clinton and the Democrat Party are not casual ones.
Why we can't defund Planned Parenthood
Each year, the U.S. budget contains money for Planned Parenthood, which has increased every year due to support from nearly every Democrat in the House and Senate. And it is lots of money. In 2018, Planned Parenthood received a whopping $564.8 million in Federal tax dollars – a $20 million raise over the previous year.
Many of those same Democrats that aggressively defend funding Planned Parenthood has good reason. Planned Parenthood is a big donor to Democrat political campaigns. It is estimated that during the 2018 Mid-Term elections, Planned Parenthood recycled at least $30 million back into the campaign coffers of powerful Democrats that vote to give them money. (Some say that figure is actually closer to $65 million, including undisclosed campaign expenditures.)
So, many Democrats who support tax-funding for Planned Parenthood are actually just voting to fund themselves! This is why it is so difficult to get the votes to strip Planned Parenthood of all public funding.
But Planned Parenthood's relationship with pro-abortion Democrats doesn't end there. This is where the rabbit hole takes an unexpected turn.
"Pay to Slay"
As Planned Parenthood's involvement in the lucrative trade in aborted baby remains began to deepen, several "middle-man" procurement companies began to spring up. Among them were DaVinci Biosciences and DV Biologics, located in Orange County, California.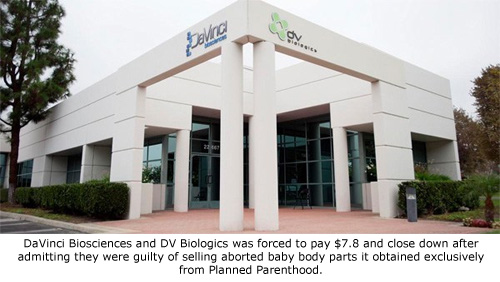 As previously reported by Operation Rescue, these companies were owned by the Ecuadorian Isaias family. Two members of this family were convicted and sentenced to eight years in prison for bilking the poor country of Ecuador out of $661.5 million.
They reached out to then-Secretary of State Hillary Clinton rush their entry into the U.S. – in part to escape their lengthy prison sentences. After making millions of dollars in contributions to Democratic politicians, including Barack Obama, Clinton expedited their immigration into the U.S.
In what we call the "Pay to Slay" scandal, Clinton literally rushed Ecuadorian criminals into the U.S. so they could make money selling aborted baby remains procured from her friends at Planned Parenthood.
DaVinci Biosciences and DV Biologics obtained aborted baby tissues and organs exclusively from Southern California Planned Parenthood abortion clinics for export around the world.
In response to a complaint filed by the Center for Medical Progress, the two businesses were sued in 2016 by Orange County District Attorney Tony Rackauckas for the illegal sale of aborted baby remains. The following year, DaVinci Biosciences and DV Biologics admitted guilt, agreed to close their offices, and pay $7.8 million in a settlement of the case.
DOJ investigation
But what of Planned Parenthood, which supplied the tissue and organs in the first place?
The Department of Justice acknowledged in 2017 that it was investigating Planned Parenthood's involvement in the illegal trafficking of aborted baby remains, based on criminal referrals from the U.S. House and Senate. No word, however, on why the investigation is taking so long or when it will conclude.
This all leads to an important question that is rarely asked. Why was there an almost insatiable world-wide demand for organs and tissue harvested from aborted babies?
The answer can be found in seemingly random bits of news.
Anti-aging push
Right now, there is a big push to develop anti-aging therapies that will not just make people look and feel younger, but will extend the human life span indefinitely. Even such respected institutions such as the Salk Institute are getting in on the act.
In a Ukrainian study published on December 2, 2017, injected suspensions containing fetal liver and brain cells as well as fetal connective tissue into human subjects to evaluate their anti-aging abilities. The study indicated that subjects experienced "significant improvement" in hormonal status and electrolyte levels as well as better facial and neck skin.
The fetal tissue used in this study was derived from babies aborted through medication abortions at 6-10 weeks gestation.
It is likely that aborted baby remains purchased by the DaVinci companies from Planned Parenthood ended up in studies similar to this in laboratories around the globe, which are racing to unlock the secret of aging and find a way to counter it.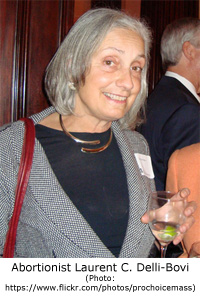 In another study done here in the U.S. in 2011, a Massachusetts abortionist was involved in studying the effects of fetal frontal cortex brain cells on neuronal degeneration, such as that experienced in Down syndrome people with early onset of Alzheimer's disease.
The study, meant to find a way to stave of mental aging, used the brains of 22 babies aborted at Laurent C. Delli-Bovi's abortion business between the ages of 14-22 weeks. She then rushed the tiny brains to her laboratory where experiments were done within 2 hours of the babies' deaths.
Delli-Bovi's study was funded by tax money obtained from the National Institute of Health under the Obama Administration.
Who wants to live forever?
Other scientists postulate that within 30 years, human beings will be able to "live forever" using the CrispR-Case 9 gene-splicing technology in which old bits of genetic material is snipped away and new, improved bits are inserted. It can be done on human embryos in order to create people that are more beautiful, disease resistant, and have greater longevity.
This isn't science fiction.
In China, a scientist, He Jiankui, allegedly defied ethics to use CrispR-Case 9 technology to alter the genomes of twin girls to make them immune to the HIV virus. He was fired from his university job and is reportedly being detained. However, a second woman is reportedly pregnant with another genetically altered baby, whose fate remains uncertain.
Elites live, we die
If anti-aging products using aborted baby organs and tissues can be developed to rejuvenate the body and extend the life-span, they are sure to be very expensive.
Dr. Ian Pearson predicts that life-extending therapies may be available to the "rich and famous" as early as 2050.
According to a Daily Star report, "Dr. Pearson said celebrities and millionaires like the Kardashians would have first dibs on the technology for eternal youth — with people on normal incomes having to grow old and die naturally."
It's a eugenicist's dream – something Margaret Sanger, founder of Planned Parenthood, would have loved.
If anyone thinks Planned Parenthood has rejected Sanger's racist population control ideals that sought to purge people of color from society, think again.
"Planned Parenthood was all in on experimentation using human aborted baby remains and has only backed away because they were caught," said Troy Newman. "They continue to focus their abortion businesses in areas where poor women of color are particularly targeted. Planned Parenthood is not about health care, no matter the Democrat talking points aimed at protecting their own cash cow. They are about reducing targeted populations, and that is the definition of eugenics and the politics of control."
Indeed, there is much more behind the selling of aborted baby remains that meets the eye. It is about politics, money, control, and the desire of some to live forever while others are denied the same privilege. This is antithetical to a culture that values and protects all life, and that is the culture that Operation Rescue is working to build.