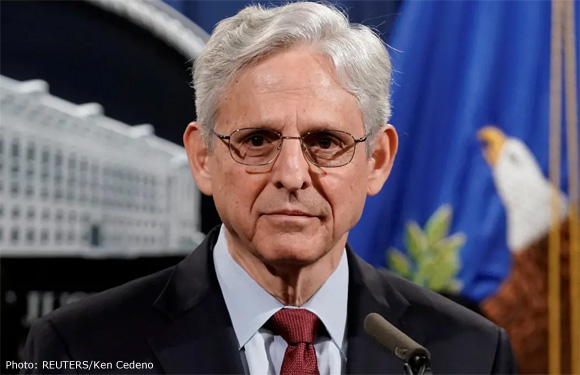 By Cheryl Sullenger
Washington, D.C. – U.S. Attorney General Merrick Garland has released a troubling statement threatening to apply the Freedom of Access to Clinic's Entrances Act (FACE) to pro-life activists while the Department of Justice "urgently explores all options to challenge Texas SB8." 
Last week, a 5-4 majority of the U.S. Supreme Court refused to block the enforcement of SB8, also known as the Texas Heartbeat Act, which prohibits abortions after six weeks gestation when a heartbeat is usually detected on babies in the womb.
"The department will provide support from federal law enforcement when an abortion clinic or reproductive health center is under attack," Garland stated through his press release.
Earlier today, House Judiciary Committee Chairman Jerrold Nadler and 23 other Democrats submitted a letter to Garland urging him to "use the full power" of the Department of Justice to attack the pro-life legislation and ensure that babies continue to die in Texas and elsewhere.
"Garland's press statement gave the false impression that peaceful pro-life activists are violent law-breakers. I believe that was an intentional misrepresentation.  Men and women of conscience who dedicate their time to offering practical assistance and loving options to pregnant women outside of abortion facilities do so because they abhor the violence perpetrated upon babies and their moms inside the abortion facility," said Operation Rescue President Troy Newman.  "Abortion is a grisly act that violently tears a baby from his or her mother's womb in the most barbaric way possible.  This act often causes horrific physical harm to the women who undergo such brutal procedures, as we have documented hundreds and hundreds of times.  Pro-Life advocates seek to prevent that violence and the negative impact it has on women and their families by offering love and support."
This intimidating statement comes as the Biden Administration struggles to come up with a plan to negate the Texas law, which is saving children from abortion every day.
Nevertheless, Biden issued a weak statement over the weekend indicating that he opposes the Texas Heartbeat Act.
"This extreme Texas law blatantly violates the constitutional right established under Roe v. Wade and upheld as precedent for nearly half a century," Biden stated in a press release.
Pelosi threatens legislation
House Speaker Nancy Pelosi, who was nowhere to be seen during one crisis after another since Biden took office, has promised to "bring up [California] Congresswoman Judy Chu's Women's Health Protection Act to enshrine into law reproductive health care for all women across America." 
Sen. Amy Klobuchar, (D-MN) has announced her intentions to immediately end the filibuster rule, which requires 60 votes to push forward most legislation in the U.S. Senate – votes the Democrats currently do not have.  She sees this as an imperative to enacting legislation that will encode Roe v. Wade and end the Texas abortion ban over the objections of Republican Senators.
Whistleblower site attacked
Meanwhile, abortionists in Texas have won an injunction against Texas Right to Life that blocks them from suing abortionists who break the law, as allowed under the new law.   GoDaddy.com dropped The Texas Right to Life's website, prolifewhistleblower.com, which allowed the public to submit tips on abortionists who illegally conduct abortions beyond the legal limit in Texas,  after pro-aborts complained then flooded the site with false leads and "Shrek porn." 
However, Texas has one more ace up its sleeve to ensure the protection of pregnant women and their babies.
SB4
A bill known as SB4 now sits on the desk of Gov. Greg Abbott awaiting his signature.  It would ban the delivery of abortion-inducing drugs in Texas and provide criminal and regulatory penalties for that ban.
The scheme to deliver abortion drugs by mail has been around since 2016 when Planned Parenthood began participating in an experimental test study funded by Gynuity Health Projects, an international organization that is fixated on expanding abortion in primarily third world countries.  Gynuity Health Projects is, in turn, funded by a "who's who" of globalists with world-wide depopulation goals.  
"We warned in 2019 that abortionists would attempt to expand this the distribution of abortion drugs by mail, and indeed, that is exactly what happened," said Newman. "Now, thanks to the Biden administration, that dangerous scheme is running rampant."
In July 2020, abortion proponents convinced the U.S. Food and Drug Administration to temporarily allow telemedicine abortion programs to distribute abortion drugs by mail citing the alleged dangers of in-person office visits during the China Virus pandemic.
Abortionists immediately took advantage and several independent businesses popped up to mail out abortion drugs in every state in which they were licensed.
The abortion-pill-by-mail scheme suffered a setback in January 2021, when the U.S. Supreme Court sided 6-3 with the Trump Administration in a case that restored the FDA rule requiring in-person pickup of abortion-inducing drugs.
But on April 12, 2021, the Biden Administration defied the Supreme Court ruling and exercised its enforcement discretion to lift the regulation once again, citing the dubious excuse that mail distribution of abortion drugs kept women and abortion clinic workers safe from the China Virus.
Bumpy ride ahead
"Now, with the Mississippi Dobbs v. Jackson Women's Health Organization, before the U.S. Supreme Court, we can expect the anti-life propaganda machine to crank up like never before," said Newman.
The Dobbs case is expected to be heard this fall. It concerns a Mississippi law that prohibits abortions after 15 weeks gestation.  It and poses a direct challenge to Roe v. Wade and is more important than ever in light of the Texas Heartbeat Law.
"I do not expect the Abortion Cartel to go quietly into the night.  They will fight tooth and nail with their allies in the Federal Government to make sure they can keep killing babies," said Newman. "We must continue to boldly stand for Life in the public square, as is our Constitutional right. Nevertheless, the threats that are being dished out by the Attorney General and others should be taken seriously and precautions should be taken.  No pro-life supporter should attempt to exercise his or her First Amendment Rights alone.  Everyone that goes should be equipped with a camera for their own protection.  We can expect our peaceful actions to save the lives of innocent babies to be lied about and mischaracterized as 'violent' by the pro-abortion mainstream media and by our own government, which will stop at nothing to make sure abortion is protected and expanded.  Brace yourselves, because are in for a bumpy ride."