By Cheryl Sullenger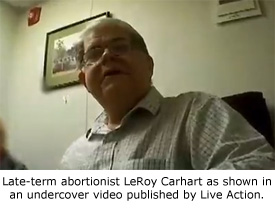 Omaha, Nebraska — A new video released by Live Action catches late-term abortionist LeRoy Carhart denying that he has ever sent a patient to the hospital and rejecting responsibility for the documented deaths of two of his late-term abortion patients, Jennifer Morbelli and Christin Gilbert. It reveals practices that are similar in nature to those of accused murderer Kermit Gosnell. Details of Gosnell's horrific and dangerous abortion practices were documented during seven weeks of testimony during his capital murder trial in April.
On the extended tape released by Live Action, Carhart tells an undercover investigator posing as a prospective patient, "I've never had to send anyone to the hospital."
However, Operation Rescue obtained a 911 recording placed Saturday, March 31, 2012, from LeRoy Carhart's Abortion and Contraceptive Clinic of Nebraska, located in Bellevue, a suburb of Omaha. While heavily redacted, a woman moaning and screaming in apparent pain and distress can be heard in the background. The caller indicated that Carhart was present at the clinic at the time of the medical emergency.

Jennifer Morbelli
About the death of Jennifer Morbelli, 29, who died on February 7, 2013, after an abortion at 33 weeks into her pregnancy, Carhart falsely indicated that her death was due to an "allergic reaction" to her pregnancy.
After Morbelli's abortion, but before she was completely stable, Carhart left Maryland and was unavailable to family and hospital staff when Morbelli's condition worsened, leaving emergency room physicians in the dark about Morbelli's condition and previous care. Once her true condition was discovered, it was too late for them to save her life.
Testimony from witnesses in the Gosnell trial revealed that Gosnell was frequently absent from the clinic when women were in the throes of labor and would often be absent during the abortions themselves. While Carhart was present for the abortion, he has a pattern of being absent during medical emergencies that led to the deaths of two late-term abortion patients, Morbelli and Gilbert.
Carhart is heard explaining Morbelli's death to a Live Action under-cover investigator, who posed as a prospective patient:
Carhart: –it was reported to the coroner and everything, and they said, "Yeah, she died," again, "of complications of the pregnancy, but not from the abortion." Everything from the abortion went fine.
However, the Medical Examiner's office released Morbelli's official cause of death on February 20, 2013, stating that an "amniotic fluid embolism following termination of pregnancy" caused Morbelli's death. That means amniotic fluid surrounding the pre-born baby entered the patient's bloodstream, causing a life-threatening condition.

The second cause of death was listed as "disseminated intravascular coagulation," or DIC, a condition where small blood clots form and absorb the clotting agents in the blood to the point where profuse bleeding can occur.
The DIC determination is consistent with information provided by a confidential source that Morbelli suffered profuse internal bleeding and hematocrit levels that were "incompatible with life."
Further clarification came when Operation Rescue obtained an official copy of Morbelli's death certificate.
That document confirms that Morbelli died at 12:25 p.m. on February 7 at Shady Grove Adventist Hospital. Section 23a indicated that the cause of death was Disseminated Intravascular Coagulation "due to or as a consequence of Amniotic Fluid Embolism following Medical Termination of Pregnancy."
While "Fetal Anomalies" is also listed in the same section, the certificate clearly states that this entry refers only to the "Disease or injury that initiated events resulting in death."
"Carhart attempts to mislead by shifting the responsibility for Mrs. Morbelli's death onto her and her baby, but her death certificate sets the records straight. It clearly was the diagnosis of her baby's health problems that served only as the catalyst to events that led Mrs. Morbelli to seek the abortion that killed her," said Troy Newman, President of Operation Rescue. "If Mrs. Morbelli had not sought an abortion from LeRoy Carhart, she would be alive today."



View Morbelli's full death certificate.
Christin Gilbert
Another abortion patient who died as the result of fatal an abortion done by Carhart was 19-year old Christin Gilbert. She died of "Complications of therapeutic abortion," according to her autopsy report, on January 13, 2005, during a time when Carhart worked for George Tiller at his late-term abortion clinic in Wichita, Kansas. Gilbert, who had Down syndrome, was 29 weeks pregnant. Operation Rescue witnessed the ambulance offload Gilbert at the Wesley Medical Center and rushed her into the Emergency Room and photographed Tiller entering the ER a few minutes later.
Operation Rescue soon confirmed that Gilbert had died from a botched late-term abortion and filed a formal complaint against Tiller with the Kansas State Board of Healing Arts, thinking that Tiller was responsible for Gilbert's abortion when it was later discovered that Tiller was actually at the hospital on the day of her death covering for Carhart.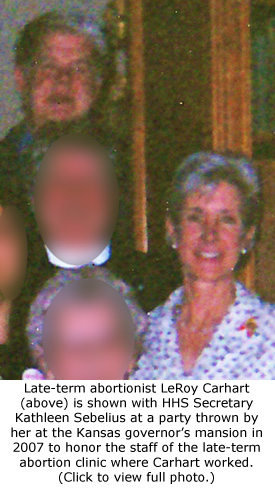 All this occurred during the administration of former Gov. Kathleen Sebelius, who had a close relationship with Tiller. She created a political climate that protected and covered up for abortionists during her six years as governor of Kansas. This political climate was similar in nature to the one that existed in Pennsylvania when authorities looked the other way when complaints were filed against Kermit Gosnell, the illegal late-term abortionist who is currently on trial for the murder of four newborn infants killed after abortions and one of his patients. In a politically motivated letter to Sebelius, the Board publicly cleared Tiller and his staff of any wrong-doing in Gilbert's death months before the autopsy report was even available.
Upset by the injustice, Operation Rescue helped convene a citizen-called grand jury to investigate the Gilbert death. It was after that grand jury disbanded without issuing an indictment that OR learned the truth about what happened to Gilbert, and that Carhart was actually responsible for her death.
Nevertheless, in Live Action's undercover video, a transcript shows Carhart denying involvement in Gilbert's abortion:
Carhart: And the Christin Gilbert thing on the internet was not my patient. I ended up seeing her in the h–
Woman: Who's Christin Gilbert?
Carhart: Oh, if you go on the Internet eventually you'll find it, she was a 19-year old mentally handicapped girl from Texas that Dr. Tiller had operated on, and she happened to come back to the clinic on a day that I was covering for him, but it was four days after, she had what's called post-partum HELLP syndrome, which happens very, very–you've heard of eclampsia with women–
Woman: Yeah.

Carhart: Pre-eclampsia, eclampsia, well if it happens before delivery the cure is delivery, and it usually is never a problem, but if it happens after delivery, nobody has been cured from it…. But the "Anti's" just deciding to blame me for it, because Tillers' dead, why blame him. [laughs]
"With Tiller dead, his clinic closed, and the records buried, Carhart knows full well that there are few left that could dispute his version of the story. But we interviewed one of those people and there is no doubt that Carhart is lying," said Troy Newman, President of Operation Rescue.
That person is the foreman of the grand jury that investigated Gilbert's death and was privy to information that was denied to the public. This man spoke to Operation Rescue on tape on the condition of anonymity just days after the Grand Jury disbanded. Never-before released excerpts from the interview show that testimony given under oath completely refutes Carhart's statement, and proves that the version of the incident he told a prospective patient was completely false.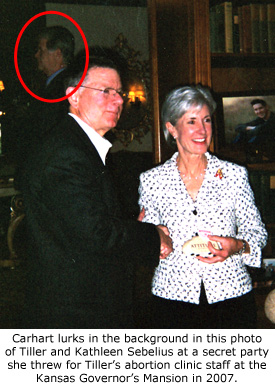 He first describes the efforts by Sebelius Administration officials to cover up facts that were sought by the grand jury due to the political bias that protected abortionists in Kansas at that time.
Well the whole thing was just – from the Healing Arts Board that we interviewed, it's just like – like there's no wrong, but yet, someone's dead over this.
These people all had attitudes – the people involved — the Healing Arts people, all of them. Very arrogant, very "we're better than" – they never came out and said, but their attitude was that they could do no wrong and that nothing – this was just "normal protocols" were the words they all kept using. "This is standard protocol." And, "We had our own investigators," and I'm like, who is your own investigator?
They said who he was and he found no fault in what was going on. It's just the whole attitude, from all these people that are in a small – in my opinion – in a small fraternity.
We had the head guy for Wichita's ambulance service and I asked him, I said, "How many times would you say you've been to George Tiller's clinic? And he said, "Seven times." I said, "On average." He said, "Seven times" was what he told me, and I'm like, "In a year?" And he said, "No. About seven times a month." That's what he told us.
The family stayed at the LaQuinta Inn on East Kellogg, which has since been torn down. Tiller had an arrangement with the hotel to take his patients and stable his staff overnight where the hotel would be used as a labor – and all too often – delivery ward, even though the hotel was not equipped for such emergencies or the serious complications that might arise.
They [the family] got in a car and drove to Wichita on Sunday. On Monday, they had Neuhaus – Dr. Neuhaus out of Lawrence – investigate and she said, "Oh, yeah, it would be more detrimental going full term than having the abortion." They paid her the check directly. That was on Monday. She saw the psychologist then had the abortion and was sent back to the La Quinta.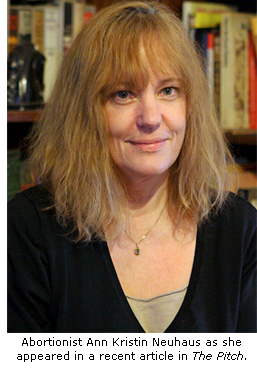 The juror was referring to Ann Kristen Neuhaus, who had her medical license revoked by a revamped Board of Healing Arts that had been purged of Sebelius-era corruption. The Board found that Neuhaus' determinations of mental health disorders to justify late-term abortions amounted to quackery with no true medical basis.
Who really did Gilbert's abortion?
After Gilbert was seen by Neuhaus, she received an injection of Digoxin into her abdomen to kill her baby, had her cervix packed with laminaria, and was likely given Cytotec to soften her cervix for delivery. Cytotec stimulates unpredictable and sometimes violent uterine contractions. That medicine did its job all too well.
Juror: She passed the fetus coming into the clinic in the family van, and we couldn't get anybody to even talk about that.
Operation Rescue: What day was that?
Juror: The following day. [Tuesday] This is what they told us. The abortion was done on Monday and she went back into the clinic and they phrased it that she had to have a D&C.
Operation Rescue: Okay, that makes sense. She had already expelled the baby…
Juror: On the way to the clinic. In the vehicle.
. . .
Operation Rescue: Who did the digoxin.
Juror: Carhart.
Operation Rescue: So Tiller did nothing on this abortion.

Juror: No, Carhart. And we couldn't subpoena him because he wouldn't come back to Kansas. That's what the DA told us. Because he wasn't in the confines of the State of Kansas. He was up in Omaha, Nebraska.
They had to repair a – she had a – oh I wish I knew the medical terms. They had to repair a tear in the uterus. There was a tear. We couldn't get anyone to say more. We tried to get someone to tell us and we couldn't get anyone to speak. We were — I'm telling you — very frustrated.
The juror went on to describe Gosnell-like practices at the clinic that involved lack of trained workers doing duties for which they were not licensed or qualified. This dangerous practice is common throughout the abortion industry.
Juror: He has no licensed nurses on staff. We asked everybody involved. Everybody that came in there, we asked. And everybody pled the fifth other than Cathy Reavis. She said she was licensed over in Holland, or wherever she's from, and she never became licensed here. She's not a licensed nurse here, nor is – and my question was, "Is anyone?" And she said, "No, people involved have six-week training." Which is nothing.
On Tuesday evening, Gilbert did not feel well and refused to eat. She returned to the Tiller clinic the following day, Wednesday, where she was treated for dehydration. The juror continued to describe the shoddy post-operative care given when Gilbert's condition began to deteriorate. Carhart is not available and leaves Gilbert to the care of an unlicensed, unqualified worker, just as Gosnell was known to do. He also describes the inadequate record-keeping that so often has been reported not only in the Gosnell case, but in abortion cases from coast to coast.
Juror: They [the Tiller staff] sent her out of there, they gave her fluids which weren't documented, and nurses are supposed to have everything documented. And there's no documentation of how much fluids, which really played a factor when she actually died, when she came in the following day.
. . .
Sometime between 12 and 4 in the morning the nurse was called in. Dr. Carhart, who was on call stayed there, but he never showed up at all and he should have been the one that should have, not a nurse's aide.
That night, she was throwing up. A nurse comes over and cleans her up, puts her back to bed. She [the nurse] goes back to her room. Cathy Reavis. She's not in the rotation any more after this.
Reavis is the one on call. She went in and did what she could do.
The next morning, Christin Gilbert passes out. They go and get a luggage cart and take her out to the van. Cathy Reavis oversleeps, calls Dr. Carhart who supposedly was in Topeka – I never understood that, either. That early in the morning, he's supposed to be on call. We couldn't get anyone to speak, so again, we couldn't get the right information.
According to some of the reports – a phone conversation – he was in and around Topeka. But then when we get over to the clinic, he's in the clinic, so there's, uh – We kept going, "Wait a second. Is he in Topeka or at the clinic?"
As in the case of Carhart's other abortion fatality, Jennifer Morbelli, Carhart was missing and unavailable during Gilbert's medical emergency. The fact that he tends to leave town when his patients are in trouble indicates a gross lack of common sense and concern for the well-being of his patients. This is frighteningly reflective of Gosnell's attitudes about his patients when he failed to be present during abortions and other medical activities.
The juror continued to explain what happened to Gilbert again confirming Carhart's presence.
Juror: Tiller's doing an abortion when they [Gilbert and her family] show up. They get her to the clinic…Get out of the car and go in through that back entrance that they have.
Operation Rescue: Did she walk in?
Juror: With help. And at that point is when she crashed. And at this point it's all hearsay because nobody would speak. Reavis was not there. She overslept. She didn't get to the clinic until basically [Gilbert]'s already being sent by ambulance, okay?
But what we've pieced together is that Carhart was there. According to the ambulance people, he was the one that was getting in the way.
She's alive. They get her inside. We had a drawing of how that clinic's laid out, what she had to go through. They have a big area, like, for day surgeries. They'll have several beds, but you're not in separate rooms. They draw a curtain between them, and she went and crashed right there. They're bagging her. We don't know what happened there but forty — roughly forty to forty-five minutes before they made a 911 call.
About the 911 call (listen to it here) and the 45 seconds when the dispatcher is placed on hold:
Juror: I said, "I could walk a half a block in 45 seconds." Is there no sense of urgency? You guys are arguing about giving information to the people who are supposed to help you?
[Caller Marguerite Reed] was met in a corridor or hallway with the head of all the nurses, Cathy Reavis, and who told her to call.
Reavis told the grand jury that she was not present until after the ambulance took Gilbert to the hospital because she overslept. However, Reed said Reavis was at the clinic during the medical emergency. Operation Rescue has published photos of Reavis' vehicle in the parking lot when the ambulance arrived. These discrepancies show that there was a major cover-up of the truth concerning Gilbert's death.
The juror continues to describe Carhart's actions and his interference with emergency workers:
Juror: Dr. Carhart, they had an issue between the EMS people and him. They had to physically tell him to get away and leave her alone. He was trying to pump her stomach for whatever reason. They had to pull him off. The quote was, "Sir, you need to leave her alone. Move back. Get away and let us take over."
For the longest time we thought he was a male nurse – very high stress. We didn't even know he was Dr. Carhart for the longest time. We finally found out he was the [unintelligible]
At some point in this particular scenario, she was administered the RU486 drug, because that's supposed to help clean…
I'll give you my opinion after reading all that. I personally think because her symptoms were identical to many other women who died from that – identical. I mean identical to a tee, and even the doctors said that girl died – she hemorrhaged.
Every person, the fire people, the ambulance people all said there was an extremely large amount of red "coffee-ground" fluid, which is blood. They all said that; an extreme large amount of fluid. And it was never noted how much fluid they gave this girl.
She was bleeding out of her mouth, she was bleeding out of her vagina, and that was noted in numerous non-George Tiller reports. They all matched up. His reports had none of that. It's protecting him and his clinic.
George Tiller was never in the room. He was performing an abortion. He came in and checked on her, and we heard numerous reports – we didn't understand why – was there no concern? He stepped in, when back, talked to the parents. I asked them and they said, "We didn't know what was going on." Nobody would say anything.
Workers controlled
The clinic workers seemed more than eager to cover up what happened to Christin Gilbert, just as Sherry West continued to insist that her boss, Kermit Gosnell, never did anything wrong, even after she had pled guilty to the murder of Gosnell's abortion patient Karnamaya Monger. Gosnell appeared to still exert some influence and control over her and other former employees even from jail.
Of the workers at Tiller's clinic, the grand jury foreman noted, "I don't think they're stupid. I think they're very much controlled."
Stonewalling frustrations
Efforts to get to the truth and come to conclusions about whether laws were violated in the death of Christin Gilbert were thwarted by continued stonewalling by witnesses and evasion of a subpoena by Carhart.
Juror: George Tiller never showed his face [at the grand jury]. He got his attorney to – there's a little by law where he can go beyond pleading the fifth, which would stretch this thing out to up to eighteen months. We took a vote. If he did show up, would we ever get any information from him? No. None of his little goons gave us any information. We chose to leave him still so he'd be able to be charged or give him immunity. The judge wouldn't let us do that anyway. He said, "I'm not –no way am I going to give him immunity."
We found out the rotation from this nurse [Reavis] that was talking, and so the week he [Carhart] was scheduled to be here, we convened two days after and she was supposed to subpoena him. Well, he outsmarted us and never came in. He was never served because he was never in the state boarders to be able to be served.
So we all showed up one day and she comes in, Ann Swegel from the DA's, and we're like, "Okay, is he gonna –"and she's like "Well, no. He's never going to be served. If you guys want me to I can da da da." I'm looking at a time-frame here and I'm like, "We need to get him in here." And we talked for about an hour. I can tell you what's going to happen. He's going to do the same thing Tiller does. Yes, I'm dadadada. I work here. I plead the fifth, and nothing's going to be done.
. . .
We couldn't make decisions, because we couldn't get anyone involved to speak.
We couldn't get any information out of anyone. Without anybody speaking, we couldn't get any information out of nobody. These people can do what they want to, plead the Fifth, and walk. And I'm thinking, "How stupid is this?"
The frustration expressed by the source was evident. The lack of testimony from those closest to the events surrounding Christin's death, the non-appearance of Tiller and Carhart, and the reticence of the Kansas
State Board of Healing Arts to discuss the details of their investigation prevented the grand jury from being able to adequately investigate and make informed determinations.
Juror: How in the world can you ever find anything out when you can't get anyone to speak about it? We were very frustrated to sit on that to try to make decisions on all the things the petition was asking for, and we couldn't make decisions because we couldn't get anyone involved to speak. We couldn't get anyone to say anything.
So here we are trying to put this together. We're understanding what's going on here, but we can't make a judgment call when nobody has said anything to allow us to judge them. These laws, these things have to be changed because all you're doing is letting these people walk.
Other deceptive acts documented
The lack of truthfulness exhibited by Carhart, while not surprising, is shocking. Time and again, Carhart has been caught lying and deceiving patients, the media, and even the authorities.
On November 14, 2011, the Maryland Board of Physicians sent Operation Rescue a letter acknowledging that it had issued a letter of admonishment to be placed in Carhart's file after it confirmed OR's allegations that he had lied on his Maryland medical license application filed in preparation for him moving his late-term abortion practice to Maryland in 2010.
In 2008, an undercover investigation conducted by Operation Rescue documented Carhart's practice of falsifying fetal ages just like the process described by former Gosnell employee Steven Massof. OR's allegations of ultrasound manipulation and records falsification was confirmed by former employees of Carhart's Nebraska abortion practice, who came forward to blow the whistle on him in 2009. That evidence was presented to Attorney General Jon Bruning, but later dropped for political reasons as he prepared to launch what would be a failed candidacy for Senate.
Meanwhile, Carhart remains under investigation by the Maryland Board of Physicians on a complaint filed by Operation Rescue, as well as other agencies for the death of Jennifer Morbelli. Once thing is certain. Everything Carhart tells the authorities must be carefully verified. He has proven over and over that he simply cannot be taken at his word.