By Cheryl Sullenger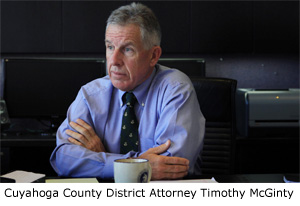 Cleveland, OH — More than four months after the avoidable death of Lakisha Wilson at the Preterm Abortion Clinic in Cleveland, Ohio, there has been no action taken by the Cuyahoga County District Attorney, Timothy McGinty, despite repeated calls from pro-life groups for a criminal investigation.
Operation Rescue was recently tipped to the fact that McGinty has stated he is disinclined to investigate Wilson's abortion-related death, prompting Operation Rescue to call on the public to urge McGinty to order police or perhaps his own investigators to look into why she died and who is responsible.
"We know that Lakisha did not need to die and that her injuries suffered during a late-term abortion would not have been fatal if she had not been neglected by Preterm staff. Clearly, criminal negligence or even manslaughter charges are not out of the question," said Troy Newman, President of Operation Rescue. "We don't want to think that the District Attorney is ignoring the suspicious death of this otherwise healthy African-American woman, but it's not looking good."
According to her autopsy report, Wilson died of apparent blood loss that caused her to eventually suffer a heart attack and respiratory arrest, resulting in ensuing brain damage. Emergency 911 records revealed that she was not breathing for at least 27 minutes, and very likely had not been breathing for much longer.
The Medical Examiner ruled that Wilson's death was a "therapeutic complication" caused by the abortion.
Neither the autopsy report nor the Medical Examiner's determination of the cause of death spoke to the possibility of practitioner negligence or criminal culpability. Both were intentionally mute on those topics.
Nevertheless, McGinty is said to have cited the autopsy report's silence on the criminal culpability issue as reason not to pursue an investigation, according to Operation Rescue's sources.

Medical experts consulted by Operation Rescue indicate that before suffering the heart attack, Wilson would have first gone into shock, a condition that would have been quickly detected if Preterm workers had properly monitored her after the abortion. Wilson's condition would not have deteriorated to fatal proportions if she had been treated in a timely manner. [Read more]
In addition to suspected criminal negligence, there is concern that Wilson was farther along in her pregnancy than was suggested by the Medical Examiner in her autopsy report, who noted that she was 19 weeks, 4 days pregnant at the time of her abortion on March 21, 2014 – just three days shy of Ohio's limit on late abortions.
Yet, the autopsy revealed that there were no fetal remains for the coroner to examine. He was forced to rely only on the abortionist's determination of gestational age as recorded in her abortion record.
Information supplied by the abortion facility must be considered suspect since there is ample documentation to suggest that abortionists, such as late-term abortionists Kermit Gosnell, LeRoy Carhart, and others, have falsified ultrasound results to avoid having to comply with late-term abortion laws. In addition, there is a large volume of documentation that proves far too many abortionists around the country — California's Andrew Rutland and Massachusetts' Rapin Osathanondh, for example — have been caught and disciplined for falsifying records in an attempt to conceal their responsibility for patient deaths and other misdeeds.
"It is common for people that commit crimes to try to hide the fact," said Newman. "That's why we simply cannot afford to take the abortion business' word for anything."
There is compelling reason to believe that Wilson was beyond Ohio's legal abortion limit of 20 weeks. That information has been passed on to McGinty, but so far, it has fallen on deaf ears.
Those concerns, which cannot yet be discussed publicly, are certainly enough to warrant a few questions by an investigator.
"Illegal abortion, criminal negligence, and manslaughter are serious charges, and if this abortion facility is engaging in such criminal activity, those responsible need to be held accountable, especially since a woman's death is involved," said Newman. "We simply cannot allow Lakisha's death to be swept under the rug without even a cursory investigation. Inaction on the part of District Attorney McGinty is irresponsible. It's hard to imagine why he wouldn't want a proper investigation, especially if it can prevent other women from suffering Lakisha's fate. Certainly as it stands, if another woman dies from an abortion at Preterm because McGinty fails to act, part of the responsibility for that death will have to fall on him."
However, despite his stated reticence to become involved, sources indicate that McGinty has left the door open for a possible change of position on a Wilson death investigation.
Because of this, Operation Rescue is urging the public to contact Cuyahoga County District Attorney Timothy McGinty and demand that he order an investigation into Lakisha Wilson's suspicious abortion-related death.
Phone: 216.443.7800
E-mail Web Form: Click Here